The Black Heart Crypt: A Haunted Mystery
by Chris Grabenstein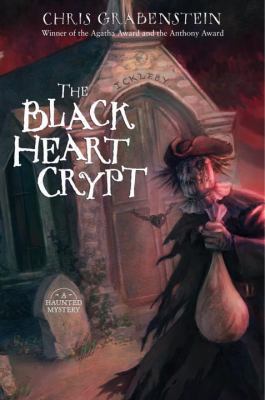 Book list
From Booklist, Copyright © American Library Association. Used with permission.
9780375869006
Gruesome, hilarious, and truly scary, the latest entry in the prizewinning Haunted Mysteries series about Zack, 11, is a great read-aloud for Halloween. In fact, that is when it is set, on the night when ghosts gets special powers and the veil between the living and the dead is thinnest. Zack and his friends dress up as killer bees, and from the school bus to a family crypt in the cemetery ( totally creepy but totally cool ), they encounter demons, including ghosts of gangsters with scores to settle. Zack, who loves his stepmom, is terrified when his dead birth mother returns as a dybbuk demon: Does she want to harm him or make amends? The story is set in contemporary New England, and the characters rely on cell phones and texting to communicate, but the horror is timeless. Caught up in the fast-paced action, kids will want to share the irreverent commentary, including the occasional gross-out rhyme: There's one little worm that's very shy / Crawls in your stomach and out your eye. --Rochman, Hazel Copyright 2010 Booklist
School Library Journal
(c) Copyright 2010. Library Journals LLC, a wholly owned subsidiary of Media Source, Inc. No redistribution permitted.
9780375869006
Gr 4-7-Zack, 13, is still seeing spirits. and they see him. He has more or less come to terms with them, though, and he thinks that he has defeated the worst the spirit world could throw at him. But that was before the spell was broken, releasing 13 ghosts, the entire Ickleby clan. Zack's family moved the Icklebys' coffins and imprisoned their spirits decades ago. Now, with the curse broken and their ancestor offering up his body for possession, they have the ability to exact their revenge on Zack for his family's deeds. This novel speeds along at a breakneck pace, hauling readers along as Zack and his friends (and his dog, Zipper) attempt to dodge and defeat the vengeful, rather inept, spirits. The action-packed short chapters and vivid imagery will make this book an easy sell to young teens and reluctant readers, even if they haven't read the previous books in the series.-Heather Miller Cover, Homewood Public Library, AL (c) Copyright 2012. Library Journals LLC, a wholly owned subsidiary of Media Source, Inc. No redistribution permitted.