The Iron Thorn
by Kittredge, Caitlin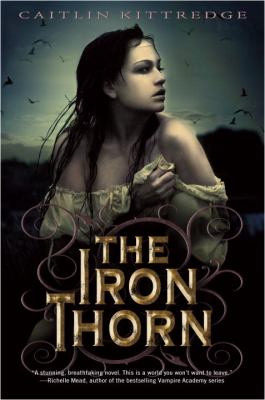 Book list
From Booklist, Copyright © American Library Association. Used with permission.
9780385738293
Steampunk fans will delight in this first title in the sure-to-be-popular Iron Codex series, featuring an alternate, Victorian-flavored America tightly controlled by Proctors and driven by the Engine, an underground power source. The only girl at the prestigious School of Engines of Lovecraft Academy, Aoife Grayson is terrified that she will follow her mother and brother into the hereditary madness that strikes on the sixteenth birthday, now just a few weeks away. Determined to escape that fate, she sets off to her never-met father's estate, with her friend Cal and a cocksure but very appealing hired guide. Here, she tumbles into a magical world she recognizes from her father's journals and her mother's mad ravings. Kittredge's richly descriptive narrative captures all the details of clockwork, inventive machinery, foggy mists, ghastly ghouls, and creative landscapes. There's plenty of tame but satisfying romance, too, and plot twists galore. Aoife is a caustic-tongued, feisty, and independent young woman, with plenty of nerve and courage. The abrupt ending signals a sequel, which can't come too soon.--Carton, Debbie Copyright 2010 Booklist
School Library Journal
(c) Copyright 2010. Library Journals LLC, a wholly owned subsidiary of Media Source, Inc. No redistribution permitted.
9780385738293
Gr 7 Up-Aoife Grayson is terrified that she will go mad when she turns 16. She believes that she carries a latent form of a necrovirus that has already affected her brother, who has disappeared, and her mother, who is locked up in a madhouse. The setting is an alternate version of New England, where Boston is known as Lovecraft, a town powered by a mysterious underground engine and ruled by Proctors who enforce a rationalistic worldview that denies the existence of magic, blames madness on a necrovirus outbreak, and keeps the populace safe from the apocryphal night creatures who are said to feed on human flesh. Aoife, who is studying at Lovecraft's School of Engines, receives a mysterious letter from her missing brother that leads her to escape the city with her friend Cal. The pair recruits Dean Harrison as a guide as they hitch a ride on an airship to Aoife's ancestral mansion, which has long been abandoned except for the young maid, Bethina. At Graystone, Aoife discovers her father's journals that help her to understand her family's secrets and her own destiny. The journals also lead her into a fairy realm, the Land of Thorn, where she meets Tremaine, one of the "Kindly Folk" who may or may not be telling her the truth. Kittredge has fashioned a unique, action-filled, and compelling combination of steampunk, H. P. Lovecraft-inspired horror, and straight fantasy that should enchant fans of all three genres.-Tim Wadham, St. Louis County Library, MO (c) Copyright 2011. Library Journals LLC, a wholly owned subsidiary of Media Source, Inc. No redistribution permitted.