Three-Day Town
by Margaret Maron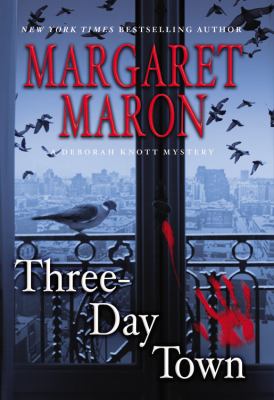 Book list
From Booklist, Copyright © American Library Association. Used with permission.
9780446555784
In her seventeenth Deborah Knott mystery, Maron's two series protagonists the warm North Carolina judge, Knott, and the cool NYPD lieutenant, Sigrid Harald (last seen in Fugitive Colors, 1995) meet for the first time. A year after their marriage, Deborah and Deputy Sheriff Dwight Bryant are off to New York for a weeklong honeymoon, staying at Dwight's sister-in-law's Manhattan apartment. They are asked to deliver a package to Sigrid's mother. When Sigrid comes to get the package for her vacationing mother, during a party in a neighboring apartment, the building superintendent is found dead and the risque and potentially valuable statue from the package is missing. Then the body of one of the building's elevator men is found in a garbage bag, and the teenage son of the chair of the co-op board goes missing. Maron tosses in plenty of red herrings before Deborah's intuition and curiosity combine to break the case. A reliably entertaining addition to an always enjoyable series, though, by the end, it's clear that, for Deborah and Dwight, home proves a lot more enticing than Broadway glitter.--Leber, Michele Copyright 2010 Booklist
Publishers Weekly
(c) Copyright PWxyz, LLC. All rights reserved
9780446555784
Bestseller Maron's charming 17th Deborah Knott mystery (after 2010's Christmas Mourning) takes the North Carolina judge and her husband of one year, Dwight Bryant, to New York City for a belated honeymoon. They bear an unusual gift, a small bronze sculpture, for photojournalist Anne Lattimore Harald from Anne's dying mother, wealthy Jane Lattimore, who's a distant cousin of Deborah's. Deborah arranges to meet Anne's daughter, NYPD Lt. Sigrid Harald, who will pick up the gift, at a large party next door to the Manhattan apartment that an absent friend is letting the couple use. When Sigrid and Deborah return to the borrowed apartment, the sculpture is missing from the kitchen counter; worse, the dead body of the building's super is lying on the balcony. Could someone from the party be responsible for the theft and the murder? Deborah, with her inveterate curiosity, assists Sigrid, last seen in her own series in 1995's Fugitive Colors, in the official investigation. This is a strong addition to a series that's won Edgar, Agatha, Anthony, and Macavity awards. (Nov.) (c) Copyright PWxyz, LLC. All rights reserved.
Library Journal
(c) Copyright 2010. Library Journals LLC, a wholly owned subsidiary of Media Source, Inc. No redistribution permitted.
9780446555784
Judge Deborah Knott's (Christmas Mourning) honeymoon in New York City is tainted by murder. It's always good to see our favorites in new venues, even if it turns out to be a busman's holiday. (c) Copyright 2011. Library Journals LLC, a wholly owned subsidiary of Media Source, Inc. No redistribution permitted.