Anna and the French Kiss
by Perkins, Stephanie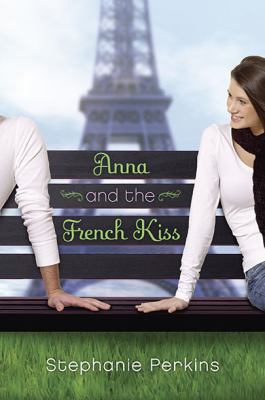 Book list
From Booklist, Copyright © American Library Association. Used with permission.
9780525423270
Anna is not happy about spending senior year at a Paris boarding school, away from her Atlanta home, best friend Bridgette, and crush Toph. Adapting isn't easy, but she soon finds friends and starts enjoying French life, especially its many cinemas; she is an aspiring film critic. Complications arise, though, when she develops feelings for cute and taken classmate Etienne, even though she remains interested in Toph. Her return home for the holidays brings both surprises, betrayals, unexpected support, and a new perspective on what matters in life and love. Featuring vivid descriptions of Parisian culture and places, and a cast of diverse, multifaceted characters, including adults, this lively title incorporates plenty of issues that will resonate with teens, from mean girls to the quest for confidence and the complexities of relationships in all their forms. Despite its length and predictable crossed-signal plot twists, Perkins' debut, narrated in Anna's likable, introspective voice, is an absorbing and enjoyable read that highlights how home can refer to someone, not just somewhere.--Rosenfeld, Shelle Copyright 2010 Booklist
School Library Journal
(c) Copyright 2010. Library Journals LLC, a wholly owned subsidiary of Media Source, Inc. No redistribution permitted.
9780525423270
Gr 9 Up-Anna Oliphant has big plans for her senior year in Atlanta: hang out with her best friend, Bridgette, and flirt with her coworker at the Royal Midtown 14 multiplex. So she is none too happy when her father sends her off to boarding school in Paris. However, things begin to look up when she meets -tienne St. Clair, a gorgeous guy-with a girlfriend. As he and Anna become closer friends, things get infinitely more complicated. Will Anna get her French kiss? Or are some things just not meant to be? Perkins has written a delightful debut novel with refreshingly witty characters. There is strong language and mention of sexual topics that make the book more appropriate for older teens. The chapters are concise, and the steady pacing leading up to the "will they or won't they?" moments will capture even reluctant readers. Teens will feel like they are strolling through the City of Lights in this starry-eyed story of finding love when you least expect it.-Kimberly Castle, Medina County District Library, OH (c) Copyright 2010. Library Journals LLC, a wholly owned subsidiary of Media Source, Inc. No redistribution permitted.