Nic Bishop Lizards
by Nic Bishop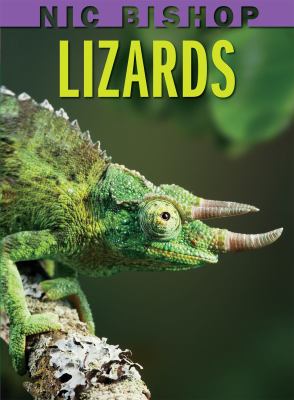 Book list
From Booklist, Copyright © American Library Association. Used with permission.
9780545206341
*Starred Review* As in Bishop's earlier volumes on spiders, frogs, marsupials, and butterflies and moths, his remarkable color photos will initially draw readers to the book. But the succinct text is equally riveting as it explores the surprisingly varied world of lizards, from the tiny dwarf gecko, small enough to curl up on your thumbnail, to the Komodo dragon, the world's largest venomous animal. A typical double-page spread includes a couple of paragraphs of information, an exceptionally clear photo, and an informative caption, which includes the degree of image magnification for animals shown larger than actual size. Standout illustrations include a three-image photo of a basilisk sprinting on two legs across the surface of water and a shot of a chameleon, its sticky tongue extended longer than its body, zapping up a cricket. Bishop, who has a doctorate in biological sciences, writes clearly, presenting his subject without anthropomorphism but with empathy. The book's back matter includes a short recommended-reading list, a brief glossary, and a two-page author's note on his experiences photographing lizards for the book, from the rare thorny devil found in a remote Australian desert to the basilisk, for which he built a rain forest pond in his home. Captivating.--Phelan, Carolyn Copyright 2010 Booklist
School Library Journal
(c) Copyright 2010. Library Journals LLC, a wholly owned subsidiary of Media Source, Inc. No redistribution permitted.
9780545206341
Gr 2-5-There's not much to say that hasn't already been said about the high caliber of Bishop's work, and this book is no exception. The photographs capture a variety of lizards in startling detail. Information is presented in much the same format as Butterflies and Moths (2009), Spiders (2007), and Frogs (2008, all Scholastic). A key sentence written in a larger font and different color is set off from the rest of the text on the page. Basic facts about the various lizards are simple to understand, yet written in a voice that draws readers into another world where geckos wriggle out of their skin and flying dragons glide from tree to tree. Endnotes help readers appreciate the amount of work and time that Bishop spent on each photograph and researching his information, particularly for the thorny devil, bearded-dragon hatchlings, and the basilisk, which is photographed literally running on water. Another amazing must-have title.-Cathie Bashaw Morton, Millbrook Central School District, NY (c) Copyright 2010. Library Journals LLC, a wholly owned subsidiary of Media Source, Inc. No redistribution permitted.