Words in the Dust
by Reedy, Trent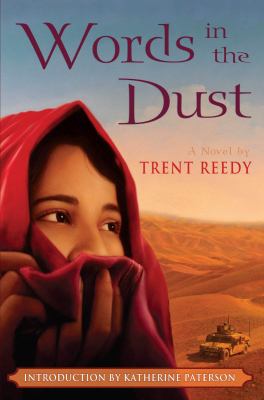 Publishers Weekly
(c) Copyright PWxyz, LLC. All rights reserved
9780545261258
In his first novel, Reedy, a former soldier in Afghanistan, examines the restrictive experiences of contemporary Afghan girls through sympathetic 13-year-old narrator Zulaikha. Zulaikha's cleft palate makes her an object of ridicule for local merchants, bullies, and even her younger brother. Although Zulaikha's disability often relegates her to a serving and observing role, it allows her more freedom to leave her home than her 15-year-old sister, Zeynab, who will soon wed. Contact outside Zulaikha's family provides compelling insights for Zulaikha, such as her ad hoc education by Meena, a professor who knew and taught Zulaikha's bookish mother (a proclivity that led to her death), and with the American soldiers who offer to operate on her lip and teeth. "Even with the swelling, I looked almost normal. And I had the Americans, as ignorant and wasteful as they were, to thank." Within the family, the evolution of key relationships presents a nuanced look at family dynamics and Afghan culture. Though unsentimental and fraught with tragedy, Reedy's narrative offers hope and will go a long way toward helping readers understand the people behind the headlines. Ages 9-14. (Jan.) (c) Copyright PWxyz, LLC. All rights reserved.
School Library Journal
(c) Copyright 2010. Library Journals LLC, a wholly owned subsidiary of Media Source, Inc. No redistribution permitted.
9780545261258
Gr 5-8-Zulaikha's life in Afghanistan is not easy. She is teased constantly for a facial deformity and although the Taliban is no longer in power, it has violently taken her mother from her, and the 13-year-old is left keeping house for a busy, traditional father and his bad-tempered wife. She is trapped by the confines of her culture as well as by her own fears, but things begin to change when she meets a mysterious woman who wants to work with her on her writing and teach her about poetry. When American soldiers roll into town and offer her the chance to fix her cleft palate, Zulaikha allows herself to wish for a better and different future. Reedy was inspired by a girl he met during his tour of duty in Afghanistan, and Zulaikha's character is based loosely on her experiences. Infused with poetry, and wrought with hardship, the story gives a bleak, but ultimately hopeful, portrayal of girlhood in Afghanistan. It is full of hard truths, painful lessons, beautiful human interaction, and the promise of possibility.-Sharon Senser McKellar, Oakland Public Library, CA (c) Copyright 2011. Library Journals LLC, a wholly owned subsidiary of Media Source, Inc. No redistribution permitted.
Book list
From Booklist, Copyright © American Library Association. Used with permission.
9780545261258
Born with a cleft lip, Zulaikha struggles to feel worth in a society that values women by their marriage prospects: What bride-price would Baba get for me? Maybe one Afghani? Then, by chance, Zulaikha meets Meena, a former professor, who begins to teach her to read and write just as American soldiers arrive, bringing the chance for both more education and surgery to correct Zulaikha's birth defect. Reedy based his debut on real people and places he encountered while serving with the National Guard in Afghanistan, and the extensive detail about Afghani customs gives the story the feel of a docu-novel while also creating a vivid sense of place and memorable characters. Reedy skillfully avoids tidy resolutions: the grim fate of Zulaikha's sister, who is married to a much older man, offers a heartbreaking counterpoint to Zulaikha's exciting new possibilities. A glossary of Dari phrases, an extensive author's note, suggested-reading lists, and an introduction by Katherine Paterson complete this deeply moving view of a young girl caught between opportunity and tradition in contemporary Afghanistan.--Engberg, Gillian Copyright 2010 Booklist