Dark Emperor and Other Poems of the Night
by Joyce Sidman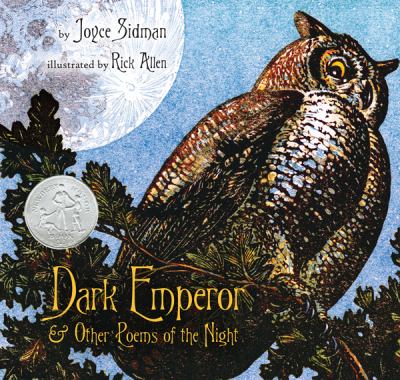 Book list
From Booklist, Copyright © American Library Association. Used with permission.
9780547152288
*Starred Review* Like Sidman's Caldecott Honor Book, Song of the Water Boatman and Other Pond Poems (2005), this picture book combines lyrical poetry and compelling art with science concepts. Here, poems about the woods at night reveal exciting biology facts that are explained in long notes on each double-page spread. In a poem about crickets, lines describe the raucous scrape / of wing against wing, while a prose passage explains that the cricket's wing has a serrated file, which the cricket rubs against a hard scraper on its other wing to attract a mate, creating a sound called stridulation that can swell to deafening levels. The facts are further reinforced in the accompanying picture, which shows the small file on a cricket's wing. In an opening note, Allen explains his elaborate, linoleum-block printmaking technique, and each atmospheric image shows the creatures and the dense, dark forest with astonishing clarity. Looking closely at a picture of a snail, for example, readers will see the physical detail, described in an adjacent poem, in the small animals' moist, sluglike bodies, riding on a cushion of slime. The thrilling title poem captures the drama of predator and prey: a mouse in the undergrowth flees an owl's hooked face and / hungry eye. A final glossary concludes this excellent, cross-curricular title.--Rochman, Hazel Copyright 2010 Booklist
Publishers Weekly
(c) Copyright PWxyz, LLC. All rights reserved
9780547152288
"Welcome to the night!" cries the opening poem in this celebration of nocturnal life. Everything from snails to mushrooms has a role to play and something different to say (the title is taken from a concrete poem about a horned owl, narrated by its would-be prey: "Perched missile,/ almost invisible, you/ preen silent feathers,/ swivel your sleek satellite/ dish of a head"). Spiders offer advice, porcupettes pirouette, and the moon laments the dawn, all illuminated by debut talent Allen's detailed yet moody prints, which encapsulate the mysteries and magic of the midnight hours. Opposite each poem is a short note on the featured creature, explaining its appearance and habits. In Sidman's delicious poems, darkness is the norm, and there's nothing to fear but the rising sun. Ages 6-9. (Sept.) (c) Copyright PWxyz, LLC. All rights reserved
School Library Journal
(c) Copyright 2010. Library Journals LLC, a wholly owned subsidiary of Media Source, Inc. No redistribution permitted.
9780547152288
Gr 3-6-Sidman continues her explorations of natural history in this set of poems about nocturnal life in the forest. As in her other collections, each selection is set in an expansive spread that includes a factual discussion of the featured subject. The illustrations are bold, richly detailed linoleum prints colored in gouache. The 12 poems are led by a scene setting "Welcome to the Night" and go on to feature 9 different creatures and some mushrooms with a concluding lament by the moon as night fades into morning. Sidman adroitly applies varied poetic forms and rhyme schemes. The title's dark emperor, the great horned owl, lends its shape to the one concrete poem, and the closing lament is in the medieval style known as an ubi sunt. The poetry is reflective and at times philosophical. "Build a frame/and stick to it,/I always say./Life's a circle..Eat your triumphs,/eat your mistakes:/that way your belly/will always be full.," advises the night spider. Other poems are playful and some just a bit confusing. The porcupine poem explains that the infant of this species is known as a porcupette; the repeated use of "baby porcupette" seems oddly redundant. The bookmaking is beautiful with the concept of night lending itself generously to poetry. It invites lingering enjoyment for nature and poetry fans, and, as with Sidman's earlier collections, it might be used with varied curriculums.-Margaret Bush, Simmons College, Boston (c) Copyright 2010. Library Journals LLC, a wholly owned subsidiary of Media Source, Inc. No redistribution permitted.