How to Clean a Hippopotamus
by Steve Jenkins and Robin Page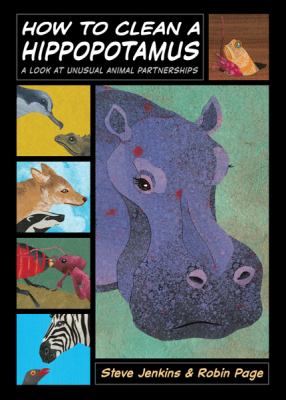 Publishers Weekly
(c) Copyright PWxyz, LLC. All rights reserved
9780547245157
Who better than a husband and wife team to spotlight intriguing partnerships in nature? Among the many relationships Jenkins and Page (How Many Ways Can You Catch a Fly?) explore is that of the upside-down jellyfish and the crab it lives upon. "The jellyfish's stinging tentacles provide protection in return for crab meal leftovers." Jenkins's meticulous cut-paper illustrations, as eye-catching as ever, reveal fascinating stories of animal symbiosis on each page. The paneled layout-graphic novel style-offers a dynamic format for these concise, present-tense stories of mutualism, complete with catchy titles. "Dinner is served" reads the spread about a seagull and a sunfish (the massive sunfish attracts the seagull with its fin, and in turn the bird eats parasites living on the fish). Closeups, aerial views, and vignettes of animals realistically rendered in Jenkins's trademark collage have a cinematic quality. An author note about the different types of symbiotic relationships, as well as appended pages detailing each animal's size, habitat, and diet, reinforce the book's value as a scientific introduction to the topic. Ages 6-9. (May) (c) Copyright PWxyz, LLC. All rights reserved
Book list
From Booklist, Copyright © American Library Association. Used with permission.
9780547245157
*Starred Review* The husband-and-wife team behind such award-winning titles as What Do You Do with a Tail like This? (2003) presents another creative, wholly engaging introduction to science in this picture book that explores unexpected animal partnerships. Many of the spotlighted relationships illustrate mutualism, a type of symbiosis that benefits all the animals involved: African helmeted turtles, for example, nibble away unwanted algae from hippos, whose backs, in turn, provide sunny basking spots for their cold-blooded cleaners. The spreads have an exciting, comics-inspired feel. Each page combines panels of multiple images, rendered in Jenkins' superbly crafted paper-collage style, with brief lines of concise, clear text and attention-grabbing headlines ( Armed and Ready ) that direct the narrative flow. The format is entertaining, but as always, the authors' attention to scientific facts is serious, and their lucid explanations avoid any suggestion that these arrangements are cozy pairings between interspecies BFFs: Animals . . . remain in these relationships only because the partnership somehow helps them survive. These fascinating stories from the natural world will easily interest young people, many of whom will want to move on from the appended notes about each featured critter to more in-depth titles that further explain the mysteries of animal symbiosis.--Engberg, Gillian Copyright 2010 Booklist
School Library Journal
(c) Copyright 2010. Library Journals LLC, a wholly owned subsidiary of Media Source, Inc. No redistribution permitted.
9780547245157
K-Gr 3-This book introduces readers to symbiosis, focusing on relationships in which each partner benefits from the collaboration. While readers may be familiar with birds that groom mammals or small fish that clean bigger ones, more unusual pairings include the boxer crab, which can pluck poisonous anemone, use them as lethal pom-poms with which to chase away larger prey, and then return the favor with stray scraps of food dropped from its imprecise claws. The book concludes with a relationship that will be familiar to many readers-that of humans and dogs. It is a nice way to expand the topic into the domestic sphere, as well as highlighting an area in which the relationship between humans and animals is mutually beneficial, and not simply tilted in our favor. Jenkins's trademark collage illustrations continue to impress with their vibrant and stunning manipulation of cut and torn paper. The book is formatted in a block, comic-book style and is written at a level that is accessible to young browsers yet suitable for older researchers. Supplementary information about the size, habitat, and diet of each animal is included in the back matter. This title is another outstanding offering from this extraordinarily talented, wonderfully symbiotic couple.-Kara Schaff Dean, Walpole Public Library, MA (c) Copyright 2010. Library Journals LLC, a wholly owned subsidiary of Media Source, Inc. No redistribution permitted.