The Piper's Son
by Marchetta, Melina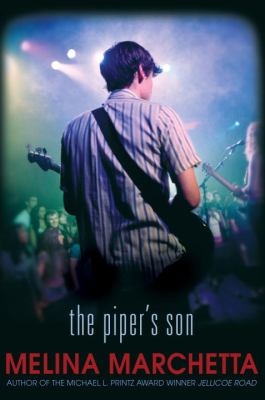 Book list
From Booklist, Copyright © American Library Association. Used with permission.
9780763647582
Australian author Marchetta follows her Printz Award-winning Jellicoe Road (2008) and the high-fantasy Finnikin of the Rock (2010) with this realistic, stand-alone companion to Saving Francesca (2004), set five years later in the same urban neighborhood. After the death of his beloved uncle Joe in an overseas bomb blast, Tom dropped out of the university, and his family spun apart. After a rock-bottom moment leaves Tom homeless with a head full of stitches, he moves in with his aunt Georgie, who is pregnant at 42 and navigating a fraught relationship with a sometimes-estranged partner. Marchetta draws in familiar faces from Saving Francesca, including the title character, as Tom begins to reclaim his life and reach out to the girl he can't forget. Readers may find that the narrative loses focus in frequent switches to Georgie's point of view, but the multidimensional adult characters add to the story's deep flashes of authenticity. A memorable portrait of first love, surviving grief, and the messy contradictions and fierce bonds that hold friends and family together.--Engberg, Gillian Copyright 2010 Booklist
Publishers Weekly
(c) Copyright PWxyz, LLC. All rights reserved
9780763647582
This tender sequel to Saving Francesca focuses on Francesca's friend, Thomas Finch Mackee, whose family is being torn apart by tragedy. Two years ago when Tom's young uncle was killed by a suicide bomber, Tom's father ("He was a drinker, Dom was. Always had been") lost control, causing his mother to leave town with his younger sister. Tom dropped out of his university-and abandoned his tight-knit circle of friends-while his aunt Georgie has yet to acknowledge that she is pregnant by her ex-partner. There is a lot of backstory, and readers may initially have trouble sorting out the pieces. But the story that unfolds through Tom and Georgie's alternating points of view is powerful and tragic, revealing a wonderful and realistically flawed family working hard to fix its deep damage. Marchetta masterfully demonstrates the depth of emotion-and love-the characters feel, sometimes in small but moving moments. The ending may wrap up somewhat neatly, but readers who make this intense journey with Tom and Georgie will feel they deserve the sweet resolutions. Ages 14-up. (Mar.) (c) Copyright PWxyz, LLC. All rights reserved.
School Library Journal
(c) Copyright 2010. Library Journals LLC, a wholly owned subsidiary of Media Source, Inc. No redistribution permitted.
9780763647582
Gr 9 Up-Fans of Marchetta's Saving Francesca (Knopf, 2004) will enjoy revisiting the book's characters, now five years older. This time the focus is on Thomas Mackee, whose entire family is torn apart by grief when his uncle Joe is killed, the result of a terrorist bombing in a London subway. Tom's parents separate, he drops out of university, and hits rock bottom with booze, drugs, and one-night stands. His flatmates bail on him and he finds himself living with his unmarried, pregnant aunt, Georgie. Eventually they're joined by Tom's alcoholic, grieving dad. There's a plethora of family angst, including Grandpa's remains now returned from the Vietnam War and Georgie's boyfriend getting another woman pregnant. At times, the story plods and Tom is quite unlikable, but Marchetta uses smart dialogue, email messages, and a bit of humor to slowly draw readers into the complicated social dynamics. It's a joy to watch Tom reconnect with his friends, his music, his family, and Tara, the girl whose heart he broke.-Patricia N. McClune, Conestoga Valley High School, Lancaster, PA (c) Copyright 2011. Library Journals LLC, a wholly owned subsidiary of Media Source, Inc. No redistribution permitted.