Frontiersman: Daniel Boone and the Making of America
by Meredith Mason Brown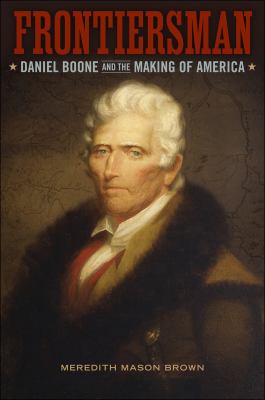 Book list
From Booklist, Copyright © American Library Association. Used with permission.
9780807133569
Long before his death in 1820 at the age of 85, the exploits, both real and exaggerated, of Daniel Boone were embedded in our national lore. As this well-researched biography reveals, the reality of Boone's achievements and the strength of his character still make him an important and admirable historical figure. Brown dispenses with much of the popular mythology surrounding Boone: he was no illiterate bumpkin, as his letters prove. Although several family members had been killed in Indian attacks, Boone himself usually interacted peacefully with Indians. Extolled as an American patriot and hero, Boone was rather comfortable as a British national prior to the Revolution. Boone was born into a Pennsylvania Quaker family. From an early age, he was an enthusiastic and skilled hunter. His wanderlust consistently placed him a step ahead of the mass of trans-Appalachian settlers, leading him from Kentucky to Missouri. Yet Boone was a devoted family man, rarely skirting family or communal responsibilities. This is an easily digestible account.--Freeman, Jay Copyright 2008 Booklist
Library Journal
(c) Copyright 2010. Library Journals LLC, a wholly owned subsidiary of Media Source, Inc. No redistribution permitted.
9780807133569
Good biographies of Daniel Boone abound, the recent ones being Michael Lofaro's Daniel Boone: An American Life and Robert Morgan's Boone: A Biography, so Brown, a lawyer whose ancestors knew Boone quite well, sees no need to tread familiar biographical territory. Instead, he explores Boone's role in transforming the United States from a collection of English Colonies on the Atlantic seaboard to a young republic that stretched to the Rocky Mountains and how Boone illustrates the fluidity and conflicting loyalties of the frontier. As part of this exploration, Brown examines Boone's complex relationships with American Indians and looks at Boone's work as a surveyor, pronouncing him competent, and showing how conflicting land claims and surveys made it almost impossible for Boone to realize anything but trouble from the land he acquired in Kentucky. By taking a different approach to Boone and carefully basing his judgments on primary sources, Brown has produced a well-written book that nicely complements the earlier biographies. Thus it belongs in most academic and public libraries.--Stephen H. Peters, Northern Michigan Univ. Lib., Marquette (c) Copyright 2010. Library Journals LLC, a wholly owned subsidiary of Media Source, Inc. No redistribution permitted.
Choice
Copyright American Library Association, used with permission.
9780807133569
It is no doubt Daniel Boone's iconic status that brings yet another biography of him, the third in the last 16 years. Brown's work joins John Faragher (Daniel Boone: The Life and Legend of an American Pioneer, CH, May'93, 30-5205) and Michael Lofaro's editions (e.g., Daniel Boone: An American Life, CH, Apr'04, 41-4861) in essaying the impact of Boone as nation builder and classic American protohero. None, unfortunately, can resist the seduction of Lyman Draper's vast collections, falling prey time and again to tales dependent on the fragile memories of aged frontier folk who claimed to have known the legendary frontiersman or to have known someone who knew him. Consequently, there are some stories that stretch one's credulity. Attorney Brown seems particularly tempted in that direction, especially if there is some gory scene to relate. The result is more often a Kentucky tall tale of Boone's exploits than the straightforward biography one would want. If authors could steer past the Scylla and Charybdis of Draper's The Life of Boone (1998) and the mountain of reminiscences in his various frontier incunabula, choosing instead the documented episodes of Boone's life in North Carolina, Kentucky, and Missouri, there would still be adventure aplenty within the parameters of his life. Summing Up: Recommended. General readers. J. H. O'Donnell III Marietta College