Goodnight, Goodnight, Construction Site
by Sherri Duskey Rinker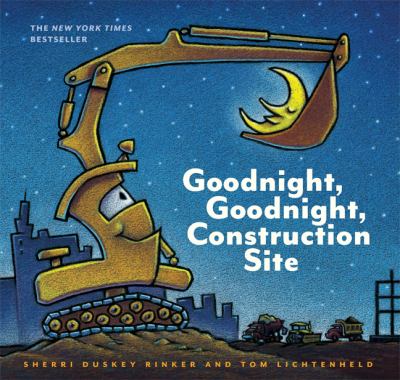 Book list
From Booklist, Copyright © American Library Association. Used with permission.
9780811877824
*Starred Review* To say that a book makes you yawn well, it's usually not a compliment. But in the case of bedtime books, it's high praise and well deserved by this engaging picture book. As the sun sets on a construction site, five big, tough trucks settle in for the night. After placing one last beam, hardworking Crane Truck folds his boom, grins sleepily, and tucks himself in for the night. Cement Mixer takes a bath before pulling up his chute and beginning to dream. Tired Dump Truck dims his lights and (loudly) snores. Nearby, sleepy Bulldoze. curls up in his soft dirt bed. while Excavator sets down his scoop and falls asleep. Rinker writes her first book in rhyming, rhythmic verses that read aloud well. Deceptively simple, they manage to be simultaneously absorbing and soporific. Lichtenheld, who illustrated Duck! Rabbit! (2009) and Shark vs. Train (2010), contributes dynamic oil-pastel illustrations ranging from comical close-ups of anthropomorphic trucks to lyrical scenes of the construction site and city skyline at dusk. With strong lines and effective use of shading, the scenes offer plenty of visual details for children to discover. Even the endpapers combine beautiful design with stealthy wit. A standout picture book, especially for those who like wheels with their dreams.--Phelan, Caroly. Copyright 2010 Booklist
School Library Journal
(c) Copyright 2010. Library Journals LLC, a wholly owned subsidiary of Media Source, Inc. No redistribution permitted.
9780811877824
K-Gr 1-After each truck completes its work for the day, it cuddles up and says goodnight. Crane Truck raises one last beam and then hugs his teddy and turns on his nightlight. Cement Mixer gives a final spin before snuggling with his blanket. Dump Truck delivers his last load, closes his eyes, and starts to snore. Bulldozer and Excavator follow suit until the entire construction site is tucked in tight. Lichtenheld's detailed and textured illustrations, rendered in wax oil pastels on vellum paper, perfectly complement the fun, rhyming text, cleverly personifying each truck with expressive eyes and amusing details. The bright, golden background changes to pinkish red as the Sun begins to set and then to dark blue when the Moon appears. The repeated refrain, "Shh. goodnight, Crane Truck [Cement Mixer, Dump Truck, Bulldozer, Excavator], goodnight," will invite participation. Recommended for vehicle- and bedtime-themed storytimes, this is sure to be a hit with truck-loving preschoolers.-Rachel Kamin, North Suburban Synagogue Beth El, Highland Park, IL (c) Copyright 2011. Library Journals LLC, a wholly owned subsidiary of Media Source, Inc. No redistribution permitted.