The Power Of Habit
by Charles Duhigg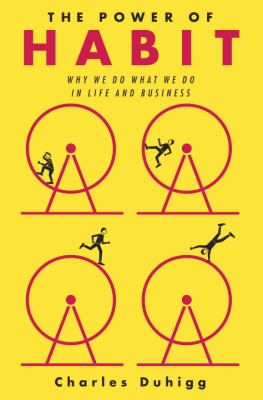 Book list
From Booklist, Copyright © American Library Association. Used with permission.
9781400069286
We all have our habits (even if we're not aware of some of them). Most of our daily decisions even the ones that don't seem like they're part of a routine could be habits. Habits are ingrained in us, the author says, because they're evolutionary: the brain is always looking for a way to be more efficient, and so it creates routines whenever it can. There's a word for this: chunking, converting a sequence of events into a routine. But other habits are the result of a feedback loop: a cue, a routine, and a reward. Advertisers rely heavily on establishing a habit loop: they create a need (the cue, the craving), explain how to incorporate a product into our daily lives (the routine), and show us how happy we'll be with the reward. Large corporations use habit to motivate their employees (Starbucks, for example, teaches its people how to turn willpower into a habit). Broad in scope and always interesting, the book should surprise and educate readers, not to mention telling them perhaps a bit more than they're comfortable knowing about the way their minds work.--Pitt, David Copyright 2010 Booklist
Library Journal
(c) Copyright 2010. Library Journals LLC, a wholly owned subsidiary of Media Source, Inc. No redistribution permitted.
9781400069286
According to Duhigg (investigative reporter, New York Times), if people can understand how behaviors became habits, they can restructure those patterns in more constructive ways. He presents information on habit formation and change from academic studies, interviews with scientists and executives, and research conducted in dozens of companies. Three sections deal with the neurology of habit formation in individuals, the habits of successful companies and organizations, and the habits of societies and tough ethical issues. Duhigg offers a fascinating analysis for the college-educated reader. [See Prepub Alert, 9/11/11.] (c) Copyright 2012. Library Journals LLC, a wholly owned subsidiary of Media Source, Inc. No redistribution permitted.