Hand in Hand: Ten Black Men Who Changed America
by written by Andrea Davis Pinkney and illustrated by Brian Pinkney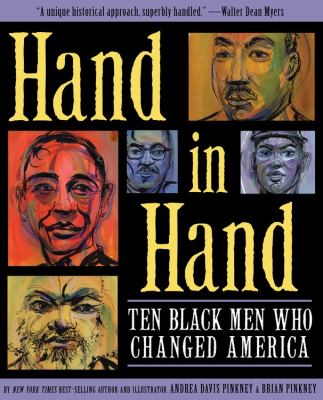 Publishers Weekly
(c) Copyright PWxyz, LLC. All rights reserved
9781423142577
Ten influential black men-including Frederick Douglass, W.E.B. Du Bois, Thurgood Marshall, Jackie Robinson, and Martin Luther King Jr.-are profiled in this husband-and-wife team's vibrant collaboration. Andrea Davis Pinkney introduces her subjects with powerful poems, before moving into image-rich, introspective, and candid descriptions of each man's influence on civil rights, culture, art, or politics: "[Malcolm X] thought carefully about some of the beliefs he'd held in the past, and how they supported the idea that he'd been brainwashed by whites. For example, straightening his hair was Malcolm's attempt to deny his black heritage by trying to look 'more white.' " Brian Pinkney's portraits of each man echo the multidimensional prose with their bold strokes and dynamic swirls of color. An examination of Barack Obama's life and presidential election carries readers into the present day, placing the achievements of those who came before him into perspective. Though the text-heavy format may initially daunt some readers, the inviting narrative voice and eloquent portrayal of these iconic men and the times in which they lived make for memorable reading. Ages 9-12. Agent: Rebecca Sherman, Writers House. (Oct.) (c) Copyright PWxyz, LLC. All rights reserved.
School Library Journal
(c) Copyright 2010. Library Journals LLC, a wholly owned subsidiary of Media Source, Inc. No redistribution permitted.
9781423142577
Gr 5-8-This book is similar in scope to the author's Let It Shine: Stories of Black Women Freedom Fighters (Harcourt, 2000. The subjects here include Benjamin Banneker, Frederick Douglass, Booker T. Washington, W.E.B. DuBois, A. Philip Randolph, Thurgood Marshall, Jackie Robinson, Malcolm X, Martin Luther King, Jr., and Barack Obama, all introduced in the author's characteristically lively prose ("Black students kept on keeping on with dog-eared textbooks and dog-tired feet"; Malcolm Little's hair was transformed from "pretty-boy cotton-kink to slick-daddy bone-straight"). The distinct experiences that shaped each man are ably delineated-the childhood events, the hardships faced, the richly deserved victories won-and the results are, without exception, compelling. The large font size is perfect for the middle-grade audience, but too many blocks of unbroken text may turn away less-confident readers. Thankfully, Brian Pinkney's magnificent portraits and spot art throughout each profile help to amplify each man's story. A must-have for all libraries serving young people.-Sam Bloom, Blue Ash Library, Cincinnati, OH (c) Copyright 2012. Library Journals LLC, a wholly owned subsidiary of Media Source, Inc. No redistribution permitted.
Book list
From Booklist, Copyright © American Library Association. Used with permission.
9781423142577
In her extensive introduction, Pinkney explains how a visit to a creative-writing program made up of young black teens Brother Authors inspired her to write a testament to positive African American role models. She has chosen 10 men, and though each appears in his own extensive chapter, their accomplishments weave them together like a chain. Some are well known, like Martin Luther King Jr., Jackie Robinson, and Malcolm X. Others, such as Benjamin Banneker, W. E. B. Du Bois, and Thurgood Marshall, may be less familiar to today's young people. Pinkney uses an upbeat, sometimes colloquial writing style that kids will appreciate, and with chapters sometimes as long as 20 pages, there is often more information about a subject than might be found in a slim series title. Each chapter begins with an original poem and a Brian Pinkney portrait. Another two or three small pictures break up the long pages of text. Surprisingly, Pinkney provides no notes, even though she references both feelings and words in her biographies. For instance, she quotes Barack Obama's Kenyan grandfather and his unhappiness over his son's marriage to Ann Dunham without any sourcing. While this is problematic, the book is still a handsome piece of bookmaking that does Pinkney's premise proud.--Cooper, Ilene Copyright 2010 Booklist