Dreamed of Flying Like a Bird
by Robert B. Haas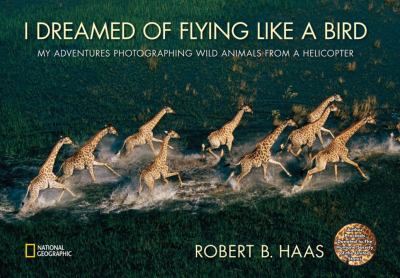 Book list
From Booklist, Copyright © American Library Association. Used with permission.
9781426306938
On the heels of his African Critters (2008), Haas, a veteran wildlife photographer, proffers another set of photos from several of his albums for adults. Here he accompanies the pictures which range from shots of a herd of wildebeests harassed by lions to Alaskan bears in a salmon stream, humpback whales cavorting in waters off Greenland, and a stork mincing oh-so-carefully past a group of watching caimans in Brazil with anecdotal commentary on the hazards and pleasures of viewing nature from an aerial perspective. Highlights include one gory shot of a crocodile chowing down on an unidentifiable haunch and Haas' renowned picture (which he swears is not Photoshopped) of a bird-shaped flock of flamingos. Though many of the animals on view are not identified in either captions or the index, this does provide young viewers with an unusual perspective on the natural world.--Peters, John Copyright 2010 Booklist
School Library Journal
(c) Copyright 2010. Library Journals LLC, a wholly owned subsidiary of Media Source, Inc. No redistribution permitted.
9781426306938
Gr 6 Up-Haas describes the challenges and successes he has experienced in his work and shows off some of his most famous photos, including one of flamingos standing in a formation that resembles a huge pink bird. Most pictures appear full bleed opposite the text. Plenty of white space, broad margins, and widely spaced lines contribute to the book's clean look. For each of the eight creatures featured there is a caption detailing an aspect of the animal, such as its conservation status, diet, behavior, or habitat. This is a coffee-table type of book with visuals that wow and a simple, thrilling narrative that is easily dismissed for the photos. Shelved with books on photography, it serves as a beautiful but additional purchase.-Janet S. Thompson, Chicago Public Library (c) Copyright 2011. Library Journals LLC, a wholly owned subsidiary of Media Source, Inc. No redistribution permitted.