How to Live OR a life of Montaigne in One Question and Twenty
by Sarah Bakewell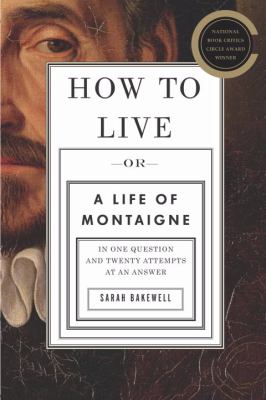 Publishers Weekly
(c) Copyright PWxyz, LLC. All rights reserved
9781590514252
Bakewell's biography of Michel de Montaigne (1533-1592), the French nobleman and father of the exploratory, free-floating essay, departs from chronology to present his life through questions and answers ("How to Live? Don't Worry About Death" and "Be Convivial: Live with Others") that consider "the man and writer" as well as the "long party"-the "accumulation of shared and private conversation over four hundred years." The author, a British book curator and cataloguer, begins with Montaigne's near-death after a fall from a horse, then traces back to his Latin education, his years in public service, his friendship with Etienne de La Boetie, his exploration of Hellenic philosophies, and his topics that would resonate with later Renaissance scholars and general readers alike. Blakewell (The Smart) enlivens Montaigne's hometown, 16th-century Bordeaux, with a wit that conveys genuine enchantment with her subject. Montaigne preferred biographers who tried to "reconstruct a person's inner world from the evidence." Blakewell honors that perspective by closely examining his writings as well as the context in which they were created, revealing one of literature's enduring figures as an idiosyncratic, humane, and surprisingly modern force. Illus. (Oct.) (c) Copyright PWxyz, LLC. All rights reserved
Book list
From Booklist, Copyright © American Library Association. Used with permission.
9781590514252
*Starred Review* In a wide-ranging intellectual career, Michel de Montaigne found no knowledge so hard to acquire as the knowledge of how to live this life well. By casting her biography of the writer as 20 chapters, each focused on a different answer to the question How to live? Bakewell limns Montaigne's ceaseless pursuit of this most elusive knowledge. Embedded in the 20 life-knowledge responses, readers will find essential facts when and where Montaigne was born, how and whom he married, how he became mayor of Bordeaux, how he managed a public life in a time of lethal religious and political passions. But Bakewell keeps the focus on the inner evolution of the acute mind informing Montaigne's charmingly digressive and tolerantly skeptical essays. Flexible and curious, this was a mind at home contemplating the morality of cannibals, the meaning of his own near-death experience, and the puzzlingly human behavior of animals. And though Montaigne has identified his own personality as his overarching topic, Bakewell marvels at the way Montaigne's prose has enchanted diverse readers Hazlitt and Sterne, Woolf and Gide with their own reflections. Because Montaigne's capacious mirror still captivates many, this insightful life study will win high praise from both scholars and general readers.--Christensen, Bryce Copyright 2010 Booklist
Library Journal
(c) Copyright 2010. Library Journals LLC, a wholly owned subsidiary of Media Source, Inc. No redistribution permitted.
9781590514252
At the beginning of this delightful book about Michel de Montaigne (1533-92), British author Bakewell (The English Dane) notes that Montaigne's essays "rarely offer to explain or teach anything." There's no moralizing. He wrote about how to live, not how one should live, unlike, for example, Francis Bacon, whose essays are from the same period. Using the question "How to live" as her framework, Bakewell gives us not only a biography of Montaigne but an exploration of the themes of his essays, a history of reaction to them both negative (e.g., Rene Descartes, Blaise Pascal, T.S. Eliot) and positive (e.g., Denis Diderot, Stefan Zweig, Virginia Woolf), and their implications and value for us today. VERDICT This is a rich book, both because of its subject and because Bakewell has a wondrous way with words. It's an exceptionally readable explication of serious ideas, drawn from a man whom we could all benefit from knowing better. Readers who have appreciated Alain de Botton's popular excursions into philosophy, e.g., How Proust Can Change Your Life, will love this book as well.-David Keymer, Modesto, CA (c) Copyright 2010. Library Journals LLC, a wholly owned subsidiary of Media Source, Inc. No redistribution permitted.
Choice
Copyright American Library Association, used with permission.
9781590514252
Winner of a 2010 National Book Critics Circle award, this book is a model of its genre: an elegantly written, thoroughly absorbing biography that captures its subject's idiosyncrasies and, in Montaigne's case, genius. Having discovered Montaigne's Essays while traveling abroad (it was the only English-language book she could find), Bakewell (City Univ., UK) spent five years in "voluntary servitude" to the French Renaissance writer and sage. Like the Essays, this illuminating portrait of the most modern of philosophers overflows with life. Divided into 20 beautifully illustrated chapters, it covers the joys and vicissitudes of Montaigne's public and private life and also the perilous, chaotic period in which he lived. Bakewell excels at re-creating what Montaigne might have felt over the course of his lifetime and at limning his striking shifts in thinking. She underscores the importance of his personal reflections for a 21st-century reader: he is an exemplar of independence of thought, suspension of judgment, and sense of moderation. Like Saul Frampton's When I Am Playing with My Cat, How Do I Know She Is Not Playing with Me? (CH, Aug'11, 48-6779), this powerful book celebrates the notion of existence, providing lessons on the art of living in harmony with one's ordinariness and imperfection. Summing Up: Essential. All readers. C. B. Kerr Vassar College