Billions of Years, Amazing Changes: The Story of Evolution
by Laurence Pringle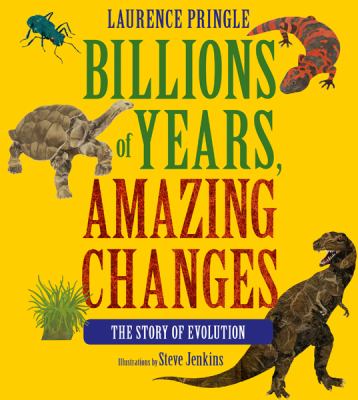 Publishers Weekly
(c) Copyright PWxyz, LLC. All rights reserved
9781590787236
Pringle provides an accessible introduction to complex concepts such as natural selection and genetics, paired with Jenkins's characteristically elegant collages. A chapter about variation opens with a discussion of the differences between dog breeds, and how such variation within a species "makes evolution possible." Pringle describes missing links as "in-between" fossils that have helped construct a clearer picture of evolutionary stages. Compelling photographs of fossils and living creatures, as well as Jenkins's paper collages, augment the substantial text. The presentation should help children gain a confident grasp on the fundamentals of evolution. Final art not seen by PW. Ages 8-12. (Sept.) (c) Copyright PWxyz, LLC. All rights reserved.
School Library Journal
(c) Copyright 2010. Library Journals LLC, a wholly owned subsidiary of Media Source, Inc. No redistribution permitted.
9781590787236
Gr 5-8-Pringle's exemplary title offers a carefully researched and clearly written history of the evolutionary process and real-time examples of evolutionary events. "Evolution is, simply, change over time." From floating continents and isolated islands to the formation of fossils, natural selection, and the deductions of Charles Darwin, the lucid text offers a clear understanding of an ongoing natural phenomenon and the light that recent discoveries have brought to bear on it. Clear, color photos complement the text, as does Jenkins's nifty artwork. Pale blue information boxes pop up on occasion, as do a couple of maps. Simpler, and far more lively than Thom Holmes's dry Evolution (Chelsea House, 2011), more difficult than Steve Jenkins's own elegant Life on Earth: The Story of Evolution (Houghton Harcourt, 2002), and more solid than Robert Winston's somewhat fragmentary Evolution Revolution (DK, 2009), Pringle's intelligent and eye-catching book is an engaging, readable lodestone for researchers.-Patricia Manning, formerly at Eastchester Public Library, NY (c) Copyright 2011. Library Journals LLC, a wholly owned subsidiary of Media Source, Inc. No redistribution permitted.
Book list
From Booklist, Copyright © American Library Association. Used with permission.
9781590787236
This ambitious book surveys the history of scientific discoveries related to the evolution of species on earth. It begins with early geologists puzzled by fossil remains of extinct animals and evidence that the earth must be older than previously thought. After presenting Darwin's research and his theory of evolution, the discussion moves on to topics such as genetics, the discovery of various missing links, the development of species on isolated islands, and evolution as an ongoing process, expressed today through drug-resistant bacteria and a new study of Galapagos finches. The historical organization of material works well, and Pringle writes clearly, though a few chapters, such as the one on variation, would benefit from fuller, more precise explanation. Colorfully illustrated throughout, the book includes many photos from different sources and some handsome images created by cut-paper collage artist Jenkins. Using early discoveries as a foundation for those that follow, Pringle builds a solid presentation of evolution as a pivotal idea and an ongoing field of scientific study.--Phelan, Carolyn Copyright 2010 Booklist