Karma, A Novel in Verse
by Ostlere, Cathy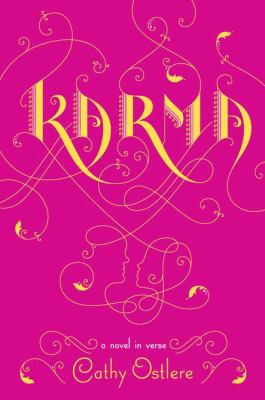 Publishers Weekly
(c) Copyright PWxyz, LLC. All rights reserved
9781595143389
This epic novel, written in free verse poems in a diary format, straddles two countries and the clash of Indian cultures in the tale of 15-year-old Maya. Raised in Canada, Maya is the product of a marriage between her Hindu mother and Sikh father, a union that upset both families. Her 1984 trip to India with her father, after her mother's suicide, thrusts her life into further chaos when her father disappears during riots that follow Indira Gandhi's assassination. In her first YA novel, Ostlere (Love: A Memoir) makes Maya's subsequent muteness believable in the wake of the many traumas she endures. Burdened with guilt over her parents' fate, as well as that of a Sikh man burned alive in front of her, she asks, "Is my silence unfounded too?/ No. I do not deserve to be found./ Or loved." A family in a desert town takes Maya in, and 17-year-old Sandeep (who contributes kinetic, lovestruck journal entries) takes special interest in her. In contrast to the hatred, mistrust, and violence, the friendship-and then love-between Maya and Sandeep offers hope, rebirth, and renewal. Ages 12-up. (Mar.) (c) Copyright PWxyz, LLC. All rights reserved.
School Library Journal
(c) Copyright 2010. Library Journals LLC, a wholly owned subsidiary of Media Source, Inc. No redistribution permitted.
9781595143389
Gr 8 Up-This epic tale unfolds through the pages of alternating diaries from October 28th through December 16th, 1984. Yet countless layers peel off with the turn of each page, leading readers deeper into the rich and sometimes tortured history beneath the tale's present. Fifteen-year-old Maya, half Hindu/half Sikh, has lived her entire life in rural Canada. Her family's religion and ethnicity set them apart from their community, but also from one another. Maya's name itself signifies the tension between her parents, lovers who forsook their families for each other, but who have lived in different states of mourning and regret since. Her given name is Jiva or "life," yet her mother blasphemously calls her Maya or "illusion," an insult to her Sikh father. Thus, when life and loss lead Maya and Bapu back to India at the time of Indira Gandhi's assassination, they are plunged deep into a nation in bloody turmoil. Maya's sense of otherness escalates dramatically as she is forced to consider it on a personal and near-universal scale. The middle diary belongs to that of Sandeep, with whom Maya experiences love, tragedy, ancestry, and loyalty at an intimate (yet physically innocent) level. The novel's pace and tension will compel readers to read at a gallop, but then stop again and again to turn a finely crafted phrase, whether to appreciate the richness of the language and imagery or to reconsider the layers beneath a thought. This is a book in which readers will consider the roots and realities of destiny and chance. Karma is a spectacular, sophisticated tale that will stick with readers long after they're done considering its last lines.-Jill Heritage Maza, Greenwich High School, CT (c) Copyright 2011. Library Journals LLC, a wholly owned subsidiary of Media Source, Inc. No redistribution permitted.
Book list
From Booklist, Copyright © American Library Association. Used with permission.
9781595143389
*Starred Review* After her Hindu mother's suicide, 15-year-old Maya and her Sikh father travel from Canada to India for a traditional burial. The year is 1984, and on the night of their arrival in New Delhi, Prime Minister Indira Gandhi is assassinated by her Sikh guards. When the city erupts in chaos, both Maya and her father find themselves in great danger. Through a sequence of horrifying events, father and daughter are separated, and Maya is left alone in a violent foreign country where she must rely on the help of strangers to reach safety. In her YA debut, acclaimed adult author Ostlere offers a riveting, historically accurate coming-of-age tale of gutsy survival, self-sacrifice, and love. Set during a six-week period, the novel in verse makes the most of its lyrical form with lines of dialogue that bounce back and forth in columns across the page and singularly beautiful metaphors and similes that convey potent detail and emotion. With artful compassion, Ostlere reveals the infinitely complex clash of cultures within both India and Maya's family, and although the allusions to karma could have seemed awkward in less talented hands, here they lead into well-framed larger questions that will stay with readers. A fascinating, epic page-turner.--Bradburn, Frances Copyright 2010 Booklist