Welcome to the Watertown-Wilson County Library!

The Heart of the Community!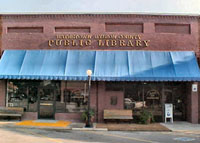 Library News
Texting You First
While we are in the season of inclement weather, would you like to know first when the library will open and when it will close? We now have special texting that will let you know first. Come by the library and sign up for this texting program.
Wireless Printing
We now have wireless printing! Log in to 192.168.3.23 web address and follow instructions. It is easy and fun. Don't forget that a black and white copy is .15 and a color copy is .25. Stop by the desk for a card for instructions.
Lego Club
Our Lego Club will begin February 23. If you can come after school, the room will be available for you. If you can come at 5 pm, the room will be available to you as well. The hours are 2:30-5 and 5-7. Bring your own Lego if you have them. If you don't, the library does have some that you can use. The only rule that I have it to be respectful while you are in the library. Keep you voices down, do not take what is not yours, and don't run. Very simple rules to follow.
Disclamer: The library is not responsible for lost, stolen, or torn items (clothes, legos, books, backpacks, or any other item brought into the library).
Search Options