by Janet Skeslien Charles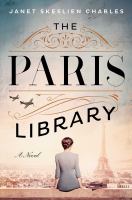 Kirkus
Copyright © Kirkus Reviews, used with permission.

World War II Paris during the German occupation forms the setting for an intelligent and sensuously rich novel of a young woman's coming-of-age. In 1939, Odile Souchet, the daughter of the captain of a police precinct, has just finished library school. She lands her dream job assisting patrons of the American Library, which serves both foreigners and Parisians, and falls in love with one of the police officers her father brings home for dinner. As the war proceeds and the Nazis take over the city, she fears for her twin brother, who has been captured by the Germans, places herself in danger by transporting books to Jewish patrons who are forbidden to visit the library, and begins to question some of her boyfriend's actions. Her story is juxtaposed with that of a teenager named Lily who, in 1983, lives in a small rural town in Montana. When Lily's mother becomes ill, Lily grows close to her previously frosty next-door neighbor Odile, who moved to Montana as a bride immediately after the war ended. While the chapters featuring Lily are snappy and often amusing, especially as she begins to adopt Parisian airs, they play a distinctly secondary role to those concerning Odile's life during the war. Structurally, the novel sometimes sags: Charles tends to move into the points of view of secondary characters, which leads to some repetition. But the author has a clear affection for both Paris and the American Library, where she worked as a programs manager in 2010, and she integrates the stories of many of the real-life employees and patrons of the library into the story with finesse, earning the novel its own place in the pantheon of World War II fiction. A novel tailor-made for those who cherish books and libraries. Copyright © Kirkus Reviews, used with permission.