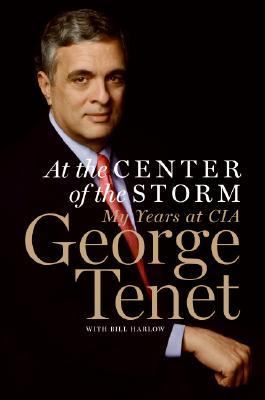 At the Center of the Storm: My Years at the CIA
by George Tenet


Book list Tenet, former director of the CIA, has finally delivered his long-anticipated book. It was supposed to provide background and insight into the events of September 11 as well as the lead-up (and fall down) of the Iraq War. But most readers will find that Tenet?s hodgepodge of facts tangled with homey anecdotes, excuses, and mea culpas will leave them as confused as ever. Consider this--from the man whose job included briefing President Bush on intelligence matters six days a week: "One of the great mysteries to me is exactly when the war in Iraq became inevitable." Tenet, alternately the folksy Greek American kid from Queens and the high-charging power broker, is proud of the many things the CIA did right under his charge, such as disrupting terrorist attacks leading up to 9/11 (while, of course, missing the big one), and he writes feverishly about successes in Afghanistan and elsewhere during the trying months afterward. The book is at its best painting just how dangerous, confusing, and exhausting those days were. Then comes the distraction from terrorism that was Iraq, and according to Tenet, common purpose disappeared in Washington, and interagency warfare reigned. Cheney comes out looking bad, and Rice worse, but much of the blame for the ill-preparedness goes to the slightly lower-level neocons: Wolfowitz, Libby, and the hapless Douglas Feith, who seems to be hated by everyone who has written an Iraq book. Rumsfeld is hardly mentioned-odd, considering he was running his own intelligence service in the Department of Defense. As for the president, Tenet likes him--a lot. But in a telling few pages, Bush keeps trying to get neocon favorite Ahmed Chalabi off the payroll, and no one pays a bit of attention to him. Turning these pages is like walking through mirrors."--"Cooper, Ilene" Copyright 2007 Booklist
From Booklist, Copyright © American Library Association. Used with permission.
Book list Tenet, former director of the CIA, has finally delivered his long-anticipated book. It was supposed to provide background and insight into the events of September 11 as well as the lead-up (and fall down) of the Iraq War. But most readers will find that Tenet's hodgepodge of facts tangled with homey anecdotes, excuses, and mea culpas will leave them as confused as ever. Alternately presenting himself as the folksy Greek American kid from Queens and the high-charging power broker, Tenet is proud of the many things the CIA did right under his charge, such as disrupting terrorist attacks leading up to 9/11 (while, of course, missing the big one), and he writes feverishly about successes in Afghanistan and elsewhere during the trying months afterward. The book is at its best painting just how dangerous, confusing, and exhausting those days were. Then comes the distraction from terrorism that was Iraq, and according to Tenet, common purpose disappeared in Washington, and interagency warfare reigned. Cheney comes out looking bad, and Rice worse, but much of the blame for the ill-preparedness goes to the slightly lower-level neocons: Wolfowitz, Libby, et al. As for the president, Tenet likes him--a lot. But in a telling few pages, Bush keeps trying to get neocon favorite Ahmed Chalabi off the payroll, and no one pays a bit of attention to him. Turning these pages is like walking through mirrors.--Cooper, Ilene Copyright 2007 Booklist
From Booklist, Copyright © American Library Association. Used with permission.
Library Journal Talk about an insider's account. Head of the CIA from 1997 to 2004, Tenet ushers us inside the agency before and after 9/11. Copyright 2006 Reed Business Information.
Copyright © Reed Business Information, a division of Reed Elsevier Inc. All rights reserved.