Welcome to the West Plains Public Library
West Plains Public Library
·
Library Hours:
Monday - Friday 9 am - 6 pm
Saturday 9 am - 5 pm
Facebook
: Check out the library's Facebook page!
Missouri Digital Heritage
: Access to digital collections and exhibits created by the cultural and scientific heritage institutions of Missouri.
Learn-A-Test
: Interactive test preparation and practice including GED, ACT, and SAT practice exams.
Click here to access the following Databases
:
EBSCOhost databases
: Academic Search Elite ; Book Collection Nonfiction: Elementary School Edition ; Book Collection Nonfiction: High School Edition ; Book Collection Nonfiction: Middle School Edition ; Consumer Health Complete - EBSCOhost ; ERIC ; Funk & Wagnalls New World Encyclopedia ; MAS Ultra - School Edition ; MasterFILE Premier ; MEDLINE ; Middle Search Plus ; Newspaper Source ; Primary Search ; Professional Development Collection ; Science Reference Center ; eBook Collection (EBSCOhost)
---
Salem Health
:  Cancer:a four-volume set that covers more than 800 topics of crucial interest to students, patients, caregivers, and others who have received a diagnosis or are associated with those who have cancer. Psychology & Mental Health: a five-volume set that covers history of the field, diagnoses, disorders, treatments, tests, notable people and issues.
---
Salem History: The Decades
:  Explore the 40's, 50's, 60's, 70's, 80's and 90's in America with this Salem Press series.
---
Salem Forensic Science
:  A comprehensive reference source on the theory, techniques, and applications of the various forensic sciences.
---
WorldCat on FirstSearch
: The worlds largest network of library content and services.
Click here to access more databases.
Missouri Libraries 2 Go
: Now available a new service from the West Plains Public Library: audiobooks and eBooks available to download from the library's website. Library card holders can check out and download digital media anytime, anywhere by clicking the link above or the button on the left.
Publishers Weekly Toss together an alternate 19th-century New England city, a strong tradition of Sherlockian pastiche, and one seriously ugly hat, and this lighthearted and assured debut emerges, all action and quirk. In the best Doyle tradition, the first-person narrator is pragmatic yet naive Abigail Rook, native of Britain and seeker of adventure. Thwarted in Ukraine, she catches ship for the U.S. and lands in New Fiddleham, penniless and with few employable skills. This matters not to R.F. Jackaby, the peculiar stranger with the awful hat, who is more interested in the kobold (household spirit) Abigail has unknowingly picked up on her travels. Jackaby is a detective in need of an unflappable assistant-literally, as his last one "is temporarily waterfowl." Abigail's keen eye for detail and complete ignorance of the paranormal make her observations invaluable to him, and she's soon caught up in the eccentric mayhem that is Jackaby's workaday world. Ritter is also capable of tenderness and pathos, as his description of a suffering banshee demonstrates, leaving room for development in any future cases Abigail may chronicle. Ages 12-up. Agent: Lucy Carson, Friedrich Agency. (Sept.) (c) Copyright PWxyz, LLC. All rights reserved.
(c) Copyright PWxyz, LLC. All rights reserved
School Library Journal Gr 9 Up-Fans of Jonathan Stroud's The Screaming StaircaseĆ(Disne-Hyperion, 2013) will appreciate Ritter's initial foray into the realm of supernatural. When Abigail Rook abandons university, and her parents' hopes, she arrives at the fictional New England town of New Fiddleham. There, she promptly meets R. F. Jackaby, a paranormal detective, and is flung into the investigation of a serial killer suspected of being nonhuman.ĆWhere Ritter excels is in the fast and furious plotline-events unfold rapidly while satisfying tastes for mystery and a small amount of gore. Unfortunately, so much attention is paid to the unfolding circumstances that the two main characters remain mysteries themselves. While readers know Abigail is fleeing the expectations society and her parents have placed on her, little is done to explain why. The protagonist is also a mystery-he just appears, as if a ghost himself, with much fanfare but scant backstory. Ultimately, however, avid lovers of fantasy will enjoy this quick read.-Amanda C. Buschmann, Atascocita Middle School, Humble, TX (c) Copyright 2014. Library Journals LLC, a wholly owned subsidiary of Media Source, Inc. No redistribution permitted.
(c) Copyright Library Journals LLC, a wholly owned subsidiary of Media Source, Inc. No redistribution permitted.
...More
Publishers Weekly :
In a starred review of this 1995 Caldecott winner, PW praised the "thought-provoking" and "thoroughly believable" text, about urban violence, and the "dazzling" mixed-media collages. Ages 3-8.
Copyright 1999 Cahners Business Information, Inc. Distributed by Syndetic Solutions Inc. Terms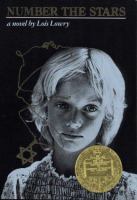 School Library Journal Gr 3-7?The gripping story of a ten-year-old Danish girl and her family's courageous efforts to smuggle Jews out of their Nazi-occupied homeland to safety in Sweden. Readers are taken to the very heart of Annemarie's experience, and, through her eyes, come to understand the true meaning of bravery. (Mar. 1989) (c) Copyright 2010. Library Journals LLC, a wholly owned subsidiary of Media Source, Inc. No redistribution permitted.
(c) Copyright 2010. Library Journals LLC, a wholly owned subsidiary of Media Source, Inc. No redistribution permitted.