Welcome to the West Plains Public Library
West Plains Public Library
·
Library Hours:
Monday - Friday 9 am - 6 pm
Saturday 9 am - 5 pm
Facebook
: Like us on Facebook for up to date news & events!
Missouri Digital Heritage
: Access to digital collections and exhibits created by the cultural and scientific heritage institutions of Missouri.
Learn-A-Test
: Interactive test preparation and practice including GED, ACT, and SAT practice exams.
Click here to access the following Databases
:
EBSCOhost databases
: Academic Search Elite ; Book Collection Nonfiction: Elementary School Edition ; Book Collection Nonfiction: High School Edition ; Book Collection Nonfiction: Middle School Edition ; Consumer Health Complete - EBSCOhost ; ERIC ; Funk & Wagnalls New World Encyclopedia ; MAS Ultra - School Edition ; MasterFILE Premier ; MEDLINE ; Middle Search Plus ; Newspaper Source ; Primary Search ; Professional Development Collection ; Science Reference Center ; eBook Collection (EBSCOhost)
---
Salem Health
:  Cancer:a four-volume set that covers more than 800 topics of crucial interest to students, patients, caregivers, and others who have received a diagnosis or are associated with those who have cancer. Psychology & Mental Health: a five-volume set that covers history of the field, diagnoses, disorders, treatments, tests, notable people and issues.
---
Salem History: The Decades
:  Explore the 40's, 50's, 60's, 70's, 80's and 90's in America with this Salem Press series.
---
Salem Forensic Science
:  A comprehensive reference source on the theory, techniques, and applications of the various forensic sciences.
---
WorldCat on FirstSearch
: The worlds largest network of library content and services.
Click here to access more databases.
Missouri Libraries 2 Go
: Now available a new service from the West Plains Public Library: audiobooks and eBooks available to download from the library's website. Library card holders can check out and download digital media anytime, anywhere by clicking the link above or the button on the left.
About the TumbleBookLibrary
: The TBL is a collection of TumbleBooks (animated, talking picture books) with fiction, non-fiction and foreign language titles, Read-Alongs (chapter books with sentence highlighting and narration but no animation), TumbleTV which consists of pre-set playlists of a sequence of books and Tumble Puzzles & Games.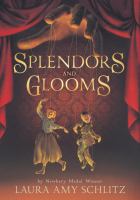 Book list *Starred Review* A brooding, Dickensian novel with a touch of fantasy and a glimmer of hope, Schlitz's latest opens in London in 1860, when lonely Clara, the only remaining child in a doctor's grief-stricken household, attempts to celebrate her twelfth birthday. Grisini the puppet master is engaged to perform, along with the two orphaned children, Lizzie Rose and Parsefall, who serve as his assistants. Clara bridges the class divide to befriend the children. After kidnapping Clara for ransom, cruel Grisini disappears, leaving Lizzie Rose and Parsefall struggling to survive on their own. They make their way to the country house of a bewitched woman whose magical amulet gives her amazing powers while draining away her humanity. There they learn certain grisly secrets involving their cruel master, Clara's fate, and the wealthy witch, who seeks to control them all. The magic of the storytelling here lies in the subtle depiction of menacing evil. After working its way insidiously through the characters' lives, it is defeated by the children, who grow in strength and understanding throughout the novel. Vividly portrayed and complex, the characters are well-defined individuals whose separate strands of story are colorful and compelling. Schlitz weaves them into an intricate tapestry that is as mysterious and timeless as a fairy tale. HIGH-DEMAND BACKSTORY: Schlitz's Newbery Medal winner, Good Masters! Sweet Ladies! Voices from a Medieval Village (2007) earned her a wide following, and librarians will be eager to see what she's up to next.--Phelan, Carolyn Copyright 2010 Booklist
From Booklist, Copyright © American Library Association. Used with permission.
Publishers Weekly Anyone who thinks marionettes are creepy will have that opinion reinforced by this dark tale about three children at the mercy of an unscrupulous puppeteer and the witch who pulls his strings. Clara Wintermute asks her father, a wealthy doctor in 1860 London, to hire Professor Grisini and his Venetian Fantoccini to entertain guests at her 12th birthday party. Clara is stagestruck by the puppets and taken with one of Grisini's two assistants, the pretty, well-mannered orphan Lizzie Rose (the other assistant, Parsefall, is an urchin straight out of a Dickensian workhouse). After the puppet show, Clara disappears. Grisini is suspected, but he, too, vanishes. The fate of the three children becomes intertwined with Grisini's old flame, the witch Cassandra Sagredo. It's a fairly complicated plot, and although the pacing occasionally lags, Newbery Medalist Schlitz (Good Masters! Sweet Ladies!) delivers many pleasures-fully dimensional children, period details so ripe one can nearly smell them, and droll humor that leavens a few scenes of true horror. A highly original tale about children caught in a harrowing world of magic and misdeeds. Ages 9-13. Agent: Stephen Barbara, Foundry Literary + Media. (Aug.) (c) Copyright PWxyz, LLC. All rights reserved.
(c) Copyright PWxyz, LLC. All rights reserved
School Library Journal Gr 4-8-Victorian London could be a magical place: horse-drawn carriages, puppet shows, elaborate upper-class houses. Of course it could also be miserable: fog, filthy streets, shabby hovels where too many people live in too few rooms. Schlitz conjures both the magic and the mundane here. For Clara's 12th birthday, her parents hire a street performer to give a puppet show in their home. The puppeteer, Grisini, is so talented that he appears to be magical. His two orphaned assistants, Lizzie Rose and Parsefall, are envious of Clara's home and all its comforts. Clara vanishes the night of the puppet show, and Grisini and his assistants are the prime suspects. Then Grisini disappears, and Lizzie Rose and Parsefall must seek out the missing girl, with the sinister and mysterious help of a wealthy old witch. Schlitz uses such evocative language that readers will practically smell dirty London and then be relieved by the crisp, cold air in the countryside around the witch's crumbling mansion. The characters are recognizable tropes: the witch is rotting from the inside out; the orphans may be dirty and ill-bred, but they have spirit and pluck; the little rich girl is actually sad and lonely; the skinny puppeteer and the overly dramatic landlady are recognizably Dickensian. Yet, they are so well drawn that they are never caricatures, but people whom readers will cheer for, be terrified of, or grow to like. The plot is rich with supernatural and incredibly suspenseful elements. Fans of mystery, magic, and historical fiction will all relish this novel.-Geri Diorio, Ridgefield Library, CT (c) Copyright 2012. Library Journals LLC, a wholly owned subsidiary of Media Source, Inc. No redistribution permitted.
(c) Copyright 2010. Library Journals LLC, a wholly owned subsidiary of Media Source, Inc. No redistribution permitted.
...More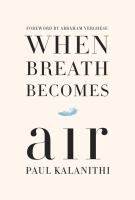 Book list Can life remain full and rewarding even while one is living under a death sentence? This is the question now-deceased neurosurgeon Kalanithi asked himself after receiving a late-stage lung cancer diagnosis. Newly married and almost ready to complete his residency, at 34 Kalanithi was faced with a momentous decision: Should he continue with a promising medical career, or fall back on his first love of writing while taking care of his health? Fortunately for the readers of this moving memoir, he decided to do both. Kalanithi describes his life-changing decision to set aside the pursuit of a doctorate in literature in favor of attending medical school and then recounts the discovery and progress of his illness, along with the inevitable upheaval in his personal life. A precious highlight here is the heartrending epilogue penned by his wife, Lucy, following Kalanithi's passing shortly after she became pregnant. This eloquent, heartfelt meditation on the choices that make life worth living, even as death looms, will prompt readers to contemplate their own values and mortality.--Hays, Carl Copyright 2015 Booklist
From Booklist, Copyright © American Library Association. Used with permission.
Publishers Weekly Author and physician Kalanithi had nearly completed his residency in neurosurgery at Stanford when he was diagnosed with Stage lV lung cancer at the age of 36. Despite the stubborn progression of his disease, Kalanithi was able to write, work, and delve into a number of profound issues before the end of his life, documented here (his wife provides the epilogue). As a youth in Arizona, Kalanithi was unsure whether he wanted to pursue medicine, as his father did, or if literature and writing were his calling. This inspiring memoir makes it clear that he excelled at both. Kalanithi shares his career struggles, bringing readers into his studies at Yale (including cadaver dissection), the relentless demands of neurosurgery, and the life-and-death decisions and medical puzzles that must be solved. After he begins cancer treatment, Kalanithi strives to define his dual role as physician and patient, and he weighs in on such topics as what makes life meaningful and how one determines what is most important when little time is left. He also shares the challenges of colleagues: an oncologist who walks a tightrope between hope and honest reality; a fellow doctor who commits suicide after losing a patient; Kalanithi's wife, also a doctor, bearing witness to her husband's decline even as she gives birth to their child. This deeply moving memoir reveals how much can be achieved through service and gratitude when a life is courageously and resiliently lived. (Jan.) © Copyright PWxyz, LLC. All rights reserved.
(c) Copyright PWxyz, LLC. All rights reserved
...More