Welcome to the West Plains Public Library
West Plains Public Library
·
Library Hours:
Monday - Friday 9 am - 6 pm
Saturday 9 am - 5 pm
Facebook
: Check out the library's Facebook page!
Missouri Digital Heritage
: Access to digital collections and exhibits created by the cultural and scientific heritage institutions of Missouri.
Learn-A-Test
: Interactive test preparation and practice including GED, ACT, and SAT practice exams.
Click here to access the following Databases
:
EBSCOhost databases
: Academic Search Elite ; Book Collection Nonfiction: Elementary School Edition ; Book Collection Nonfiction: High School Edition ; Book Collection Nonfiction: Middle School Edition ; Consumer Health Complete - EBSCOhost ; ERIC ; Funk & Wagnalls New World Encyclopedia ; MAS Ultra - School Edition ; MasterFILE Premier ; MEDLINE ; Middle Search Plus ; Newspaper Source ; Primary Search ; Professional Development Collection ; Science Reference Center ; eBook Collection (EBSCOhost)
---
Salem Health
:  Cancer:a four-volume set that covers more than 800 topics of crucial interest to students, patients, caregivers, and others who have received a diagnosis or are associated with those who have cancer. Psychology & Mental Health: a five-volume set that covers history of the field, diagnoses, disorders, treatments, tests, notable people and issues.
---
Salem History: The Decades
:  Explore the 40's, 50's, 60's, 70's, 80's and 90's in America with this Salem Press series.
---
Salem Forensic Science
:  A comprehensive reference source on the theory, techniques, and applications of the various forensic sciences.
---
WorldCat on FirstSearch
: The worlds largest network of library content and services.
Click here to access more databases.
Missouri Libraries 2 Go
: Now available a new service from the West Plains Public Library: audiobooks and eBooks available to download from the library's website. Library card holders can check out and download digital media anytime, anywhere by clicking the link above or the button on the left.
Book list Oliver's follow-up to her smash debut, Before I Fall (2010), is another deft blend of realism and fantasy. The hook is irresistible: it's the near future, a time when love has long since been identified as a disease called amor deliria nervosa, and 17-year-old Lena is 95 days away from the operation that everyone gets to cure themselves. Can you feel the swoon coming? Enter Alex, a rakish daredevil who, as it turns out, is one of the Invalids a tribe of uncured who live on the lam in the surrounding wilderness. With the clock ticking down to her surgery, Lena is drawn into Alex's world, one of passion and freedom, while her emotionally castrated family members hope to turn her into yet another complacent zombie. Oliver's masterstroke is making a strong case for love as disease: the anxiety, depression, insomnia, and impulsive behavior of the smitten do smack of infirmity. The story bogs down as it revels in romance Alex is standard-issue perfection but the book never loses its A Clockwork Orange-style bite regarding safety versus choice.--Kraus, Daniel Copyright 2010 Booklist
From Booklist, Copyright © American Library Association. Used with permission.
School Library Journal Gr 8 Up-In this gripping dystopian novel set in a future Portland, ME, everyone is safe, unhappiness can be cured, and the freedoms we take for granted have been relinquished in the name of "security" and "the common good." There is no risk and no pain, or at least there won't be for 17-year-old Lena Haloway and her outspoken friend, Hana, once they turn 18. They will then be eligible, in fact forced, to undergo the procedure that will render them impervious to delirium-the disease that was formerly known as love. You can see, of course, right where this is headed, but the ride is well worthwhile. Lena is an engaging and believable protagonist, at first compliant, then questioning, and finally desperate to save herself and the irrepressible emotions blooming within her. Her journey to understanding is both painful and exhilarating as she meets free-spirited Alex, succumbs to delirium, and wrestles with the social code she's been taught so well. Ultimately, Lena gets a shocking glimpse into the world outside the city's borders and witnesses the barbaric underpinnings of the "safe" world in which she has lived. Especially heartbreaking is her discovery of the fate of her mother, who was unable to stop loving her husband and daughters and paid a terrible price for her transgression. On the other hand, Lena's caring but numbed-out aunt and her scrupulously compliant older sister make clear the consequences of obedience to tyranny. Strong characters, a vivid portrait of the lives of teens in a repressive society, and nagging questions that can be applied to our world today make this book especially compelling and discussable.-Carolyn Lehman, Humboldt State University, Arcata, CA (c) Copyright 2011. Library Journals LLC, a wholly owned subsidiary of Media Source, Inc. No redistribution permitted.
(c) Copyright 2010. Library Journals LLC, a wholly owned subsidiary of Media Source, Inc. No redistribution permitted.
School Library Journal Gr 7 Up-In 17-year-old Lena's America, science has conquered the most pernicious disease of all-love. Also gone are laughter, dancing, and the appreciation of beauty. Lena is looking forward to being cured of her troublesome feelings until she meets a boy with golden eyes and hair the color of autumn. Audio version available from Audible.com. (c) Copyright 2011. Library Journals LLC, a wholly owned subsidiary of Media Source, Inc. No redistribution permitted.
(c) Copyright 2010. Library Journals LLC, a wholly owned subsidiary of Media Source, Inc. No redistribution permitted.
Publishers Weekly In her sophomore novel, Oliver (Before I Fall) presents an intriguing but disappointing thought experiment, set in a dystopian future in which American borders are sealed and civil order is enforced by regulation, vigilantism, and "the procedure," a coming-of-age lobotomy that excises amor deliria nervosa, or love. Nearly 18, Lena Haloway welcomes the prospect; her mother underwent three unsuccessful procedures and eventually committed suicide, so Lena deeply believes that love equals suffering. Still, there's a subversiveness to her thoughts and actions, from nurturing the motherless child Gracie to reading Romeo and Juliet because it is "beautiful," not the cautionary tale it's presented as. When a strange, handsome boy begins to intrude on her life, strictly against the regulations, the "beauty" of that tragic trope begins to play out swiftly and relentlessly. The prose is accomplished, and the Portland, Maine, setting wonderfully evoked. However, Oliver's nightmare future lacks a visceral punch, primarily because of the weakness of the world-building. Her America has undergone a seismic shift, but the economic, religious, and cultural ramifications are all but ignored. Ages 14-up. (Feb.) (c) Copyright PWxyz, LLC. All rights reserved.
(c) Copyright PWxyz, LLC. All rights reserved
...More
Publishers Weekly :
In a starred review of this 1995 Caldecott winner, PW praised the "thought-provoking" and "thoroughly believable" text, about urban violence, and the "dazzling" mixed-media collages. Ages 3-8.
Copyright 1999 Cahners Business Information, Inc. Distributed by Syndetic Solutions Inc. Terms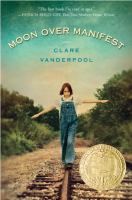 School Library Journal Gr 5-8-History and fiction marry beautifully in this lively debut novel. It's as if readers jump off the train in Manifest, KS, in 1936 with Abilene Tucker, 12, the feisty, likable, and perceptive narrator. She is there to live with Pastor Shady Howard, her father's friend, while her father works on the railroad back in Iowa. An equally important story set during World War I is artfully intertwined. Since her mother went off on her own 10 years earlier, Abilene and Gideon have been alone. Though their life together is unsettled, their bond is strong. Shady's place is shabby, but he is welcoming. The mystery about Manifest and Gideon unfolds after Abilene finds a box filled with intriguing keepsakes. It includes a letter dated 1917 to someone named Jinx from Ned Gillen that has a warning, "THE RATTLER is watching." This starts Abilene, with the help of new friends Ruthanne and Lettie, on a search to learn the identity of the pair. The story cleverly shifts back and forth between the two eras. Abilene becomes connected to Miss Sadie, a "diviner" who slowly leads her through the story of Ned and Jinx. Though the girl is lonely, she adjusts to her new life, feeling sure that her father will come for her at summer's end. The Ku Klux Klan and its campaign against the many immigrants working in the coal mines and the deplorable conditions and exploitation of these men provide important background. This thoroughly enjoyable, unique page-turner is a definite winner.-Renee Steinberg, formerly at Fieldstone Middle School, Montvale, NJ (c) Copyright 2010. Library Journals LLC, a wholly owned subsidiary of Media Source, Inc. No redistribution permitted.
(c) Copyright 2010. Library Journals LLC, a wholly owned subsidiary of Media Source, Inc. No redistribution permitted.
Book list *Starred Review* After a life of riding the rails with her father, 12-year-old Abilene can't understand why he has sent her away to stay with Pastor Shady Howard in Manifest, Missouri, a town he left years earlier; but over the summer she pieces together his story. In 1936, Manifest is a town worn down by sadness, drought, and the Depression, but it is more welcoming to newcomers than it was in 1918, when it was a conglomeration of coal-mining immigrants who were kept apart by habit, company practice, and prejudice. Abilene quickly finds friends and uncovers a local mystery. Their summerlong spy hunt reveals deep-seated secrets and helps restore residents' faith in the bright future once promised on the town's sign. Abilene's first-person narrative is intertwined with newspaper columns from 1917 to 1918 and stories told by a diviner, Miss Sadie, while letters home from a soldier fighting in WWI add yet another narrative layer. Vanderpool weaves humor and sorrow into a complex tale involving murders, orphans, bootlegging, and a mother in hiding. With believable dialogue, vocabulary and imagery appropriate to time and place, and well-developed characters, this rich and rewarding first novel is like sucking on a butterscotch. Smooth and sweet. --Isaacs, Kathleen Copyright 2010 Booklist
From Booklist, Copyright © American Library Association. Used with permission.
Publishers Weekly Set in 1936, this memorable coming-of-age story follows 12-year-old Abilene Tucker's unusual summer in her father's hometown of Manifest, Kans., while he's away on a railroad job. Having had an itinerant upbringing, Abilene is eager to connect to her father's childhood, a goal that proves difficult. The immigrant town has become rundown, but is populated with well-developed, idiosyncratic characters and has a dynamic past involving the KKK, an influenza scare, and a bootlegging operation. Manifest's history emerges in stories recounted by Miss Sadie (a Hungarian medium) and in news columns written in 1917 by Hattie Mae Harper, "Reporter About Town." With new friends Lettie and Ruthanne, Abilene pieces together the past, coming to understand, as Miss Sadie says, that "maybe what you're looking for is not so much the mark your daddy made on this town, but the mark the town made on your daddy." Witty, bold, and curious, Abilene is as unforgettable as the other residents of Manifest, and the variety of voices allows the town's small mysteries to bloom. Replete with historical details and surprises, Vanderpool's debut delights, while giving insight into family and community. Ages 9-12. (Oct.) (c) Copyright PWxyz, LLC. All rights reserved.
(c) Copyright PWxyz, LLC. All rights reserved
...More