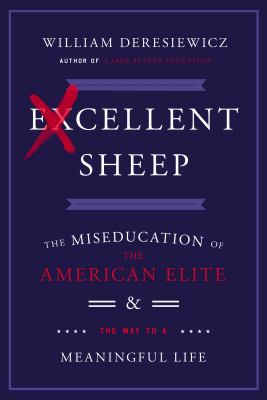 Excellent Sheep
by William Deresiewicz
Publishers Weekly The kids are all wrong-especially the superachievers at the nation's top universities-according to this stinging indictment of American higher education. Culture critic Deresiewicz (A Jane Austen Education) expands his notorious American Scholar essay into a jeremiad against elite colleges, the Ivy League and, in particular, Yale, where he taught English. Students, he argues, are "smart and talented and driven... but also anxious, timid, and lost"; narcissistic helicopter parents-Tiger-Mom Amy Chua gets lambasted-pressure them to trade fulfillment for money and status. According to the author, colleges with indifferent teaching and incoherent curricula offer no guidance on intellectual development or character formation; the whole system reinforces a class hierarchy that "equates virtue, dignity, and happiness with material success." Entwined with his j'accuse is an impassioned, idealistic plea to reclaim the undergraduate years as a journey of self-discovery guided by engaged professors who challenge students to think for themselves instead of following the flock to Wall Street. Deresiewicz's critique of America's most celebrated schools as temples of mercenary mediocrity is lucid, sharp-edged, and searching, and if he sometimes too easily dismisses the practical expectations surrounding ruinously expensive degrees, he poses vital questions about what college teaches-and why. Agent: Elyse Cheney, Elyse Cheney Literary Associates. (Aug.) (c) Copyright PWxyz, LLC. All rights reserved.
(c) Copyright PWxyz, LLC. All rights reserved
Book list *Starred Review* It might surprise the countless students competing for admission to Harvard, Yale, and Stanford that they could be fighting for a dubious prize. But in this probing indictment, a former Yale professor accuses America's top universities of turning young people into tunnel-visioned careerists, adept at padding their resumes and filling their bank accounts but unprepared to confront life's most important questions. Craven conformity, not free-spirited independence, is what Deresiewicz sees students learning in a campus world populated by hyperspecialized professors who pursue arcane research agendas and leave the teaching of undergraduates to adjuncts and TAs. The time has come, Deresiewicz asserts, for college professors and administrators to make students their first priority by giving them a challenging liberal-arts education. Grounded in the humanities, such an education would give students real intellectual and imaginative breadth, not just a professional credential. Besides pressing for this curricular and pedagogical realignment, Deresiewicz calls for radical reform of admissions policies, so reversing the trends that make the university an enforcer of caste hierarchies. Deresiewicz's controversial full agenda indeed means an end to rule by meritocracy and a beginning of fairness for the working class. An urgent summons to a long-overdue debate over what universities do and how they do it.--Christensen, Bryce Copyright 2010 Booklist
From Booklist, Copyright © American Library Association. Used with permission.