by Jacqueline Woodson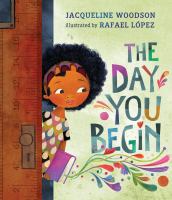 Kirkus
Copyright © Kirkus Reviews, used with permission.

School-age children encounter and overcome feelings of difference from their peers in the latest picture book from Woodson.This nonlinear story centers on Angelina, with big curly hair and brown skin, as she begins the school year with a class share-out of summer travels. Text and illustrations effectively work together to convey her feelings of otherness as she reflects on her own summer spent at home: "What good is this / when others were flying," she ponders while leaning out her city window forlornly watching birds fly past to seemingly faraway places. Lpez's incorporation of a ruler for a door, table, and tree into the illustrations creatively extends the metaphor of measuring up to others. Three other childrenRigoberto, a recent immigrant from Venezuela; a presumably Korean girl with her "too strange" lunch of kimchi, meat, and rice; and a lonely white boy in what seems to be a suburbexperience more-direct teasing for their outsider status. A bright jewel-toned palette and clever details, including a literal reflection of a better future, reveal hope and pride in spite of the taunting. This reassuring, lyrical book feels like a big hug from a wise aunt as she imparts the wisdom of the world in order to calm trepidatious young children: One of these things is not like the other, and that is actually what makes all the difference.A must-have book about the power of one's voice and the friendships that emerge when you are yourself. (Picture book. 4-8) Copyright Kirkus Reviews, used with permission.
---
Horn Book
(c) Copyright The Horn Book, Inc., a wholly owned subsidiary of Media Source, Inc. No redistribution permitted.

Venezuelan immigrant Rigoberto looks crestfallen when the class laughs at his name; other classmates feel left out when friends make fun of their lunch foods. And the (unnamed) African American protagonist has trouble finding her voice when her classmates recount their summer vacations until she realizes books have afforded her boundless travel. Woodson's story about feeling like an outcast values literacy, reading, and imagination. Lspez's illustrations feature vivid, brilliant colors. (c) Copyright 2019. The Horn Book, Inc., a wholly owned subsidiary of Media Source, Inc. No redistribution permitted.