by Yuyi Morales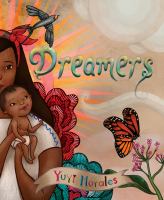 Kirkus
Copyright © Kirkus Reviews, used with permission.

Based on her experience of leaving Mexico for the United States, Morales' latest offers an immigrant's tale steeped in hope, dreams, and love.This story begins with a union between mother and son, with arms outstretched in the midst of a new beginning. Soon after, mother and son step on a bridge, expansive "like the universe," to cross to the other side, to become immigrants. An ethereal city appears, enfolded in fog. The brown-skinned woman and her child walk through this strange new land, unwilling to speak, unaccustomed to "words unlike those of our ancestors." But soon their journey takes them to the most marvelous of places: the library. In a series of stunning double-page spreads, Morales fully captures the sheer bliss of discovery as their imaginations take flight. The vibrant, surreal mixed-media artwork, including Mexican fabric, metal sheets, "the comal where I grill my quesadillas," childhood drawings, and leaves and plants, represents a spectacular culmination of the author's work thus far. Presented in both English and Spanish editions (the latter in Teresa Mlawer's translation), equal in evocative language, the text moves with purpose. No word is unnecessary, each a deliberate steppingstone onto the next. Details in the art provide cultural markers specific to the U.S., but the story ultimately belongs to one immigrant mother and her son. Thanks to books and stories (some of her favorites are appended), the pair find their voices as "soadores of the world."A resplendent masterpiece. (author's note) (Picture book. 4-8) Copyright Kirkus Reviews, used with permission.
---
Horn Book
(c) Copyright The Horn Book, Inc., a wholly owned subsidiary of Media Source, Inc. No redistribution permitted.

Two "migrantes," a mother and her infant son, arrive on "the other side." Here they meet cultural challenges (customs, language) that are resolved at the San Francisco Public Library, with its "unimaginable" wealth of books that offer paths to literacy, community, even a career. Occasional Spanish words enrich the succinct, gently poetic text, illustrated with rich and vibrant pen-and-ink, acrylic, and collage art. Back matter sets the narrative in personal and historical context. Concurrently published in Spanish as Soqadores. (c) Copyright 2019. The Horn Book, Inc., a wholly owned subsidiary of Media Source, Inc. No redistribution permitted.