by Minh Le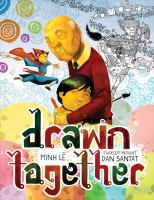 Horn Book
(c) Copyright The Horn Book, Inc., a wholly owned subsidiary of Media Source, Inc. No redistribution permitted.

[Books by Horn Book reviewers are not reviewed; we provide notice of publication and descriptive comment.] An English-speaking grandson and his Thai-speaking grandfather have trouble communicating in words--but with art supplies in their hands, they create a shared magical adventure involving warriors and dragons. Varied mixed-media panel illustrations incorporate culturally specific motifs in both the real-world setting and the fantastical story-within-a-story. (c) Copyright 2019. The Horn Book, Inc., a wholly owned subsidiary of Media Source, Inc. No redistribution permitted.
---
Kirkus
Copyright © Kirkus Reviews, used with permission.

The power of art takes center stage in this cleverly titled story of a Thai-speaking grandfather connecting to his assimilated American grandson. The title page introduces readers to a sullen-faced Asian boy as he walks up to a door and rings the bell. After a traditional bow of greeting, the grandfather, dressed like Mr. Rogers in a white shirt and red sweater, wordlessly welcomes the grandson inside. In paneled artwork, the two unsuccessfully attempt conversation over dinner, with the grandfather speaking in Thai script and the boy speaking in English. Sitting in the uncomfortable silence that cultural divides create, the awkward boy finally walks away to doodle on paper. He draws a wizard with a wand and a conical red hat. Grandpa, recognizing this creative outlet, fetches a sketchbook and, surprisingly, draws his version of a wizard: a tightly detailed warrior clothed in traditional Thai ceremonial dress. The young boy is amazed, marveling that "we see each other for the first time." The two begin a battle of imagination, wands and paintbrushes thrashing like swords. One draws in energetic colorful cartoons, the other with fierce black-and-white, precisely brushed drawings. Santat elevates their newfound shared passion into energetic, layered, and complex designs, separate and entwined at the same time. They clash with the dragon that divides them and build a new world together "that even words can't describe." L's compelling storyline is propelled forward by Santat's illustrations, each capturing both the universal longing to connect and the joy of sharing the creative process. (Picture book. 4-8) Copyright Kirkus Reviews, used with permission.