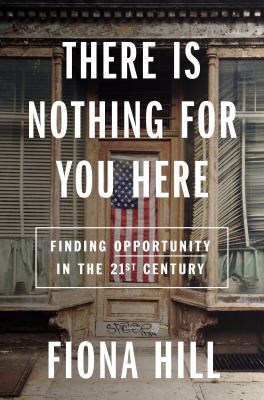 There Is Nothing For You Here
by Fiona Hill


Library Journal Features editor and a tech reporter at Bloomberg Businessweek, Chafkin tells the story of The Contrarian, that is, billionaire venture capitalist and entrepreneur Peter Thiel, who has significantly influenced the course of Silicon Valley. Columbia history/journalism professor Cobb and New Yorker editor Remnick illuminate The Matter of Black Lives in pieces collected from the magazine, starting with Rebecca West's account of a lynching trial and James Baldwin's "Letter from a Region in My Mind" and moving on to embrace works by Toni Morrison, Ta-Nehisi Coates, Zadie Smith, Hilton Als, Jamaica Kincaid, and Henry Louis Gates Jr., among others (100,000-copy first printing). Having left behind her hometown in England's declining coal-mining region when her father declared There's Nothing for You Here, Brookings senior fellow Hill—now an American citizen and a former member of the National Security Council—draws on her extensive national intelligence work in Russia to warn that America's rocky situation today mirrors circumstances that led to Russia's socioeconomic decline (100,000-copy first printing). Rejecting the view that humans are irredeemably off-the-wall in their thinking (we have elucidated the laws of nature, for instance), two-time Pulitzer Prize finalist Pinker argues in Rationality that we don't avail ourselves of logic in many everyday situations because we don't really need to. But we can learn how to think more logically, even as we recognize that some rational acts (he cites self-interest) can lead to damaging irrationality for society. Oxford professor Srinivasan's The Right to Sex talks about talking about sex in the #MeToo era, stating, for instance, that we need to deepen the prevailing concept of consent into something more nuanced (50,000-copy first printing). Award-winning journalist Streep's Brothers on Three revisit the players, families, and community that celebrated when the Arlee Warriors brought home the high school basketball state championship title to the Flathead Indian Reservation in Montana (75,000-copy first printing).
(c) Copyright Library Journals LLC, a wholly owned subsidiary of Media Source, Inc. No redistribution permitted.
Publishers Weekly Former National Security Council official Hill (Mr. Putin) blends memoir and policy analysis in this lucid account. She traces her journey from northern England, where her father and grandfather were coal miners, to a college exchange program in Moscow, where she worked as a translator for NBC News during the 1988 summit between Mikhail Gorbachev and Ronald Reagan, and a Harvard PhD. She also discusses serving in the George W. Bush and Obama administrations as an adviser on Russian affairs, and her decision to testify against President Trump over his pressure campaign on Ukraine. But the heart of the book is Hill's argument that declining opportunity in the U.S. mirrors the socioeconomic situations in England and Russia, and is at the heart of political turmoil in all three countries. She examines personal mobility and wage inequality through the lenses of place, class, race, and gender, and makes a forceful argument for investing in education to lower the barriers to opportunity. She also refutes Trump's "personalized populist politics" and warns that the U.S. will experience more "ruinous populist and sectarian politics" until people "see concrete, personally measurable examples of positive change within their own immediate physical communities." Readers will come for the insider details about Trump, but stay for the keen analysis. (Oct.)
(c) Copyright PWxyz, LLC. All rights reserved
Library Journal This book by foreign policy expert Hill, combining memoir and political science, accounts for her 30-year career as a specialist in U.S.-Russia relations, provides insights on political divisions in the United States, and argues that declining economic opportunity can spark authoritarianism. Hill made headlines in 2019 when she testified before Congress during the first Trump impeachment hearing, as a former National Security Council official in the Trump administration. Here she relates the personal challenges she overcame to reach that position. Hill grew up in the economically distressed North East region of England, after the collapse of coal mining industries. She left the region to study internationally, including a year spent in the Soviet Union as its empire was collapsing. In 1989, Hill received a scholarship to the Harvard Kennedy School where she studied economic inequality in the U.S., UK, and Russia. With her knowledge of post-Soviet Russia, Hill makes a convincing case that populism can slide into authoritarianism if citizens and leadership are not vigilant and demonstrates similar political outcomes throughout the world. VERDICT Readers interested in Hill's life and in international relations will be well informed by this book; her reporting of behind-the-scenes activity in the Trump White House will also fascinate.—Jill Ortner, SUNY Buffalo Libs.
(c) Copyright Library Journals LLC, a wholly owned subsidiary of Media Source, Inc. No redistribution permitted.
Kirkus A renowned expert on modern Russia recounts her struggles overcoming economic and social barriers growing up in northern England and draws attention to the looming issues of inequality she sees in the U.S. Hill had been a foreign affairs adviser for many years before serving as an official for the U.S. National Security Council under Donald Trump, yet it was through her engagingly blunt witness testimony during Trump's first impeachment trial that she gained national attention. Her personal story, in particular, attracted the public's interest and curiosity. In this ambitious, immensely compelling memoir, Hill interweaves her interesting life story with events and issues she has continued to observe during her career. "My life experiences, long before I ended up in the Trump White House, had opened my eyes to the dangerous consequences of economic disruption and social dislocation," she writes. "In the United Kingdom, my family experienced the overwhelming sense of economic precariousness and political disenfranchisement that also beset millions of people in the U.S. over the generations stretching from the 1960s to 2020." The author persuasively argues that America may be heading in a similar direction to Russia unless we address the crucial challenges facing much of the country, specifically regarding education, health care, and job opportunities. Drawing insightful parallels between Trump and Putin, she unpacks how the threat of populism can quickly undermine democracy: "If we fail to fix our ailing society by addressing them and providing opportunity for all, another American president, just like Vladimir Putin, might decide to stay in power indefinitely." Currently a senior fellow at the Brookings Institution, Hill also recounts her personal challenges as a woman working in the highest levels of government, struggles that all women readers will recognize, regardless of their workplace. A shrewd, absorbing memoir that casts a sharp eye on America's future while offering feasible solutions for change. Copyright © Kirkus Reviews, used with permission.
Copyright © Kirkus Reviews, used with permission.