by Jamieson, Victoria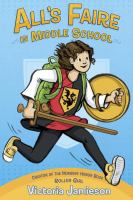 Horn Book
(c) Copyright The Horn Book, Inc., a wholly owned subsidiary of Media Source, Inc. No redistribution permitted.

Roller Girl meets the Ren Faire in this read-alike graphic novel. Homeschooled Imogene Vega--squire-in-training at the Renaissance Faire where her family works--starts middle school, and embarrassingly hilarious/tragic moments ensue. Nobody seems to get how hard Imogene has it (until they do). Roller-coaster moments stem from relatable sixth-grade experiences, always with a sense of high stakes. Energetic, expressive illustrations let plot and characterization shine. (c) Copyright 2018. The Horn Book, Inc., a wholly owned subsidiary of Media Source, Inc. No redistribution permitted.
---
School Library Journal
(c) Copyright Library Journals LLC, a wholly owned subsidiary of Media Source, Inc. No redistribution permitted.

Gr 4-8-Helping her parents with their jobs at the Renaissance Faire is all 11-year-old homeschooler Imogene "Impy" Vega has ever known. While working with her family is fun, she wants to go to middle school and meet kids her own age. Unfortunately, sheltered Impy is ill-equipped for the realities of draconian teachers, frenemies, and boys. Her new challenges begin to wear her down, and she struggles to develop empathy for others, even in the midst of adolescent angst. This utterly charming graphic novel rivals the author's Newbery Award-winning debut title, Roller Girl. Whereas in the earlier book Jamieson subtly incorporated elements of realism (wrinkles, scuffs, and scrapes on the characters), here she has committed to a more unified cartoonlike look, with fewer details and sketchlike lines. The result is a slightly more polished work. Exaggerated character expressions add further to the appeal. This is a lengthy coming-of-age story that weaves in subplots involving Impy's first real friend, her younger brother, and other cast members of the Faire. Tweens seeking a light read with a quick payoff will shy away, but those who enjoy weightier narratives will lose themselves in Jamieson's world and appreciate the realistic life-goes-on conclusion. VERDICT As heartfelt as it is gorgeous, this is a worthy addition to any middle grade graphic novel collection.-Matisse Mozer, County of Los Angeles Public Library © Copyright 2017. Library Journals LLC, a wholly owned subsidiary of Media Source, Inc. No redistribution permitted.
---
Book list
From Booklist, Copyright © American Library Association. Used with permission.

After years of homeschooling, Imogene is excited to start public school for the first time. Plus, she finally gets to perform in the Renaissance faire, where her mom has a shop (or, shoppe) and her dad plays a knight. Imogene doesn't have much trouble sliding into her new role at the faire, but middle school is another story. Rules about who to sit with, what to wear, and how to fit in are confounding, especially when she's getting some seriously mixed messages from the popular girls in her class and realizing how different her family is. Jamieson's appealing, naturalistic artwork, full of warm tones, realistic-looking characters, and saturated colors, playfully incorporates medieval imagery along with Imogene's more mundane homelife, particularly when Imogene fears that her misbehavior at home, thanks to frustrations at school, makes her more of a dragon than a knight. Jamieson masterfully taps into the voice and concerns of middle-schoolers, and the offbeat setting of the Renaissance faire adds some lively texture. Kids who loved Jamieson's Roller Girl (2015) will adore this one, too.--Hunter, Sarah Copyright 2017 Booklist
---
Publishers Weekly
(c) Copyright PWxyz, LLC. All rights reserved

Jamieson doesn't disappoint in her first graphic novel since her Newbery Honor-winning Roller Girl. Imogen Vega's parents perform at a Renaissance fair in Florida, immersing the family in a world of jousting and archaic language ("Thou qualling toad-spotted clack-dish!"). Imogen has been homeschooled all her life; now, at 11, she's headed to public school. In her first weeks, she falls victim to the wiles of a mean girl, hurts a girl who might have been a good friend, and throws her younger brother's treasured stuffed animal into the lake. As Imogen undergoes a period of self-enforced solitude, the extended family of the fair community offers unexpected support. Jamieson's sturdy artwork (her figures are decidedly unglamorous, as if to offer regular kids reassurance) and sharp dialogue make it easy to care about her characters. Readers will also appreciate the irreverent humor of the fair's adults: as a treatment for bullies, one recommends "a large quantity of chicken feathers and a few pots of honey." The fair emphasizes adventure and theater, but its unconventional performers teach Imogen about kindness, too. Ages 9-12. Agent: Paul Rodeen, Rodeen Literary Management. (Sept.) © Copyright PWxyz, LLC. All rights reserved.