by Applegate, Katherine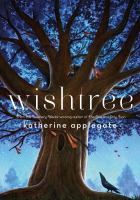 Kirkus
Copyright © Kirkus Reviews, used with permission.

Generations of human and animal families grow and change, seen from the point of view of the red oak Wishing Tree that shelters them all. Most trees are introverts at heart. So says Red, who is over 200 years old and should know. Not to mention that they have complicated relationships with humans. But this tree also has perspective on its animal friends and people who live within its purviewnot just witnessing, but ultimately telling the tales of young people coming to this country alone or with family. An Irish woman named Maeve is the first, and a young 10-year-old Muslim girl named Samar is the most recent. Red becomes the repository for generations of wishes; this includes both observing Samar's longing wish and sporting the hurtful word that another young person carves into their bark as a protest to Samar's family's presence. (Red is monoecious, they explain, with both male and female flowers.) Newbery medalist Applegate succeeds at interweaving an immigrant story with an animated natural world and having it all make sense. As Red observes, animals compete for resources just as humans do, and nature is not always pretty or fair or kind. This swiftly moving yet contemplative read is great for early middle grade, reluctant or tentative readers, or precocious younger students. A deceptively simple, tender tale in which respect, resilience, and hope triumph. (Fantasy. 8-12) Copyright Kirkus Reviews, used with permission.
---
School Library Journal
(c) Copyright Library Journals LLC, a wholly owned subsidiary of Media Source, Inc. No redistribution permitted.

Gr 4-8-Newbery Award-winning author Applegate meets high expectations in this tale told by a tree named Red, a red oak who is "two hundred and sixteen rings old." Touching on religious bigotry and the environment, Applegate keeps the emphasis on her characters, the many animals and birds who find shelter in the tree's branches all year round. (All the birds and animals have names and the power to talk, just like Red.) Around the first of May, people write down their wishes on pieces of cloth and hang them from the tree's branches, giving Red a special place in the community. The pacing starts out slowly, with early chapters focused almost entirely on the natural world, but eventually readers meet the human at the novel's center. Samar, a recent Muslim refugee, is lonely and in need of a friend. A nameless boy uses the tree to convey hateful messages to Samar and her family. The owner of the tree is tired of roots in the plumbing and hopes all the nastiness will disappear if the tree is cut down, having forgotten the story of her ancestors and the beginning of all the wishes. Red decides to intervene and ask for help from the animals and birds. Even those who shy away from books with talking animals will find this believable fantasy elegant and poignant. Widening the appeal is a sparse word count, making this a great choice for a family or classroom read-aloud and an inviting option for reluctant readers. VERDICT Another stunning effort from Applegate. This thoughtful read is a top choice for middle graders.-Carol A. -Edwards, formerly at Denver Public Library © Copyright 2017. Library Journals LLC, a wholly owned subsidiary of Media Source, Inc. No redistribution permitted.
---
Book list
From Booklist, Copyright © American Library Association. Used with permission.

*Starred Review* Just a tree, huh? Beloved author and Newbery winner Applegate returns with a moving tale starring, of all things, an oak tree. Red has stood her ground for more than a century, watching over the houses in her neighborhood and befriending the animals that call her hollows home. Each May, her branches are strung with wishes, a tradition stemming from an Irish immigrant who once lived on the property. Red sees all, including an act of hate the word leave scrawled into her trunk, aimed at new renters, a Muslim family. After so many years of keeping quiet, Red and the animals take action, aiming to connect Samar, a young Muslim girl, with her neighbor Stephen. Meanwhile, Red's owner considers cutting her down. Short chapters and a slim word count widen the audience of this beautiful tale. In less capable hands, the subject matter could come across as moralizing, but by introducing a charming cast of critters opossums, birds, squirrels, and so on Applegate adds levity, humor, and balance. Though the story's happy ending is predictable, not all is wrapped in a tidy bow. Hate and prejudice still exist in Samar and Stephen's world, as in our own. Timely, necessary, and brimming with heart.--Barnes, Jennifer Copyright 2017 Booklist
---
Horn Book
(c) Copyright The Horn Book, Inc., a wholly owned subsidiary of Media Source, Inc. No redistribution permitted.

Red, a 216-year-old community "wishtree," narrates this contemplative novel about tradition and the necessity for change. After an ugly act of Islamophobia (and vandalism of Red), the oak rallies support--both animal and human--for newcomer Samar's family. Samar, in turn, helps save Red from the hatchet. A protagonist with no actual voice or physical action is a challenge; Applegate pulls it off with good-natured aplomb. (c) Copyright 2018. The Horn Book, Inc., a wholly owned subsidiary of Media Source, Inc. No redistribution permitted.
---
Publishers Weekly
(c) Copyright PWxyz, LLC. All rights reserved

The simplicity of Newbery Medalist Applegate's graceful novel contrasts powerfully with the prejudice it confronts. Narration comes from Red, an enormous red oak near an elementary school that also serves as a "wishtree" for the neighborhood-once a year, residents deposit wishes in Red's branches and hollows. Though trees aren't supposed to talk to humans, Red cares for them deeply, especially when a lonely girl named Samar and her Muslim family move into the neighborhood and receive a chilly, then hostile, reception: a boy carves "Leave" into Red's trunk, and the family endures taunts and other abuses. "I love people dearly," Red muses. "And yet. Two hundred and sixteen rings, and I still haven't figured them out." Applegate creates strong parallel between these threats and those that Red faces, as neighborhood matriarch Francesca contemplates cutting the tree down. As tension escalates in both the natural and human realms, Red's openhearted voice and generosity of spirit bring perspective gained over centuries of observation. It's a distinctive call for kindness, delivered by an unforgettable narrator. Art not seen by PW. Ages 8-12. Author's agent: Elena Giovinazzo, Pippin Properties. Illustrator's agent: Justin Rucker, Shannon Associates. (Sept.) © Copyright PWxyz, LLC. All rights reserved.
---
School Library Journal
(c) Copyright Library Journals LLC, a wholly owned subsidiary of Media Source, Inc. No redistribution permitted.

Gr 4-8-The wishtree, Red, has been around for more than 200 hundred years and has seen and heard many things in their time, as people have been coming to tie wishes to their branches for years now. They are home to several different animal families and are visited often by their best friend, Bongo the crow. There's a lot of exposition in the beginning as Red explains their residents and their naming systems before the story truly begins. There's a new Muslim family in the neighborhood, and not everyone is welcoming. Red discusses the history of the community as a welcoming place for people from many different backgrounds, and connects that past in a satisfying way to the present. This is a lovely story made even lovelier by Nancy Linari's narration. She differentiates between the host of animal and human characters with ease. VERDICT Applegate fans and reluctant readers alike will be drawn to this heartfelt tale.-Elizabeth Elsbree, Krug Elementary School, Aurora, IL © Copyright 2018. Library Journals LLC, a wholly owned subsidiary of Media Source, Inc. No redistribution permitted.