by Raul Colon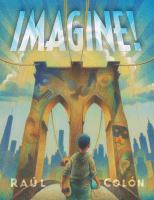 Horn Book
(c) Copyright The Horn Book, Inc., a wholly owned subsidiary of Media Source, Inc. No redistribution permitted.

In Colsn's wordless love letter to the experience of visiting an art museum, a brown-skinned boy skateboards to Manhattan's Museum of Modern Art. Figures from paintings cavort with him throughout NYC, after which the boy's new friends return to their canvases and he creates a mural of their likenesses in his Brooklyn neighborhood. Colsn's mixed-media illustrations in his signature stippled and crosshatched textures hum with energy and jubilation. (c) Copyright 2019. The Horn Book, Inc., a wholly owned subsidiary of Media Source, Inc. No redistribution permitted.
---
Kirkus
Copyright © Kirkus Reviews, used with permission.

In Coln's newest wordless tribute to creativity, a young child kindles his imagination during an art museum visit. A boy (gendered in the author's note) emerges onto the city street with a skateboard in hand. The young skateboarder drifts through the city and over a bridge, ending up at the Museum of Modern Art. Inside, he surrenders his skateboard at a checkroom and strides into the museum. Similar to his previous reflection on imagination, Draw! (2014), Coln's latest again challenges readers to discover inspiration through ingenious means. Wonder fills the boy's face as he observes the artworks adorning the museum walls, including Pablo Picasso's Three Musicians, Henri Rousseau's The Sleeping Gypsy, and Henri Matisse's Icarus. When the larger-than-life characters from these paintings break free from the canvas and join him, the boy and his newfound company dance their way out of the museum and onto the streets of New York City. What follows is a series of merry adventures sweeping past familiar landmarks like Times Square and the Statue of Liberty. Inspired by the author's museum experiences, the story leaps off every page thanks to the textured artwork brimming with buoyant body movement and cast in muted colors and striking patterns. It's over all too soon. A few goodbyes back in the museum, and the boy goes on his way, stopping briefly to leave his mark on the city's walls.Beautifully euphoric. (Picture book. 4-8) Copyright Kirkus Reviews, used with permission.