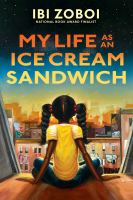 Kirkus
Copyright © Kirkus Reviews, used with permission.

Twelve-year-old aspiring astronaut Ebony-Grace Norfleet Freeman is lonely and homesick in New York.When trouble hits her family like an asteroid, Ebony-Grace, aka Cadet E-Grace Starfleet, is forced to leave her beloved grandfather and her hometown of Huntsville, Alabama, to spend a week with her father in Harlem, New Yorkor as she calls it, "No Joke City." Determined to ignore what she calls the "Sonic Boom," New York's hip-hop revolution in the early 1980s, Ebony-Grace rejects the people, music, and movements of Harlem, instead blasting off in her mind aboard the Mothership Uhura to save her grandfather, Capt. Fleet. Stuck, Ebony-Grace works to navigate a new frontier where she is teased and called "crazy" because of her imaginative intergalactic adventures. Ostracized as a flava-less, "plain ol' ice cream sandwich! Chocolate on the outside, vanilla on the inside," Ebony-Grace tries her best to be "regular and normal," but her outer-space imaginings are the only things that keep her grounded. The design includes images that sho nuff bring the '80s alive: comic-strip panels, inverted Star Wars scripting, and onomatopoeic graffiti-esque words. Unfortunately, these serve to interrupt an already-crowded narrative as readers hyperjump between Ebony-Grace's imagination and the movement of life in the real world, transmitted via news reports and subway memorials.This middle-grade read is heartfelt, but nostalgia that's a bit too on the nose makes it hard to follow. (Historical fiction. 10-12) Copyright Kirkus Reviews, used with permission.
---
Horn Book
(c) Copyright The Horn Book, Inc., a wholly owned subsidiary of Media Source, Inc. No redistribution permitted.

During summer 1984, seventh grader Ebony-Grace visits the father she hardly knows in Harlem. Her anxiety is exacerbated when she learns her beloved grandfather (who entertains her star-filled dreams of space travel and adventure) is in trouble back in Alabama. Zoboi's touching and (sometimes) humorous coming-of-age story highlights the importance of imagination and learning to celebrate being different. Interspersed black-and-white comic panel illustrations depict Ebony-Grace's fanciful voyages to other worlds. (c) Copyright 2019. The Horn Book, Inc., a wholly owned subsidiary of Media Source, Inc. No redistribution permitted.