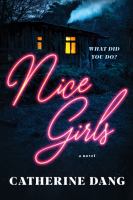 School Library Journal
(c) Copyright Library Journals LLC, a wholly owned subsidiary of Media Source, Inc. No redistribution permitted.

Jessica Knoll's Luckiest Girl Alive meets Cruel Summer in this engaging thriller. In high school, Mary seemed destined for great things. Dubbed "Ivy League Mary" for her admission to Cornell, she left her small town and all the bullies behind for a brighter future. But as a college senior, she is forced from Cornell in disgrace. With no other option, she returns to her hometown and does her best to stay under the radar. She finds a minimum wage job and connects with the townies who, unlike her, never had reason or means to leave town. Then her former friend, beautiful Instagram influencer Olivia, goes missing. What is first assumed to be a publicity stunt turns more serious when human remains are discovered. Mary becomes distracted with the details of why she had to leave Cornell, as well as the pain of bullying that led her to leave her hometown to begin with. What all these tangents have in common is the shared thread of female rage, and how it can curdle and become stifled in a world that won't allow it. Racial issues are also touched upon when the disappearance of DeMaria, a woman of color, is treated with less care by police and townfolk than the white Olivia. Mary and most characters, other than DeMaria and Mary's Vietnamese friend Madison, are assumed white. VERDICT The inclusion of high school flashbacks, along with the experiences of college-age characters, are likely to appeal to older teens who enjoy thrillers. A page-turning, multifaceted mystery with emotional depth and a thrilling conclusion.—Ann Foster, Saskatoon P.L., Sask.
---
Book list
From Booklist, Copyright © American Library Association. Used with permission.

Dang's debut thriller follows Mary, who has just been expelled from Cornell University a semester shy of graduating after a violent fight with another student. Mary is forced to return to her small Midwestern hometown of Liberty Lake and face her father's disappointment and the gossip about "Ivy League Mary's" fall from grace. She unhappily takes a job at the local grocery store and reconnects with handsome former high school football star, Dwayne, who is also dealing with dashed aspirations. Mary's curiosity is piqued by the disappearance of her former friend Olivia, whose fate she believes could be interlinked with that of another missing girl, LaMaria, whose body parts have just been discovered in the lake. Dang crafts a compelling mystery, exploring the toll societal and familial pressures take on women, as well as the disparity in responses to the disappearances of white and Black women. Mary isn't always a sympathetic narrator, her often careless actions take a serious toll on the people of color in her life, adding to the edginess as readers are gripped by the story's provocative twists and turns.
---
Publishers Weekly
(c) Copyright PWxyz, LLC. All rights reserved

Mary, the narrator of Dang's fine debut, became known as Ivy League Mary in her hometown of Liberty, Minn., after receiving a scholarship to Cornell. In her senior year, she's asked to leave the university due to an unpleasant incident involving a younger student. Ashamed, and still occasionally simmering with rage at the injustice, she returns to Liberty, where she takes a grocery store job. When her grade school friend Olivia Willand, now a rising social media star, disappears, the police and townsfolk immediately rally to locate their missing celebrity. Meanwhile, Mary discovers that 19-year-old DeMaria Jackson vanished a few months earlier. The police quickly dismissed the Black single mother as a runaway and did no follow-up investigation. Mary's convinced that the two cases are linked and sets out to prove it. The suspense builds as the uncomfortable secrets of the well-drawn and varied characters gradually emerge. Dang provides a full complement of thrills and suspense while addressing status inequities based on looks, race, and wealth. Readers will eagerly await her next. Agent: Eve Attermann, WME. (Sept.)