Welcome to the Northwood Public Library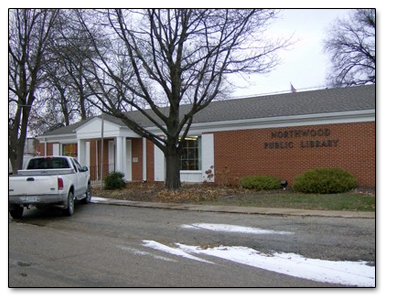 Hours:

Monday

1PM - 5PM

Tuesday

1PM - 8PM

Wednesday

CLOSED

Thursday

1PM - 8PM

Friday

1PM - 5:00PM

Saturday

9AM - 2PM

Sunday

CLOSED
September
WELCOME back to school, fall sports, cooler weather, and READING! Now that school has started again and most everyone is back on schedule, come in and check out a great book or magazine.
Once again, the library is offering a "Back to School" story time for 4 weeks in September. Our story times are on Friday mornings from 10:00 -11:00 am. All preschool aged and younger children and their caregivers or mothers are welcome to attend. The first story time will be on September 4th. Please mark your calendars and join us for crafts, reading, play time and more!
Great new reads this month include: Adult Fiction: "X" by Sue Grafton, "Alert" by James Patterson, "Friction" by Sandra Brown, "Silver Linings" by Debbie Macomber, and "Fateful Lightning" by Jeff Shaara.
Audiobooks: "The Girl on the Train" by Paula Hawkins, "Starlight on Willow Lake" by Susan Wiggs, "The Murderer's Daughter" by Jonathan Kellerman and "Brush Back" by Sara Paretsky.
Non-Fiction: "The Farm at Holstein Dip" by Carroll Engelhardt, "Always Put in a Recipe and Other Tips for Living" by Evelyn Birkby, "Kitchens of the Great Midwest" by J. Ryan Stradal, and "Dog Tricks" by Deb M. Eldredge, DVM.
Check out our Iowa displays of books, The "All Iowa Reads" includes this year's book, "My Name Is Mary Sutter" by Robin Oliveira. Books that take place in Iowa or were written by an Iowa author include "The Iowa Baseball Confederacy" by W.P. Kinsella and "Home" by Marilynne Robinson, who also wrote "Gilead."
Don't forget to check out our "Virtual Branch" of the library. Patrons can browse, check-out, and download eBooks, audio books and other digital media from our OverDrive-powered website which you can access from the Northwood Public Library website, NEIBORS. This is free to our patrons who have a library card and a computer and is available 24/7. Patrons can enjoy best-selling and classic books on their PC, Mac or Smartphone, and transfer titles to many devices, including iPad, Sony Reader, nook, Kindle, ipod and many more.
Visit us on our website! It is www.youseemore.com/NILC/Northwood. Check it out for viewing our library collection as well as other participating Beacon libraries, accessing the NEIBORS website and more! Just log in with your 14 digit number which is on the back of your blue library card, and your patron account, check to see what materials you have checked out, renew your books, magazines, or audio books, or request a book. Also, check us out on Facebook!
Dateline

News provided by

MSNBC

Video: Father and Son

New Jersey father David Goldman fought for 5 years to get his abducted son home from Brazil . Why did his wife Bruna take their son Sean to Brazil and say she was never coming back? They were young, beautiful and envied by friends who thought they were living a fairy tale. NBCs Meredith Vieira reports.(Dateline)

Mon, 9 May 2011 13:52:33 GMT

Video: My Kid Would Never Bully

As a crisis that affects 3 million kids, bullying is put to the test by a Dateline NBC hidden camera setup. Parents, alongside parenting experts, watch what their own kids will do as bystanders to staged bullying scenarios, beginning with a group of teenage girls. Kate Snow reports.(Dateline)

Mon, 7 Mar 2011 14:05:09 GMT

Copyright 2015 msnbc.com

Online Databases

Chasing Vermeer
by Blue Balliett



Publishers Weekly Puzzles nest within puzzles in this ingeniously plotted and lightly delivered first novel that, re...More

Ashfall
by Mullin, Mike



Book list Alex, 15, is alone at home in Cedar Falls, Iowa, when his house collapses, as thick black ash falls...More

Hidden
by Helen Frost



Book list Though Wren and Darra have never even made eye contact, they share a secret history that changed both of th...More

The Wright Brothers
by David McCullough



Library Journal McCullough (John Adams; 1776) effectively blends impeccable writing with historical rigor and...More

Joseph Had a Little Overcoat
by Simms Taback



Publishers Weekly :

As in his Caldecott Honor book, There Was an Old Lady Who Swallowed a Fly, Taback's inventive us

...More

The Hero and the Crown
by Robin McKinley



Book list Gr. 7-10. Tauntingly called ``Lady Aerin, Dragon-Killer'' for the small, dog-size dragons s...More

One Hundred Years of Solitude
by Gabriel Garcia Marquez



Library Journal :

Two modern giants (LJ 2/15/70 and LJ 11/1/61, respectively) join Knopf's venerable "Everyman'

...More