Welcome to the Northwood Public Library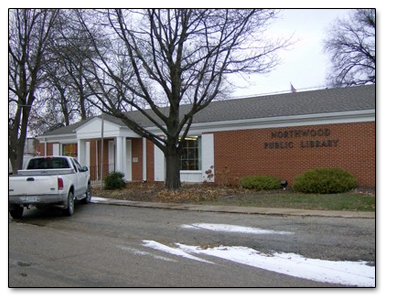 Hours:

Monday

1PM - 5PM

Tuesday

1PM - 8PM

Wednesday

CLOSED

Thursday

1PM - 8PM

Friday

1PM - 5:00PM

Saturday

9AM - 2PM

Sunday

CLOSED
February News
Happy Valentine's Day!! The library has several book selections suitable for Valentine's Day reading. U R invited to come in and check them out!
Story time for all preschool aged children and their caregivers will continue for the next four Fridays, through February 27th from 10:00 - 11:00 am. Please mark your calendars and join us for fun, crafts, reading, treats and more!
Great new reads this month include: Adult Fiction: "Leaving Time" by Jodi Picoult, "The Job" by Janet Evanovich, "Private Vegas" by James Patterson, and "Blood on the Water" by Anne Perry.
Large Print: "Ghost Wanted" by Carolyn Hart, "The Cinderella Murder" by Mary Higgins Clark, "A Place Called Haromony" by Jodi Thomas and "Maeve's Times: In Her Own Words" by Maeve Binchy.
Junior Fiction: "The New Captain Awesome Series" by Stan Kirby, "Garfield the Big Cheese" by Jim Davis, "I Totally Funniest: A Middle School Story" by James Patterson, and "Anna & Elsa: All Hail the Queen" by Erica David.
Young Adult Fiction: "Six Feet Over It" by Jennifer Longo, "Breakfast Served Anytime" by Sarah Combs, "Love & Other Theories" by Alexis Bass and "The Madman of Piney Woods" by Christopher Paul Curtis."
Don't forget to check out our "Virtual Branch" of the library. Patrons can browse, check-out, and download eBooks, audio books and other digital media from our OverDrive-powered website which you can access from the Northwood Public Library website, NEIBORS. This is free to our patrons who have a library card and a computer and is available 24/7. Patrons can enjoy best-selling and classic books on their PC, Mac or Smartphone, and transfer titles to many devices, including iPad, Sony Reader, nook, Kindle, ipod and many more.
Check out our library collection as well as other participating Beacon libraries, accessing the NEIBORS website and more! Just log in with your 14 digit number which is on the back of your blue library card, and your password, which is the last 4 numbers of your patron number, You can view your patron account, check to see what materials you have checked out, renew your books, magazines, or audio books, or request a book.
Dateline

News provided by

MSNBC

Video: Father and Son

New Jersey father David Goldman fought for 5 years to get his abducted son home from Brazil . Why did his wife Bruna take their son Sean to Brazil and say she was never coming back? They were young, beautiful and envied by friends who thought they were living a fairy tale. NBCs Meredith Vieira reports.(Dateline)

Mon, 9 May 2011 13:52:33 GMT

Video: My Kid Would Never Bully

As a crisis that affects 3 million kids, bullying is put to the test by a Dateline NBC hidden camera setup. Parents, alongside parenting experts, watch what their own kids will do as bystanders to staged bullying scenarios, beginning with a group of teenage girls. Kate Snow reports.(Dateline)

Mon, 7 Mar 2011 14:05:09 GMT

Copyright 2015 msnbc.com

Online Databases

Bubbles Unbound
by Sarah Strohmeyer



Library Journal :

Bubbles Yablonsky, a 34-year-old hairdresser/divorcee, may dress and look like a blonde Barbie-dol

...More

Prized
by O'Brien, Caragh



School Library Journal Gr 9 Up-O'Brien's follow-up to Birthmarked (Roaring Brook, 2010) begins with Gaia Stone at a ...More

The Cazuela that the Farm Maiden Stirred
by Samantha R. Vamos



Publishers Weekly Farm animals collaborate to make a pot of rice pudding in this energetic riff on "This Is the...More

H Is For Hawk
by Helen Macdonald



Library Journal After the sudden death of her beloved father, Macdonald (history and philosophy of science, C...More

The Invention of Hugo Cabret
by Brian Selznick



Publishers Weekly Selznick's unique, visually arresting illustrated novel is transformed into an equally unique audi...More

Dear Mr. Henshaw
by Beverly Cleary



Publishers Weekly This amusing, often touching series of letters from Leigh Botts to a children's book au...More

One Hundred Years of Solitude
by Gabriel Garcia Marquez



Library Journal Two modern giants (LJ 2/15/70 and LJ 11/1/61, respectively) join Knopf's venerable "Everyman's L...More