Welcome to the Northwood Public Library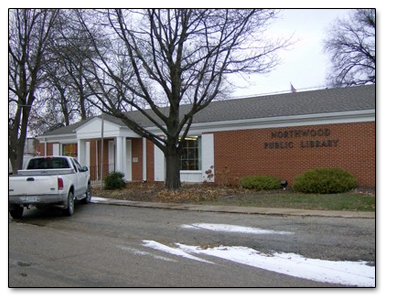 Hours:

Monday

1PM - 5PM

Tuesday

1PM - 8PM

Wednesday

CLOSED

Thursday

1PM - 8PM

Friday

1PM - 5:00PM

Saturday

9AM - 2PM

Sunday

CLOSED
October News
"I see the turning of a leaf dancing in an autumn sun and brilliant shades of crimson glowing when a day is done." From Hazelmarie Elliot's poem "A Breath of Heaven." Enjoy the splendor of the season!
Story time for all preschool aged children and their caregivers to began Friday, October 3rd from 10:00 - 11:00 am and will run for 4 weeks. Please mark your calendars and join us for fun, crafts, reading, treats and more!
New books this month include: Adult Fiction: "A Breath of Snow and Ashes" by Diana Gabaldon, "Somewhere Safe with Somebody Good" by Jan Karon, "Love Letters" by Debbie Macomber, "Gone Girl" by Gillian Flynn, and "Private Down Under" by James Patterson.
Non-Fiction: "Orange is the New Black" by Piper Kerman, "Comfort Food: Every Dish You Love, Every Recipe You Want" by Ken Haedrich and the editors of the Old Farmer's Almanac, "21 Day Tummy: The Revolutionary Food Plan That Shrinks and Soothes Any Belly Fast," by Liz Vaccariello, and "Christmas 16" by Gooseberry Patch.
Inspirational Fiction: "Angels Walking" by Karen Kingsbury, "Miracle in a Dry Season" by Sarah Loudin Thomas, "Joyful" by Shelley Shephard, and "Susann's Dream" by Marta Perry.
Junior Fiction: "Four" by Veronica Roth, "Nightmares" by Jason Segel, "Fourteeenth Goldfish" by Jennifer L. Holm, and "Horton and the Kweggerbug and More Lost Stories" by Dr. Seuss.
Don't forget to check out our "Virtual Branch" of the library. Patrons can browse, check-out, and download eBooks, audio books and other digital media from our OverDrive-powered website which you can access from the Northwood Public Library website, NEIBORS. This is free to our patrons who have a library card and a computer and is available 24/7. Patrons can enjoy best-selling and classic books on their PC, Mac or Smartphone, and transfer titles to many devices, including iPad, Sony Reader, nook, Kindle, ipod and many more.
Check out our library collection as well as other participating Beacon libraries, accessing the NEIBORS website and more! Just log in with your 14 digit number which is on the back of your blue library card, and your password, which is the last 4 numbers of your patron number, You can view your patron account, check to see what materials you have checked out, renew your book, magazines, or audio book, or request a book.
Dateline

News provided by

MSNBC

Video: Father and Son

New Jersey father David Goldman fought for 5 years to get his abducted son home from Brazil . Why did his wife Bruna take their son Sean to Brazil and say she was never coming back? They were young, beautiful and envied by friends who thought they were living a fairy tale. NBCs Meredith Vieira reports.(Dateline)

Mon, 9 May 2011 13:52:33 GMT

Video: My Kid Would Never Bully

As a crisis that affects 3 million kids, bullying is put to the test by a Dateline NBC hidden camera setup. Parents, alongside parenting experts, watch what their own kids will do as bystanders to staged bullying scenarios, beginning with a group of teenage girls. Kate Snow reports.(Dateline)

Mon, 7 Mar 2011 14:05:09 GMT

Copyright 2014 msnbc.com

Online Databases

Birds of a Feather
by Jacqueline Winspear



Library Journal :

In this follow-up to Winspear's Edgar Award–nominated

Maisie Dobbs

, her most unusual

...More

Virtuosity
by Martinez, Jessica



School Library Journal Gr 8 Up-In this riveting novel, 17-year-old violin prodigy Carmen Bianchi is forced to questi...More

Blackout
by John Rocco



Book list It's a scenario many kids are probably all too familiar with: a young boy wants to play, but ol...More

Personal
by Lee Child



Book list How do you find Jack Reacher, the ultimate unencumbered man, who's always on the move to the ne...More

Officer Buckle and Gloria
by Peggy Rathmann



Publishers Weekly :

Rathmann (Good Night, Gorilla) brings a lighter-than-air comic touch to this outstanding, solid-

...More

Kira-Kira
by Cynthia Kadohata



School Library Journal Gr 6-8-Katie's first word is "kira-kira," the Japanese word for "g...More

A Fine Balance
by Rohinton Mistry



Library Journal:

In mid-1970s urban India-a chaos of wretchedness on the streets and slogans in the offices-a chain

...More