Welcome to the Northwood Public Library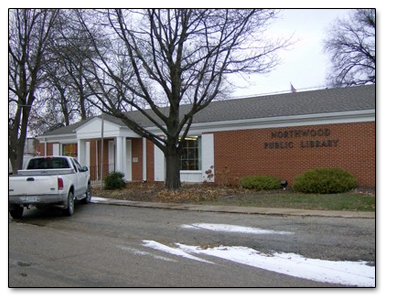 Hours:

Monday

1PM - 5PM

Tuesday

1PM - 8PM

Wednesday

CLOSED

Thursday

1PM - 8PM

Friday

1PM - 5:00PM

Saturday

9AM - 2PM

Sunday

CLOSED
Septemeber
Welcome back once again to school, fall sports, milder weather and READING!

Our "Back to School" story time began on Friday, September 2nd and will continue through September 30th at 10:00 am. All preschool aged children and their caregivers are welcome to attend. Please join us for stories, crafts, play time and more! For more information, call the library at 641-324-1340, visit our website, or catch us on Facebook.

Great new reads this month include: Adult Fiction: "Damaged" by Lisa Scottoline, "Curious Minds" by Janet Evanovich, "Sweet Tomorrows" by Debbie Macomber, and "Swarm" by Orson Scott Card.

Non-fiction: "The Boys in the Boat" by Daniel James Brown, "Cats Are Capable of Mind Control" by Kris Sanchez, "The History Book" by Dorling Kindersley, and "Crafting with Mason Jars and Other Glass Container" by Hester Van Overbeek.

Large Print: "Family Tree" by Susan Wiggs, "Tall Tail" by Rita Mae Brown, "The Games" and "Bullseye" by James Patterson, and "Night and Day" by Iris Johansen.

Juvenile Fiction: The "I Survived" series by Lauren Tarshis, and several of the Fairy series by Daisy Meadows.

Don't Foret to perusue our "Virtual Branch" of the library. Patrons can browse, check-out, and download eBooks, audio books and other digital media from our OverDrive-powered website which you can access from the Northwood Public library website Bridges. This is free to our patrons who have a library card and a computer and is available 24/7. Patrons can enjoy best-selling and classic books on their PC, Mac or Spartphone, and transfer titles to many devices, including iPad, Sony Reader, nook, Kindle, ipod and many more. Directions for downloading this application are available at the library.

Visit us on our website! It is www.youseemore.com/NILC/Northwood. Check it out for viewing our library collection as well as other participating Beacon libraries, accessing the NEIBORS website and more! Just log in with your password, which is the last 4 numbers of your patron number. You can view your patron account, check to see what materials you have checked out, renew your books, magazines, or audio books, or request a book. Also, check us out on Facebook!



Dateline

News provided by

MSNBC

Video: Father and Son

New Jersey father David Goldman fought for 5 years to get his abducted son home from Brazil . Why did his wife Bruna take their son Sean to Brazil and say she was never coming back? They were young, beautiful and envied by friends who thought they were living a fairy tale. NBCs Meredith Vieira reports.(Dateline)

Mon, 9 May 2011 13:52:33 GMT

Video: My Kid Would Never Bully

As a crisis that affects 3 million kids, bullying is put to the test by a Dateline NBC hidden camera setup. Parents, alongside parenting experts, watch what their own kids will do as bystanders to staged bullying scenarios, beginning with a group of teenage girls. Kate Snow reports.(Dateline)

Mon, 7 Mar 2011 14:05:09 GMT

Copyright 2016 msnbc.com

Online Databases

A question of honor
by Charles Todd



Library Journal When Bess learns that an earlier crime committed in India involves her father, she must grap...More

Eleanor & Park
by Rainbow Rowell



School Library Journal Gr 9 Up-In this novel set in the 1980s, teenagers Eleanor and Park are outsiders; Ele...More

Wolfie the Bunny
by Ame Dyckman



Publishers Weekly Dyckman's (Tea Party Rules) rousing, warmhearted story opens as a family of city-dwelli...More

Apprentice In Death
by J D Robb



The Hello, Goodbye Window
by Norton Juster



School Library Journal PreS-Gr 1-The window in Nanna and Poppy's kitchen is no ordinary window-it is the place where...More

The War that Saved My Life
by Kimberly Brubaker Bradley



School Library Journal Gr 4-6-Bradley turns her keen historical eye from Monticello (Jefferson's Sons, Pe...More

The Poisonwood Bible
by Barbara Kingsolver



Library Journal:

It's been five years since Kingsolver's last novel (Pigs in Heaven, LJ 6/15/93), and she has used

...More