Welcome to the Northwood Public Library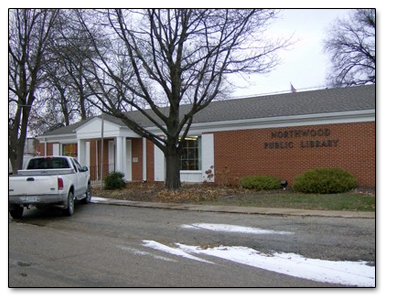 Hours:

Monday

1PM - 5PM

Tuesday

1PM - 8PM

Wednesday

CLOSED

Thursday

1PM - 8PM

Friday

1PM - 5:00PM

Saturday

9AM - 2PM

Sunday

CLOSED
2017 February News

Have you had enough winter weather? February is a great month to check out a book from our library. All the snow, ice, and cold temperatures make curling up with a good book in a cozy spot just what the librarian prescribed! We also have a wonderful assortment of Valentine's Day themed books for children, so stop on by the library to check them out and celebrate the season!
Library story hour has started up again! We will have a story hour every Friday from 10-11:00 a.m. until March 3rd. All preschool aged children along with their parents or caregivers are welcome to attend. Please join us for stories, crafts, and play time! For more information please visit our webpage, Facebook page, or call us at 324-1340.
Great new reads this month include: Adult Fiction: "Wyoming Brave" by Diana Palmer, "Rogue One" by Alexander Freed, "Inheriting Edith" by Zoe Fishman, "Broken Trust" and "Curtain of Death" by W.E.B. Griffin, "A Great Reckoning" by Louise Penny, and "Her Every Fear" by Peter Swanson.
Adult Non-Fiction: "The Magnolia Story" by Chip and Joanna Gaines, "When Breath Becomes Air" by Paul Kalanithi, "All the Gallant Men" by Donald Stratton, and "Tools of Titans" by Tim Ferris.
Juvenile Fiction: "Five-Minute Peppa Stories" by Scholastic Books, "What I Love About You" by Susan Farrington, "Love Matters Most" by Mij Kelly, "Friend Ship" by Kat Yeh, "Dinosaur Dance" by Sandra Boynton and "PJ Masks Saves the Library" by Daphne Pendergrass.
Large Print: "Sweet as Honey" by Jennifer Beckstrand, "The Bone Orchard" by Paul Doiron, "Frame 232" by Wil Mara, "Is this Tomorrow" by Caroline Leavitt, "Far Gone" by Laura Griffin, "Cover Your Eyes" by Mary Burton, and "Rumor Has It" by Tami Hoag.
Don't forget to peruse our "Virtual Branch" of the library. Patrons can browse, check-out, and download eBooks, audiobooks, and other digital media from our OverDrive-powered website which you can access from the Northwood Public Library website, Bridges. This is free to our patrons who have a library card and a computer and is available 24/7. Directions for downloading this application are available at the library.
Check out our Facebook page or visit us on our website, www.youseemore.com/NILC/Northwood. On our website you can view our library collection as well as other participating Beacon libraries, access the NEIBORS website, and more! Just log in with your 14 digit number which is on the back of your blue library card, and your password, which is the last 4 numbers of your patron number. You can view your patron account, check to see what materials you have checked out, renew your books, magazines, or audiobooks or request a book. We hope to see you soon!!!
Dateline

News provided by

MSNBC

Video: Father and Son

New Jersey father David Goldman fought for 5 years to get his abducted son home from Brazil . Why did his wife Bruna take their son Sean to Brazil and say she was never coming back? They were young, beautiful and envied by friends who thought they were living a fairy tale. NBCs Meredith Vieira reports.(Dateline)

Mon, 9 May 2011 13:52:33 GMT

Video: My Kid Would Never Bully

As a crisis that affects 3 million kids, bullying is put to the test by a Dateline NBC hidden camera setup. Parents, alongside parenting experts, watch what their own kids will do as bystanders to staged bullying scenarios, beginning with a group of teenage girls. Kate Snow reports.(Dateline)

Mon, 7 Mar 2011 14:05:09 GMT

Copyright 2017 msnbc.com

Online Databases

The hour of peril : the secret plot to murder Lincoln before the Civil War
by Daniel Stashower



Book list *Starred Review* Some of President Lincoln's associates and some historians have questioned if the supposed...More

Jackaby
by R William Ritter



Publishers Weekly Toss together an alternate 19th-century New England city, a strong tradition of Sherlockian pastic...More

I Yam a Donkey!
by Cece Bell



Publishers Weekly Newbery Honoree Bell (El Deafo) creates a laugh-out-loud dialogue in the tradition of &quot...More

The Undoing Project
by Michael Lewis



The Man Who Walked Between the Towers
by Mordicai Gerstein



Publishers Weekly :

This effectively spare, lyrical account chronicles Philippe Petit's tightrope walk between Manha

...More

Breaking Stalins Nose
by Eugene Yelchin



School Library Journal Gr 5-7-Velchin skillfully combines narrative with dramatic black-and-white illustrati...More

The Corrections
by Jonathan Franzen



Library Journal:

As her husband's health deteriorates, Enid faces the disappointments in her life including her thr

...More