Welcome to the Northwood Public Library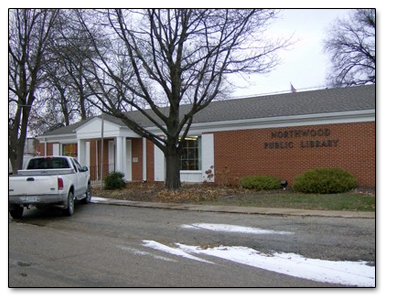 Hours:

Monday

1PM - 5PM

Tuesday

1PM - 8PM

Wednesday

CLOSED

Thursday

1PM - 8PM

Friday

1PM - 5:00PM

Saturday

9AM - 2PM

Sunday

CLOSED
March news
Join us as we celebrate Dr. Seuss' Birthday March 3 - 8, 2014! Check out all the Dr. Seuss books that the library has, and register for Seuss prizes! We will also be handing out special book bags and bookmarks.
Don't forget to come in and checkout the AWE, our Early Literacy Station. this system is a comprehensive, educational solution loaded with over 60 software titles for kids ages 2-8. It offers children a safe, standalone computer, not connected to the Internet that is age-appropriate, engaging, and academically relevant for this age group. It is designed to support school readiness and technology access while making learning exciting and fun. The Early Literacy Station covers seven curricular areas: reading, math, science, social studies, writing, arts and music, and reference. The system is designed to attract and educate toddlers through early elementary school ages. Bring your kids in and check it out!
New books this month include: Adult Fiction: "Spirit of Steamboat" by Craig Johnson, "The Whole Enchilada" by Diane Mott Davidson, "That Old Black Magic" by Mary Jane Clark, "Private L.A." by James Patterson, and "Polaris Protocol" by Brad Taylor.
Books on CD: "Fear Nothing" by Lisa Gardner, "Killer" by Jonathan Kellerman, "Winter People" by Jennifer McMahon, "Winners" by Danielle Steel, and "Private L.A." by James Patterson.
Large Print" "Home to Seaview Key" by Sherryl Woods, "Mr. Monk Gets on Board" by Hy Conrad, "Plain Murder" by Emma Miller, and "The Typewriter Girl" by Alison Atlee.
Non-Fiction: "Year of Plenty" by Craig Godwin, "Happy, Happy, Happy" by Phil Robertson, "Twelve Years a Slave" by Solomon Northrup, and "Flat Belly Yoga" by Kimberly Fowler.
Don't forget to check out our "Virtual Branch" of the library. Patrons can browse, check-out, and download eBooks, audio books and other digital media from our OverDrive-powered website which you can access from the Northwood Public Library website, NEIBORS. This is free to our patrons who have a library card and a computer and is available 24/7. Patrons can enjoy best-selling and classic books on their PC, Mac or Smartphone, and transfer titles to many devices, including iPad, Sony Reader, nook, Kindle, ipod and many more. Check out our library collection as well as other participating Beacon libraries, accessing the NEIBORS website and more! Just log in with your 14 digit number which is on the back of your blue library card, and your password, which is the 4 numbers of your patron number. You can view your patron account, check to see what materials you have checked out, renew your books, magazines, or audio books, or request a book.
Dateline

News provided by

MSNBC

Video: Father and Son

New Jersey father David Goldman fought for 5 years to get his abducted son home from Brazil . Why did his wife Bruna take their son Sean to Brazil and say she was never coming back? They were young, beautiful and envied by friends who thought they were living a fairy tale. NBCs Meredith Vieira reports.(Dateline)

Mon, 9 May 2011 13:52:33 GMT

Video: My Kid Would Never Bully

As a crisis that affects 3 million kids, bullying is put to the test by a Dateline NBC hidden camera setup. Parents, alongside parenting experts, watch what their own kids will do as bystanders to staged bullying scenarios, beginning with a group of teenage girls. Kate Snow reports.(Dateline)

Mon, 7 Mar 2011 14:05:09 GMT

Copyright 2014 msnbc.com

Online Databases

Bubbles Unbound
by Sarah Strohmeyer



Library Journal :

Bubbles Yablonsky, a 34-year-old hairdresser/divorcee, may dress and look like a blonde Barbie-dol

...More

Ruby Red
by Gier, Kerstin



Publishers Weekly Along with everyone else in her extended London household, 16-year-old Gwyneth believed that her c...More

Blizzard of Glass: The Halifax Explosion of 1917
by Sally M. Walker



School Library Journal Gr 5-8-This intriguing title tells the story of a little-known event. In late 1917, t...More

The Future Of The Mind
by Michio Kaku



Publishers Weekly In this expansive, illuminating journey through the mind, theoretical physicist Kaku (Physics of t...More

The Man Who Walked Between the Towers
by Mordicai Gerstein



Publishers Weekly This effectively spare, lyrical account chronicles Philippe Petit's tightrope walk bet...More

The View From Saturday
by E.L. Konigsburg



Book list Gr. 4^-7. Four offbeat students are picked by their wheelchair-bound teacher to be a team for the A...More

A New Earth
by Eckhart Tolle



Library Journal Tolle follows up his successful The Power of Now-it's sold two million copies worldwide since 1997-w...More