Welcome to the Northwood Public Library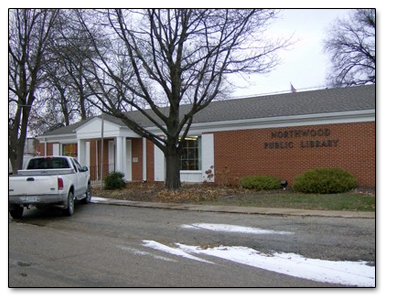 Hours:

    Monday

1PM - 5PM

    Tuesday

1PM - 8PM

    Wednesday

CLOSED

    Thursday

1PM - 8PM

    Friday

1PM - 5:00PM

    Saturday

9AM - 2PM

    Sunday

CLOSED
January
Happy New Year! It is hard to believe 2018 has already begun, and the library is excited for the year to come! We've been trying out some new events like movies at the library, and we are ready to try out another new event...please join us for a craft night at the library! We will be using old, weeded out books to create book page wreaths. This event will be held on Thursday January 18th starting at 7:00 pm. Please bring along a hot glue gun and glue sticks if you have them, but the rest of the supplies will be provided by the library. (This crafting is meant for adults as the craft might be too challenging for children and requires hot glue.)
Our Friday morning story hours are on a break, but will resume Friday February 2nd and continue until spring break starts in March. This story hour is geared towards children aged 2-5, but all are welcome to attend. During these story hours we craft, play, sometimes sing, and read stories. (Note: Story hour will be cancelled if school is 2 hours late or cancelled.)
Our next evening story hour will be Tuesday January 9th starting at 6:30. Evening story hours are geared more towards the whole family and usually include a craft, story, activity, and snack. January's theme is snowmen and the activity is bingo!
Through the State Library of Iowa we have new online resources available to all our patrons! Check out these new resources right here on our website and click on the links to explore Gale resources, Credo reference, and Transparent Language. If you want to learn more about what these resources have to offer just stop in the library and talk to me, Morgan. I'm still learning about them too, but I'm happy to help.
We are already looking ahead to this summer when the Summer Reading Program will begin with a theme of "Libraries Rock!" Last year we had a great turnout, and this year we are looking for even more participation. If you would like to donate prizes or money to the library for this program please contact Morgan at 324-1340.
New to the library this month:
Adult Fiction: "Carnegie's Maid" by Marie Benedict, "Death at Nuremberg" by W.E.B. Griffin, "Firefly Cove" by Davis Bunn, "Operator Down" by Brad Taylor, and "Promise Not to Tell" by Jayne Ann Krentz.
Large Print: "The Two of Us" by Victoriea Bylin, "Faithful" by Alice Hoffman, "How I Came to Sparkle Again" by Kaya McLaren, and "Who Do You Love" by Jennifer Weiner.
Juvenile Fiction/Non-Fiction: "Wonder" by R.J. Palacio, "Pete the Cat and th Cool Caterpillar" by James Dean, "Diary of a Wimpy Kid: The Getaway" by Jeff Kinney, "Jake" by Ellen Miles, "Bear Rescue" by Jess French, and "Pax" by Sara Pennypacker.
We hope to see you at the library soon!

U.S. News

News provided by

MSNBC

Gulf Coast wreck could be last U.S. slave ship

The remains of a wooden vessel recently found near Mobile, Alabama, may be the last slave-carrying ship to land in the United States. Experts say the wreckage could be the Clotilda, which was burned after delivering African captives to Mobile in 1860.

Tue, 23 Jan 2018 23:10:32 GMT

E-cigs hook teens, but safer for adult smokers

E-cigarettes may be a less dangerous way to use tobacco, but vaping can hook teens and young adults and raise their risk of becoming smokers, a report finds.

Tue, 23 Jan 2018 21:09:59 GMT

Texas high school shooting suspect charged with assault

Texas 16-year-old boy has been charged in the Italy High School shooting that hospitalized a 15-year-old girl. He is being charged as a juvenile with two counts of aggravated assault with a deadly weapon.

Tue, 23 Jan 2018 21:00:00 GMT

2018 NBCNews.com

Online Databases

A Hungry Lion; or, A Dwindling Assortment of Animals.
by Lucy Ruth Cummins



School Library Journal K-Gr 3-With its macabre humor and delightfully scribbly illustrations, this tale is su...More

The Woman In The Window
by AJ Finn



The Lion the Mouse
by Jerry Pinkney



Book list *Starred Review* The intricate lion's face that crowds the cover of Pinkney's latest folktale adaptation is...More