Welcome to the Northwood Public Library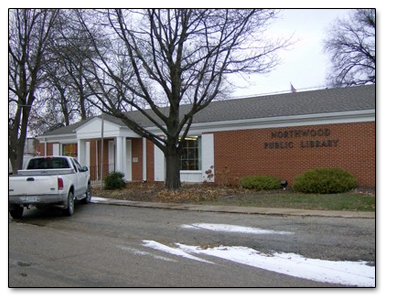 Hours:

Monday

1PM - 5PM

Tuesday

1PM - 8PM

Wednesday

CLOSED

Thursday

1PM - 8PM

Friday

1PM - 5:00PM

Saturday

9AM - 2PM

Sunday

CLOSED
July news
"Fizz, Boom, Read!" Our summer reading program continues through July 25th. The program is open to young people, preschool through 6th grade, with a reading club, incentives, and story times. There is still time to register and read at home for prizes. The program will end on July 25th at 3:00 pm with a party for all participants, 1st through 6th grades.
Story time for children preschool through 1st grade continues Friday, July 11th through Friday, July 25th at 10:00 am. Kids and their caregivers are welcome to attend.
Come in and checkout the AWE, our Early Literacy Station. This system is a comprehensive, educational solution loaded with over 60 software titles for kids ages 2-8. It offers children a safe, standalone computer, not connected to the Internet that is age-appropriate, engaging, and academically relevant for this age group. It is designed to support school readiness and technology access while making learning exciting and fun. The Early Literacy Station covers seven curricular areas" reading, math, science, social studies, writing, arts and music, and reference. The system is designed to attract and educate toddlers through early elementary school ages. Bring your kids in and check it out!
New books this month include: Adult Fiction: "Mr. Mercedes" by Steven King, "Smoke at Dawn" by Jeff Shaara, "Hurricane Sisters" by Dorothea Benton Frank, and "The Here and Now" by Ann Brashares.
Juvenile Fiction: "the Fault in Our Stars" by John Greene, "The Forbidden Library" by Django Wexler, "Long Walk to Water" by Linda Sue Park, and "Judy Moody: The Big Bad Blackout" by Ann McDonald.
Inspirational Fiction: Inspirational Fiction: "Thankful" by Shelley Shepard Gray, "The Secret Keeper" by Beverly Lewis, "Becoming Lucy" by Martha Rogers, and "Wildwood Creek" by Lisa Wingate.
Don't forget to check out our "Virtual Branch" of the library. Patrons can browse, check-out, and download eBooks, audio books and other digital media from our OverDrive-powered website which you can access from the Northwood Public Library website, NEIBORS. This is free to our patrons who have a library card and a computer and is available 24/7. Patrons can enjoy best-selling and classic books on their PC, Mac or Smartphone, and transfer titles to many devices, including iPad, Sony Reader, nook, Kindle, ipod and many more. Check out our library collection as well as other participating Beacon libraries, accessing the NEIBORS website and more! Just log in with your 14 digit number which is on the back of your blue library card, and your password, which is the last 4 numbers of your patron number. You can view your patron account, check to see what materials you have checked out, renew your books, magazines, or audio books, or request a book.
Dateline

News provided by

MSNBC

Video: Father and Son

New Jersey father David Goldman fought for 5 years to get his abducted son home from Brazil . Why did his wife Bruna take their son Sean to Brazil and say she was never coming back? They were young, beautiful and envied by friends who thought they were living a fairy tale. NBCs Meredith Vieira reports.(Dateline)

Mon, 9 May 2011 13:52:33 GMT

Video: My Kid Would Never Bully

As a crisis that affects 3 million kids, bullying is put to the test by a Dateline NBC hidden camera setup. Parents, alongside parenting experts, watch what their own kids will do as bystanders to staged bullying scenarios, beginning with a group of teenage girls. Kate Snow reports.(Dateline)

Mon, 7 Mar 2011 14:05:09 GMT

Copyright 2014 msnbc.com

Online Databases

Murder on a Girls Night Out
by Anne George



Publisher's Weekly :

A refreshingly different heroine, retired Alabama schoolteacher Patricia Anne Hollowell, is dra

...More

Stupid Fast
by Herback, Geoff



Publishers Weekly Adult author Herbach (The Miracle Letters of T. Rimberg) delivers an alternately fascinating and a...More

Hurricane Dancers: The First Caribbean Pirate Shipwreck
by Margarita Engle



Publishers Weekly Newbery Honor-winner Engle (The Surrender Tree) continues to find narrative treasure in Cu...More

Unbroken
by Laura Hillenbrand



Library Journal The author of Seabiscuit now brings us a biography of World War II prisoner of war survivor Louis Za...More

Saint George and the Dragon
by Margaret Hodges



Publishers Weekly :

This adaptation of The Faerie Queen features illustrations that ``glitter with color and mesmeri

...More

Bud, Not Buddy
by Christopher Paul Curtis



Library Journal :

Gr 4-7-Motherless Bud shares his amusingly astute rules of life as he hits the road to find the ja

...More

The Poisonwood Bible
by Barbara Kingsolver



Library Journal:

It's been five years since Kingsolver's last novel (Pigs in Heaven, LJ 6/15/93), and she has used

...More