Welcome to the Northwood Public Library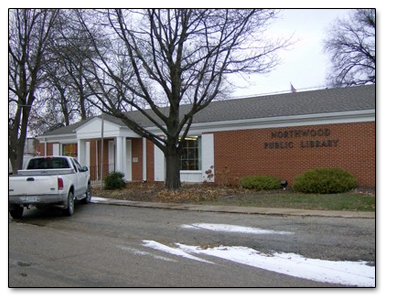 Hours:

Monday

1PM - 5PM

Tuesday

1PM - 8PM

Wednesday

CLOSED

Thursday

1PM - 8PM

Friday

1PM - 5:00PM

Saturday

9AM - 2PM

Sunday

CLOSED
April news
It's about time! To start thinking about being outside, landscaping, gardening, etc. The library collection has several "idea" books for outdoor kitchens and barbeques, creating garden rooms, and garden layouts. The newest addition is "The Postage Stamp Vegetable Garden" by Karen Newcomb. Come in and check it out.
Our spring story time begins on Friday, April 10 and runs through Friday, May 15 from 10:00 - 11:00 am. All preschool aged children and their caregivers are welcome to attend.
Celebrating National Library Week April 13 - 18. Visit the library for treats, special bookmarks, book bags & drawings for prizes.
Great new reads this month include: Adult fiction: "The Assassin" by Clive Cussler, "The Stranger" by Harlan Coben, "NYPD Red 3" by James Patterson, and "The Nightingale" by Kristin Hannah.
Audiobooks: "The Prodigal Son" by Danielle Steel, "The Last One Home" by Debbie Macomber, and "Someone is Watching" by Joy Fielding.
Large Print: "An Amish Cradle" by Beth Wiseman, "Mightier Than the Sword" by Jeffrey Archer, "One Wish" by Robyn Carr, and "Hearth Stone" by Lois Greiman.
The 2015 All Iowa Reads selection, "My Name Is Mary Sutter" by Robin Oliveira is available for check out in book and audio form, along with all the other Iowa Reads choices since 2003.
Don't forget to check out our "Virtual Branch" of the library. Patrons can browse, check-out, and download eBooks, audio books and other digital media from our OverDrive - powered website which you can access from the Northwood Public Library website, NEIBORS. This is free to our patrons who have a library card and a computer and is available 24/7. Patrons can enjoy best-selling and classic books on their PC, Mac or Smartphone, and transfer titles to many devices, including iPad, Sony Reader, nook, Kindle, ipod and many more.
Check out our library collection as well as other participating Beacon libraries, accessing the NEIBORS website and more! Just log in with your 14 digit number which is on the back of your blue library card, and your password, which is the last 4 numbers of you patron number. You can view your patron account, check to see what materials you have checked out, renew your books, magazines, or audio books, or request a book.
Dateline

News provided by

MSNBC

Video: Father and Son

New Jersey father David Goldman fought for 5 years to get his abducted son home from Brazil . Why did his wife Bruna take their son Sean to Brazil and say she was never coming back? They were young, beautiful and envied by friends who thought they were living a fairy tale. NBCs Meredith Vieira reports.(Dateline)

Mon, 9 May 2011 13:52:33 GMT

Video: My Kid Would Never Bully

As a crisis that affects 3 million kids, bullying is put to the test by a Dateline NBC hidden camera setup. Parents, alongside parenting experts, watch what their own kids will do as bystanders to staged bullying scenarios, beginning with a group of teenage girls. Kate Snow reports.(Dateline)

Mon, 7 Mar 2011 14:05:09 GMT

Copyright 2015 msnbc.com

Online Databases

Murder on a Girls Night Out
by Anne George



Publisher's Weekly :

A refreshingly different heroine, retired Alabama schoolteacher Patricia Anne Hollowell, is dra

...More

Bitter Melon
by Chow, Cara



Maximilian and the Mystery of the Guardian Angel: A Bilingual Lucha Libre Thriller
by Xavier Garza



Gathering Prey
by John Sandford



Saint George and the Dragon
by Margaret Hodges



Publishers Weekly :

This adaptation of The Faerie Queen features illustrations that ``glitter with color and mesmeri

...More

Dear Mr. Henshaw
by Beverly Cleary



Publishers Weekly :

This amusing, often touching series of letters from Leigh Botts to a children's book author he a

...More

Icy Sparks
by Gwyn Hyman Rubio



Library Journal:

Kentucky writer Rubio's big-hearted first novel features Icy Sparks, a brave and lovable child wit

...More