Welcome to the Northwood Public Library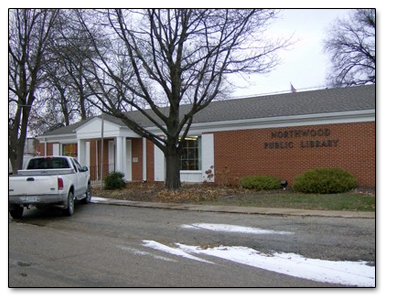 Hours:

Monday

1PM - 5PM

Tuesday

1PM - 8PM

Wednesday

CLOSED

Thursday

1PM - 8PM

Friday

1PM - 5:00PM

Saturday

9AM - 2PM

Sunday

CLOSED
April
The Northwood library is joining other libraries in schools, campuses and communities nationwide in celebrating National Library Week April 11-17, a time to highlight the value of libraries, librarians and library workers. Stop in and join the celebration with treats, door prize drawings and story hour that week.
Our Spring Storytime session will begin April 1 and run through May 8th. Programs are on Fridays from 10:00 am-11:00 am. All preschool aged children and their parents or caregivers are welcome to attend. Please join us for fun, food, crafts, games and more.
New books this month include: Adult Fiction: "Fool Me Once" by Harlan Coben, "Private Paris" by James Patterson, "Property of a Noblewoman by Danielle Steel, and "Gone Again" by James Grippando.
Large Print: "Point Blank" by Fern Michaels, "Son's Vow" by Shelley Gray, "Cometh the Hour" by Jeffrey Archer, and "Far from True" by Linwood Barclay.
Non-fiction: "Trombone Shorty" by Troy Andrews, a Caldecott Honor Book, "What's in the Garden" by Marianne Collins Berkes, two new books on the Orphan Trains, given in memory of Connie Berge, "Orphan Trains: The Story of Charles Loring Brace and the Children He Saved and Failed" by Stephen O'Connor and "Orphan Train Rider: One Boys True Story" by Andrea Warren.
Don't forget to peruse our "Virtual Branch" of the library. Patrons can browse, check-out, and download eBooks, audio books and other digital media from our website which you can access from the Northwood Public Library website, Bridges. This is free to our patrons who have a library card and a computer and is available 24/7. Patrons can enjoy best-selling and classic books on their PC, Mac or Smartphone, and transfer titles to many devices, including iPad, Sony Reader, nook, Kindle, ipod and many more. Directions for downloading this application are available at the library.
Visit us on our website! It is www.youseemore.com/NILC/Northwood. Check it out for viewing our library collection as well as other participating Beacon libraries, accessing the NEIBORS website and more! Just log in with your14 digit number which is on the back of your blue library card, and your password, which is the last 4 numbers of your patron number. You can view your patron account, check to see what materials you have checked out, renew your books, magazines, or audio books, or request a book. Also, check us out on Facebook!

Dateline

News provided by

MSNBC

Video: Father and Son

New Jersey father David Goldman fought for 5 years to get his abducted son home from Brazil . Why did his wife Bruna take their son Sean to Brazil and say she was never coming back? They were young, beautiful and envied by friends who thought they were living a fairy tale. NBCs Meredith Vieira reports.(Dateline)

Mon, 9 May 2011 13:52:33 GMT

Video: My Kid Would Never Bully

As a crisis that affects 3 million kids, bullying is put to the test by a Dateline NBC hidden camera setup. Parents, alongside parenting experts, watch what their own kids will do as bystanders to staged bullying scenarios, beginning with a group of teenage girls. Kate Snow reports.(Dateline)

Mon, 7 Mar 2011 14:05:09 GMT

Copyright 2016 msnbc.com

Online Databases

The hour of peril : the secret plot to murder Lincoln before the Civil War
by Daniel Stashower



Book list *Starred Review* Some of President Lincoln's associates and some historians have questioned if ...More

Jackaby
by R William Ritter



Publishers Weekly Toss together an alternate 19th-century New England city, a strong tradition of Sherlockia...More

A Chicken Followed Me Home!: Questions and Answers about a Familiar Fowl
by Robin Page



School Library Journal PreS-Gr 2-With a touch of humor, this well-designed title presents everything you alwa...More

Grit
by Angela Duckworth



Joseph Had a Little Overcoat
by Simms Taback



School Library Journal Pre-Gr 3-A book bursting at the seams with ingenuity and creative spirit. When Joseph&...More

Inside Out and Back Again
by Thanhha Lai



School Library Journal Gr 4-6-A story based on the author's childhood experiences. Ha is 10 when Saigon ...More

While I Was Gone
by Sue Miller



Library Journal Thirty years ago, Joey Becker's carefree bohemian life was shattered by the brutal, unsolved murder o...More