Welcome to the Northwood Public Library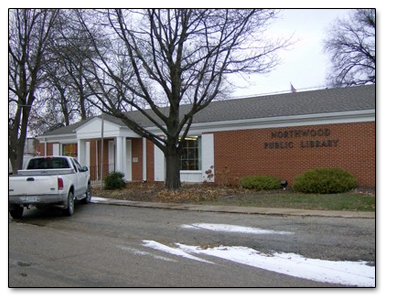 Hours:

    Monday

1PM - 5PM

    Tuesday

1PM - 8PM

    Wednesday

CLOSED

    Thursday

1PM - 8PM

    Friday

1PM - 5:00PM

    Saturday

9AM - 2PM

    Sunday

CLOSED
June
The Northwood Public Library is going to be at the Worth County Fair this year! The Northwood Library and other libraries in Worth County will be hosting a story hour Friday June 16th at 10:00 am in the new conference room. Those wishing to attend must have a fair button to gain admission (Children under age 5 are free). This event is open for all kids aged 0-10 along with a parent or caregiver! We will also be sharing a booth at the fair with the other county libraries. Please stop by and see us!
We want to welcome Nancy Amundson and JoAnn Lower to the library family! Please stop in the library to meet our new assistants!
Yipee, it's finally feeling like summer! And you know what that means, the Summer Reading Program (SRP) is about to start! Children Pre-K to 6th grade are welcome to sign up for this summer's "Build a Better World" reading program from now until June 21st. The summer reading program encourages children to read or be read to all summer long. There will be incentives along the way and fun activities for all ages. Stop in the library any time during our business hours and sign up for the SRP!
June 21st we will kick-off our SRP from 5:30-7:00 as we "chalk the walk" and enjoy ice cream cones at our come & go event. June 23rd and June 30th we will have our regular story hours from 10-11:00 am for kids 0-1st grade. Tuesday June 27th from 3:30-4:30 we will have a tower challenge for children who are in 2nd-6th grade. June 29th from 6:30-7:30 we will host a "Family Fort Night" where families are invited to come to the library build a fort together, read together as a family in their fort, and enjoy a snack. Please check our website, Facebook page, or stop in the library for a full calendar of events. There will be more to come in July including visits from the RAD Zoo and Grout Museum!
We are still in the process of creating a DVD collection. If you have any DVDs you would like to donate please drop them off at the library during our open hours. (Please no rated R movies.) We hope to have our DVD collection open in August.

New Reads this month include:
Books purchased in memory of Lloyd Madson: "Golden Prey" by John Sandford, "Jersey Brothers" by Sally Mott Freeman, "MacArthur's Spies" (LP) by Peter Eisner, "The Good Assassin" by Paul Vidich, "This Jazz Man" by Karen Ehrhardt, "Away in My Airplane" by Margaret Wise Brown and more to come in the upcoming months.
Adult Fiction: "The Fix" by David Baldacci, "Perfect Obsession" by Heather Graham, "Any Day Now" by Robyn Carr, "Handmaid's Tale" by Margaret Atwood, "Anything is Possible" by Elizabeth Strout, "Into the Water" by Paula Hawkins, "Stars Over Clear Lake" by Loretta Ellsworth, and "Burial Hour" by Jeffrey Deaver.
Juvenile Fiction: "Mighty Merc" by Greg Johnson, "Daniel Gets Scared" by Maggie Testa, "The Very Grumpy Day" by Stella Jones, "Cinderella Takes the Stage" by Tessa Roehl, "The Wonderful Things You Will Be" by Emily Martin, "We Are Growing" by Laurie Keller, and "An Elephant and Piggie Biggie!" by Mo Willems.
U.S. News

News provided by

MSNBC

Can Attacks Be Stopped in Airport Public Areas?

The TSA is working to provide better security in the public spaces used by America's airports, but experts say the solution to stopping attacks isn't simple.

Fri, 23 Jun 2017 09:07:47 GMT

Video Shows Minnesota Police Beating Driver

The Minnesota branch of the ACLU on Thursday released a police dashcam video showing what they termed "a textbook case of excessive force" and called for an investigation into the circumstances surrounding the 2016 arrest.

Fri, 23 Jun 2017 02:34:00 GMT

2017 NBCNews.com

Online Databases

Swan: The Life and Dance of Anna Pavlova
by Laurel Snyder



School Library Journal Gr 1-4-This tall, graceful picture book captures the artistic spirit, if not the entir...More

The Ministry Of Utmost Happiness
by Arundhati Roy



The Three Pigs
by David Wiesner



Publishers Weekly Even the book's younger readers will understand the distinctive visual code. As the pig...More