Welcome to the Northwood Public Library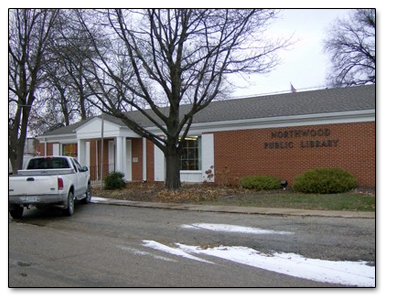 Hours:

Monday

1PM - 5PM

Tuesday

10AM - 7PM

Wednesday

CLOSED

Thursday

10AM - 7PM

Friday

1PM - 5:00PM

Saturday

10AM - 2PM

Sunday

CLOSED
July Newsletter
Greetings from outer space!!! Our Summer Reading Program has launched off, but there's still time to join us on our reading adventure!! Our "Launch Party" on June 27th, sponsored by Kelly Hardware, was a huge hit! Close to 50 kids received a space book (compliments of Kelly Hardware), made a planet craft, visited the star lab with Dan Block and Dakota Popp, went on a scavenger hunt, and enjoyed an ice cream sundae!
Story hours are also off to a good start! Friday June 28th we explored the moon! Join us at 10:00 am on July 12th, 19th, and 26th for other spacey story hours! Then join us August 2nd for a special "Outta This World Bugs" program from the ISU Insect Zoo *sponsored by Kenison Construction. At this program you will learn all about these alien-looking animals for yourself with hands-on learning with everything from beetles to tarantulas
Our Space Adventurers are also starting their explorations! Kids aged 6 and up are invited to join us at 3:00 pm on Tuesdays in July for fun activities! Join us the 9th, 16th, 23rd, and 30th for all sorts of fun. We will have egg terrain vehicle building, then the egg terrain vehicle drop, and a space craft day. Also join us for a special "Space Odyssey" program on July 23rd at 2:00 pm from the Space Center of Iowa which is sponsored by Kenison Publishing. Together we will follow the amazing voyage of the Voyager spacecraft, see some awe-inspiring images they have taken, and attempt some out-of-this world experiments.
Thursday July 11th at 5:30 pm the RAD Zoo (Reptile and Amphibian Discovery Zoo) will be at the library to show off some reptiles and amphibians. Join us for this hour long program that's great for the whole family! Stay until the end for a chance to "pet" one of the creatures! *Sponsored by NSB Bank. Then Thursday July 18th be sure to RSVP for a "build an alien" stuffed animal event sponsored in loving memory of Marybelle Block. We have a VERY limited number of aliens left to stuff so be sure to contact the library early to reserve a spot! And finally from 7-8:30 on August 4th we will celebrate the end of our reading program with snacks and a pool party at the Northwood Pool! *Sponsored by FSB Bank.
New this month at the library:
Adult Fiction: "The Friends We Keep" by Jane Green, "After the End" by Clare Mackintosh, "The Oracle" by Clive Cussler, "The Summer Country" by Lauren Willig, "Recursion" by Blake Crouch, "The Never Game" by Jeffery Deaver, "Unsolved" by James Patterson, and "Summer of 69" by Elin Hilderbrand.
Large Print: "Lost and Found" by Danielle Steel, "Enemy Contact" by Tom Clancy (Mike Maden), "Cliff House" by RaeAnne Thayne, "Half Finished" by Lauraine Snelling, and "Wherever You Go" by Tracie Peterson.
Juvenile Fiction: "Aliens Love Underpants" by Claire Freedman and Ben Cort, "Nerdy Babies: Space" by Emmy Kastner, "Starry Skies" by Samantha Chagollan, "A Friend for Dragon" by Dav Pilkey, "Hello, Crabby!" by Jonathan Fenske, and the "Beep and Bob" series by Jonathan Roth.
Make sure you stay up to date with everything going on at the library! Like us on Facebook https://www.facebook.com/northwoodlibrary/. We hope to see you at the library soon!
Online Databases

Islandborn
by Junot Diaz



School Library Journal K-Gr 3-When Ms. Obi asks her students to draw a picture of the country they are origin...More

Summer Of '69
by Elin Hilderbrand



Publishers Weekly Hilderbrand (Winter in Paradise) delivers a superb novel about the goings-on of a family du...More

Viva Frida!
by Yuyi Morales



School Library Journal Gr 1 Up-Kahlo's unusual life story, background, and art have made her a frequent topic of biog...More