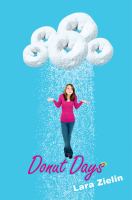 School Library Journal
(c) Copyright 2010. Library Journals LLC, a wholly owned subsidiary of Media Source, Inc. No redistribution permitted.

Gr 7-10-Donuts, friendship, corruption, religion, love, and motorcycle gangs all figure into this sweet, satisfying treat of a first novel. Emma, a pastor's daughter who is about to start her senior year, has some serious questions to figure out. A member of the family's Living Word Redeemer church has challenged her mother's right to preach, throwing her whole family into turmoil. Emma might be in love with a boy whose father just happens to be the one causing all the trouble. She has also had a falling out with her best friend. Emma wants to study journalism at a non-Christian college, which her father refuses to pay for. How do donuts figure into all this? A donut chain is opening a new store in Emma's town, and people are streaming in from miles around to camp out for the opening. When the local paper offers a scholarship to the student who writes the best article on the event, Emma is determined to win. Her ambivalence about religion is addressed with sensitivity; she respects her parents' faith while also questioning their beliefs about evolution and the Bible. The overall tone is airy as Emma interviews die-hard donut campers, including a born-again motorcycle gang, and admits her feelings to the object of her affections. Teens will enjoy this lighter look at some serious issues of faith and family.-Miranda Doyle, San Francisco Unified School District Copyright 2009 Reed Business Information.
---
Publishers Weekly
(c) Copyright PWxyz, LLC. All rights reserved

In her thoughtful debut, Zielin explores the pressures faced by a pastor's daughter (both her parents preach at her church) and the bonds that hold families and friendships together. Sixteen-year-old Emma believes in God, but isn't sure that she's actually experienced God in the way that fellow parishioners at Living Word Redeemer expect her to. She reads the newspaper more than the Bible and bristles when her parents give her brochures for conservative Christian colleges. Still, when a wealthy member of the church campaigns to remove her mother as pastor after a "prophecy," Emma goes to bat for her beliefs and her family. Zielin gives Emma a wonderfully sarcastic voice ("Why couldn't I go anywhere without finding myself surrounded by people who thought choosing which item to get out of a vending machine required prayer?") and delivers lively characters, such as Bear, a member of a born-again motorcycle gang who Emma meets at a "donut camp," celebrating the opening of a doughnut shop. Along with Emma, readers will discover that faith, friendship and family often lead to unexpected kinds of victory. Ages 12-up. (Aug.) Copyright 2009 Reed Business Information.