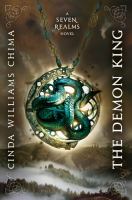 School Library Journal
Copyright © Reed Business Information, a division of Reed Elsevier Inc. All rights reserved.

Gr 7 Up-Han Alister was once a street thief and gang leader, nicknamed Cuffs for the magical silver cuffs he's worn for as long as he can remember. Now that he's reformed, he can't seem to escape from his past, and he spends much of his time hunting in the mountains with his clan friends. When he and his friend Fire Dancer meet a group of young wizards, Han comes into possession of a magical amulet linked to the legendary Demon King, not knowing that it will bring danger to him and his family. Meanwhile, Princess Raisa is soon to turn 16 and be named heir to her mother's throne. She becomes aware of intrigues that surround the queen, who seems to be strongly influenced by their country's High Wizard. Han's and Raisa's adventures and journeys toward understanding themselves run parallel throughout the book, intersecting only when the princess dresses up as a commoner and meets Han briefly. The conclusion leaves both Raisa and Han setting out on new adventures toward a common destination, leaving much to be resolved in their futures and in the future of their land. Chima shows a sure hand with details and history, and readers will be drawn into the lives of the two protagonists. Fans of magic, danger, and high fantasy will find a complex and involving world and be left waiting for the next volume in this exciting trilogy.-Beth L. Meister, Milwaukee Jewish Day School, WI Copyright 2009 Reed Business Information.
---
Publishers Weekly
Copyright © Reed Business Information, a division of Reed Elsevier Inc. All rights reserved.

Princess Raisa, heir to the Queendom of the Fells, chafes against the forced royal marriage in her future. Trying to support his family with odd jobs, Han can't decide what life he wants from among the three he's juggling-and past mistakes made when he was a gang leader keep surfacing to haunt him. Additionally, Han finds himself the unwitting owner of an ancient talisman taken from the land's most powerful wizards, while Raisa faces the political maneuverings of those supposedly bound to serve her family. In elegant prose, Chima (the Heir series) constructs a complex but comprehensible world, where wizards and clans coexist in an uneasy and restrictive arrangement, brokered after the destructive actions of the Demon King, 1,000 years earlier. With full-blooded, endearing heroes, a well-developed supporting cast and a detail-rich setting, Chima explores the lives of two young adults, one at the top of the world and the other at the bottom, struggling to find their place and protect those they love. An auspicious start to the planned Seven Realms trilogy. Ages 12-up. (Oct.) Copyright 2009 Reed Business Information.