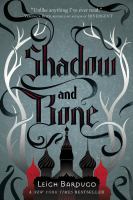 Book list
From Booklist, Copyright © American Library Association. Used with permission.

Debut author Bardugo has conjured up a treat with her first book in the Grisha Trilogy. In the opening passages, a tight bond is formed by two small orphans: handsome, competent Mal and tiny Alina, who never seems to do anything right. Jumping forward in time, the story follows the two friends after they have joined the King's First Army Mal as a soldier-tracker and Alina as a cartographer. Their land of Ravka is surrounded by enemies and divided by the Shadow Fold, a mysterious, magical darkness that seethes with flesh-eating monsters. After Alina discovers that she possesses a magical power, she is taken to the royal court to be trained as a member of the Grisha, magicians who practice the Small Science. Resembling Czarist Russia, the court swirls with deceit and extravagance, and although Alina falls under the spell of the handsome Darkling, she misses Mal grievously. Bardugo weaves a captivating spell with lushly descriptive writing, engaging characters, and an exotic, vivid world. Readers will wait impatiently for the next installment. HIGH-DEMAND BACKSTORY: A six-figure marketing campaign is already ensuring that this series debut receives blockbuster attention.--Rutan, Lynn Copyright 2010 Booklist
---
School Library Journal
(c) Copyright 2010. Library Journals LLC, a wholly owned subsidiary of Media Source, Inc. No redistribution permitted.

Gr 7 Up-Fast-paced and unpredictable, this debut novel will be a hit with readers who love dark fantasy. Orphans and childhood friends Alina and Mal are tested for magical abilities early in life. Not wanting to be separated from her only friend, Alina manages to hide her powers and grows into her teen years, unnoticed and unremarkable. But when she and Mal must cross the perilous Shadow Fold as army soldiers, Alina uses her dormant powers to save Mal's life. After that episode, Alina is revealed to be a "Sun Summoner," a person who can bring forth light and maybe destroy the Shadow Fold for good. She's whisked away to train as a Grisha, a group whose varied powers assist the royal court. There, she begins to understand her incredible abilities with the help of the ancient and powerful Darkling, "a man second in power only to the King," who leads Alina to believe that she can bring peace to their divided country. Bardugo creates a unique world complete with monsters, magic, danger, romance, corruption, and extravagance. Suspense builds slowly, allowing readers time to absorb the otherworldly setting and the battle between the darkness that destroys and the light that saves. In the world of the Grisha, few things are as they seem, and wondering who Alina should trust-and if she can even trust herself-adds to the intrigue.-Leigh Collazo, Ed Willkie Middle School, Fort Worth, TX (c) Copyright 2012. Library Journals LLC, a wholly owned subsidiary of Media Source, Inc. No redistribution permitted.
---
Publishers Weekly
(c) Copyright PWxyz, LLC. All rights reserved

In a strong debut, Bardugo draws inspiration from Russian and Slavic myth and culture to kick off her Grisha trilogy. In the nation of Ravka, Alina Starkov is a junior cartographer's assistant in the army, while her best friend Mal is an expert tracker. When a perilous mission into the magically created Shadow Fold goes wrong, Mal is gravely wounded and Alina manifests the rare ability to summon light. Immediately recruited into the order of the magic-using Grisha, Alina is taken under the wing of its intimidating and powerful leader, the Darkling, and heralded as the potential destroyer of the Shadow Fold. As she navigates Grisha politics and uncovers well-hidden secrets, she realizes that the fate of the nation rests on her shoulders and she may be in grave danger. Filled with lush descriptions, intriguing magic, and plenty of twists, this memorable adventure offers action and intrigue mixed with an undercurrent of romance and danger. Alina's angst and passivity are a bit of a letdown, but Bardugo's storytelling and world-building more than compensate. Ages 12-up. Agent: Joanna Stampfel-Volpe, Nancy Coffey Literary Agency. (June) (c) Copyright PWxyz, LLC. All rights reserved.