What are you looking for ?
---
This is a great place to start your search for information Search engines are a fine place to start a search of the Internet, but often the results are unsatisfactory. Besides, the Internet isn't the only place to find information. Our library has gathered together some great resources for you to use to find the information you need.
Databases
Brainfuse is the online resource provider for career services, test prep, and software tutorials for Iowa's library patrons.
JobNow: one-of-a-kind career assistance that covers all major aspects of job hunting. Users may access secure file-sharing in the writing lab to submit career documents to Job Coaches at any time of the day.
· Adult Learning Center: providing academic assistance designed for adult learners. The Brainfuse test center offers practice tests for all levels of math, reading, and writing as well as college prep tests.
· VetNow: supporting the community's veterans and their families with locating eligible benefits, live online academic tutoring, employment transition assistance, and finding community resources. Communicate in real-time or supmit questions for a response within 24 hours.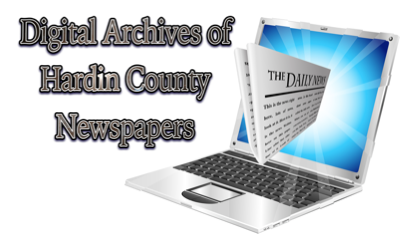 This project, established by the Hardin County Library Association, allows the library patrons of Hardin County to access searchable digital archives of Hardin County newspapers. Use of this online database is limited to In-Library use only and requires a username and password, which may be obtained from library staff.

Use the last 4 digits of your borrower ID to access e-books and e-audiobooks anywhere you have an internet connection.
There are many great searches to be found here: Kids Bits (safe searches for elementary students), Research in Context (for middle school students), Newsstand, Culinary Arts (recipes), Agriculture, Gardening, Health & Wellness, Home Improvement...and that's just part of the list! Ask a librarian for the password.

Iowa Area Education Agencies provide Iowa AEA Online, consisting of eight dynamic online resources, to all Iowa accredited schools. Students and staff have access at school and at home (Internet access required), 24 hours a day, seven days a week! These online resources support the content standards for school curriculum and student learning by bringing a wealth of information to teachers and students wherever they may be, with just the click of a mouse. To learn more about these resources and how to access them, contact your teacher or teacher librarian.

Wondering what to read next? Do you want to choose a book for a book group? Then this resource is for you!
Perfect for the hobby mechanic and professional alike, here is your go-to resource for auto repair information--straight from Chilton's.

Credo is an easy-to-use tool for research, homework, and other reference needs. Gather background information on your topic from over one thousand full-text encyclopedias and subject handbooks, as well as 500,000+ images and audio files and over 1,000 videos.

HealthInfoIowa is a single, Iowa-focused Web site, with authoritative content that ranges from national health and medical databases to regional, state and local links. This Web site serves as a simple and trustworthy first stop for Iowans, to which both information consumers and providers can turn for dependable support. Frequent users of this site will notice a change in the format of this site because it has been transferred to Plone software, a free content management system.