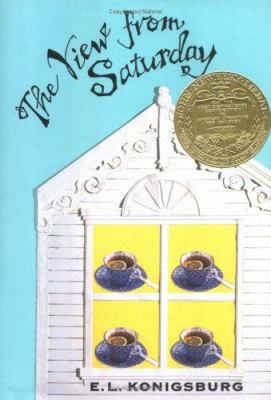 The View From Saturday
by E.L. Konigsburg

Publisher's Weekly : Glowing with humor and dusted with magic, this contemporary novel explores the ties that bind the four members of a championship academic quiz-bowl team. Sixth-grade teacher/coach Mrs. Olinski, teaching for the first time since becoming paraplegic, proudly observes her students' victories from the confines of a wheelchair. She is not sure what propelled her to choose the members of her team, nor does she fully comprehend the secret of their success in repeatedly beating older, more sophisticated competitors. Readers will be equally mystified until the backgrounds of the foursome (who call themselves The Souls) unfold during a series of first-person narratives that reveal the links between the students' private lives. Newbery Medalist Konigsburg (From the Mixed-Up Files of Mrs. Basil E. Frankweiler) orchestrates a stunning quartet of harmoniously blended voices. She expresses the individual struggles of each of her characters while showing how they unite to reach a common goal. Wrought with deep compassion and a keen sense of balance, her imaginative novel affirms the existence of small miracles in everyday life. Ages 8-12.
Copyright 1996 Cahners Business Information, Inc. Distributed by Syndetic Solutions Inc. Terms

School Library Journal : Gr 4-6--Take four sixth graders; combine them as the Epiphany School team for Academic Bowl; add one paraplegic teacher; toss in formal tea times, grandparents of team members getting married, and some magic and calligraphy. Stir them with Konigsburg's masterful hand and you have an ingenious story. Nadia, Noah, Julian, and Ethan are not the top honor students, but Mrs. Olinski has chosen them for other reasons, ones unclear even to her. As the team beats all odds and expectations and reaches the finals, flashbacks told by each member shape a scenario that's like a bundle of pick-up sticks, each piece touching, supporting, and overlapping with the others, and one move effects them all. Stunning interplay of Nadia's turtle watches on Florida beaches, Noah's role as best man at a senior-citizen wedding, Ethan's discovery of himself through new friends, and Julian's ethical decision involving a bully skillfully wrap their stories into one, with amazing insights. Brilliant writing melds with crystalline characterizations in this sparkling story that is a jewel in the author's crown of outstanding work.
Julie Cummins, New York Public Library Distributed by Syndetic Solutions Inc. Terms