JUNE CALENDAR
Summer Reading Program 2023
Summer Reading Program 2023
GARDEN ART MUSHROOM
Book Club

1000 Books Before Kindergarten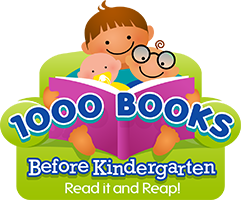 Welcome to the Robertson County Public Library 1,000 BOOKS BEFORE KINDERGARTEN PROGRAM!
Did you know that reading to your child is one of the most powerful ways to boost his or her brain power? The simple and enjoyable act of sharing books helps your child learn pre-reading skills such as understanding the sounds letters make, developing a bigger vocabulary, and building background knowledge—all important skills that help prepare your child for learning to read and entering kindergarten.
Robertson County Public Library 1,000 Books Before Kindergarten program is a fun, exciting, and free way to start your child on the path to success! Any child ages birth to five years can participate. Just follow these steps:
1. Pick up program materials: At the library or print them from our website. http://www1.youseemore.com/robertsoncountypl/
2. Track Your Reading: Fill in a circle or write down each book you read with your child on your reading record.
3. Every Book Counts: Even if your child wants to hear the same book again and again, you can count it each time. You can also count the books your child hears in storytime, in daycare or preschool, or with a friend or family member, as long as your child listens to the entire book.
4. 100-Book Milestones: Each time you read 100 books, bring your reading record to the library to receive a special reward. Take home a new reading record for your next 100 books.
5. 1,000 Books: You did it! Come celebrate at the library, see your child's name placed on the 1,000 Book Wall of Fame, and receive a free book.
6. Keep on Reading: Don't stop at 1,000! Keep on reading together; there's more learning ahead!
Singing songs, saying rhymes, telling stories, and playing with your child are all great ways to build their literacy skills. Visit Robertson County Public Library often for free programs that are fun and educational for your little one and to find great books to share with your child.
One thousand books may seem like a lot, but if you read just one book a night, you'll meet your goal in less than 3 years. If you read three books a night, you could reach your goal in just one year! Ask our friendly staff for suggestions—we're here to help you on your journey to 1,000 Books Before Kindergarten!
Happy Reading!
P.S. - Click on the picture above to access your printable reading log.
RCPL Fresh Start
Board Meeting
Library Board of Trustees Meeting
2nd Tuesday of the Month
at 6:00 p.m.
In Library Community Room
Book Sale
Ongoing used book sale, come take a look!
Libby
Robertson County Public Library has eBooks and audiobooks, but did you know that you can borrow them, instantly, for free, using your favorite device? How? There's an app, created by Overdrive, called Libby.

Search at https://meet.libbyapp.com/ where you can download the Libby app for your phone, tablet, laptop or desktop to read wherever on whatever device you want.
Tap to find your library by zip code, (MUST HAVE A ROBERTSON COUNTY LIBRARY CARD) enter your library card number and password, and then you'll be able browse and start reading or listening right away.
As with Overdrive, you can send books to your Kindle. That can be configured in your Libby app.

Libby is also located at the bottom of the home page of the library's website under Kentucky Library's Unbound at www.youseemore.com/robertsoncountypl/
Here's what you can do with eBooks and audiobooks using your Libby app:
• Find a book/audio
• Borrow a book/audio
• Return a book/audio
• Renew a book/audio
• Read/listen to a book or audio
And more… all in one place.
Want to learn more? Call 606-724-5746!
Yoga

Library