A good book is the best of friends.
Open
Monday - Friday
9:00 a.m. - 5:00 p.m.
Closed
Saturday & Sunday
Ancestry (Only available in the library)
Library's COVID-19 schedule
Sheffield Public Library temporary hours
OPEN
Monday, Wednesday, Friday
10am - 5pm
Tuesday & Thursday
by appointment only
10am - 4pm.
Call between 10am & 4pm for an appointment or to speak to the staff.
Magazine Changes & Additions
Magazines available from RBdigital have been transferred to our OverDrive digital collection. You can continue to access these magazines via RBdigital through March 31, 2021. Magazines checked out through OverDrive will check out for 14 days and will be returned automatically. At this time you will no longer be able to be notified when a new issue will be available but OverDrive may provide this service at a later date. Magazines may be read on a computer or on the Libby app.
Checking out magazines does not count against your OverDrive checkout limit.
Magazines checkout for your choice of 7 or 14 days.
Magazines can be renewed within 3 days of their due date.
There is never a waiting list for magazines.
Up to 3 years of back issues are available.
New magazines have been added! Search the on-line catalog or Colbert Digital Downloads (OverDrive) for magazines.
Book Sale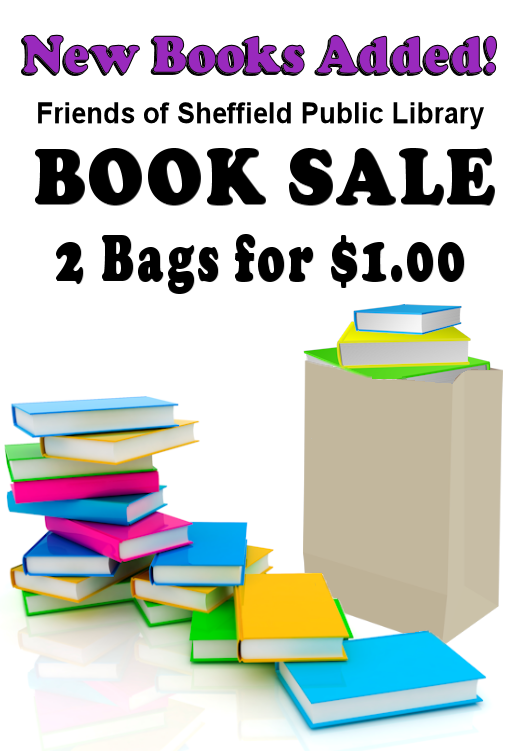 e-Services Library Card
Apply on-line for a Sheffield Public Library e-Services library card.

This card allows you to checkout e-books, e-magazines, download and stream music & videos, read newspapers, take on-line classes and more.

If you already have a Sheffield library card, you do not need a sperate card for e-resources. Access to all of our e-resources are included with your original card.
RBdigital
RBdigital e-audiobooks are moving to OverDrive. Starting October 1, you can check out RBdigital e-audiobookds using the Libby app or by going to Colbert Digital Downloads.
Freegal Playlist
Ancestry Available at Home
Home access has been extended through June 30, 2021.

Ancestry Library Edition will be available for home use during April, 2020.

To access Ancestry go to www.youseemore.com/sheffieldpl/

Click on My Account at the top of the page and login with your library card number and pin number.

In the Account Summary, click on Ancestry.com

We recomend using the latest version of FireFox and selecting New Private Window.

If you have problems accessing Ancestry Library Edition, please use the Email the Librarian link on our web site to notify us.
Universal Class