A good book is the best of friends.
Open
Monday - Friday
9:00 a.m. - 5:00 p.m.
Closed
Saturday & Sunday
Closed Days
The library is closed for repairs. Call the library if you need to pick up a book that is on reserve for you or pick up Christmas Brunch tickets. Continue to check the web site for updates on our closed days.
Christmas Brunch tickets
Tickets for Christmas Brunch with Dolores Hydock can be paid for by check written to Friends of Sheffield Public Library or by cash. If you need tickets during our closed days call the library at 256-386-5633 and we will make arrangements for you to pick up your tickets.
Christmas Brunch 2022
BookSale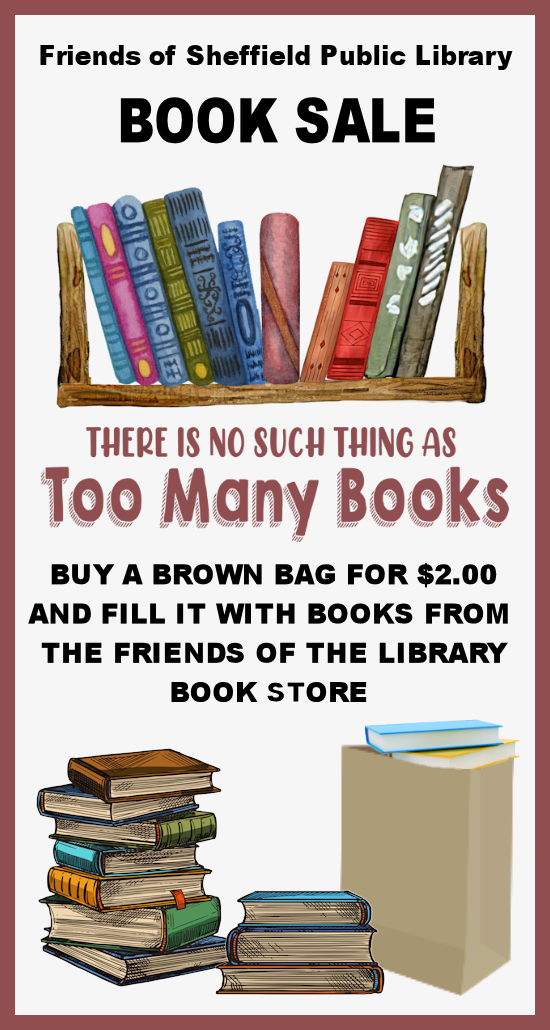 e-Services Library Card
Apply on-line for a Sheffield Public Library e-Services library card.

This card allows you to checkout e-books, e-magazines, download and stream music & videos, read newspapers, take on-line classes and more.

If you already have a Sheffield library card, you do not need a sperate card for e-resources. Access to all of our e-resources is included with your original card.
MAGAZINES
Magazines available from RBdigital have been transferred to our OverDrive digital collection.
You must be logged in with your Sheffield library card to see magazines.
Magazines may be read on a computer or on the Libby app.

Checking out magazines does not count against your OverDrive checkout limit.

Magazines checkout for your choice of 7 or 14 days and will be returned automatically.

Magazines can be renewed within 3 days of their due date.
There is never a waiting list for magazines.

Up to 3 years of back issues are available.

Thousands of new magazines have been added! Search the on-line catalog or Colbert Digital Downloads (OverDrive) for magazines.
Freegal Playlist