NEW!
Text Messaging Service
Get answers to all kinds of questions via text message
Text your question to 520-428-4750.
This number is for text messaging only.
You can ask us any question.
This service is free of charge, but message & data rates may apply.
Please save the phone number to your phone contacts.
Our goal is to respond within 10 minutes but it may take longer.
If you need to talk to a library staff member, please call us at the library by dialing 520-383-5756.

We have new titles, ready for check out.
Come and check out these new books today:
Series: Divergent, Mortal Instruments, Twilight, Wimpy Kid, Harry Potter, The Hunger Games.
Sample titles include The Absolutely True Diary of a Part-Time Indian - Sherman Alexie, Pete The Cat and more!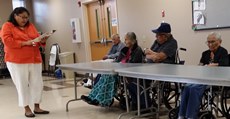 Venito Garcia Library's outreach include monthly visits to the Archie Hendricks Nursing Facility. Every 2nd Tuesday of the month, we deliver books and magazines to the Nursing Home Residents. We read picture books and other books to the Residents. Residents have an opportunity to check out new titles.