Welcome to the Northwood Public Library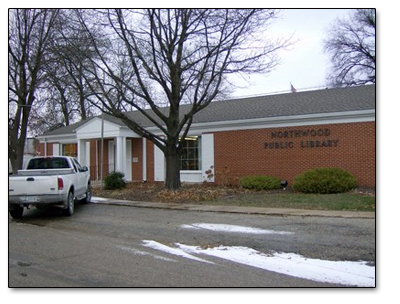 Hours:

Monday

1PM - 5PM

Tuesday

1PM - 8PM

Wednesday

CLOSED

Thursday

1PM - 8PM

Friday

1PM - 5:00PM

Saturday

9AM - 2PM

Sunday

CLOSED
Novermber 2016
You won't to miss this one! ON Thursday, November 17th at 6:30, RUDY DANIELS, a Humanities Iowa Speaker will be presenting a program on Orphan Trains in Iowa. The library is hosting the event which is free and open to the public. Please join us and enjoy this special guest speaker!

The library's holiday story times will be on Friday, November 4th and 18th, and December 2nd, 9th and 16th at 10:00 am. All preschool aged children and their caregivers are welcome to attend. Please join us for stories, crafts, play time and more! For more information, call the library at 641-324-1340, visit our website, or catch us on Facebook.

Great new reads this month include: Adult Fiction: "Paris for One" by Jojo Moyes, "Order to Kill" by Vince Flynn, "Two By Two" by Nicholas Sparks, "Escape Clause" by John Sandford and "Ghosts Times Two" by Caroln Hart.

Non-Fiction: "Winter Stews and One Pot Dinners" by Daniella Malfitano, "Berenstain Bears Holiday Cookbook" by Mike Berenstain, "Think Better, Live Better" by Joel Osteen, and "Best American Travel Writing 2016" by Bill Bryson,

Books on CD: "Winter Storms" by Elin Hilderbrand, "The Whistler" by John Grisham, "Stalking Grounds" by Margaret Mizushima, and "Small Great Things" by Jodi Picoult.

Juvenile Books: Several new titles from familiar authors, new series and new fall and holiday titles have been added.

Don't forget to peruse our "Virtual Branch" of the library. Patrons can browse, check-out, and download e-books, audio books and other digital media from our OverDrive-powered website which you can access from the Northwood Public Library website, Bridges. This is free to our patrons who have a library card and a computer and is available 24/7. Patrons can enjoy best-selling and classic books on their PC, Mac or Smartphone, and transfer titles to many devices, including iPad, Sony Reader, nook, Kindle, ipod and many more. Directions for downloading this application are available at the library.

Visit us on our website! It is www.youseemore.com/NILC/Northwood. Check it out for viewing our library collection as well as other participating Beacon libraries, accessing the NEIBORS website and more! Just log in with your 14 digit number which is on the back of your blue library card, and your password, which is the last 4 numbers of your patron number. You can view your patron account, check to see what materials you have checked out, renew your books, magazines, or audio books, or request a book. Also, check us out on Facebook!








Dateline

News provided by

MSNBC

Video: Father and Son

New Jersey father David Goldman fought for 5 years to get his abducted son home from Brazil . Why did his wife Bruna take their son Sean to Brazil and say she was never coming back? They were young, beautiful and envied by friends who thought they were living a fairy tale. NBCs Meredith Vieira reports.(Dateline)

Mon, 9 May 2011 13:52:33 GMT

Video: My Kid Would Never Bully

As a crisis that affects 3 million kids, bullying is put to the test by a Dateline NBC hidden camera setup. Parents, alongside parenting experts, watch what their own kids will do as bystanders to staged bullying scenarios, beginning with a group of teenage girls. Kate Snow reports.(Dateline)

Mon, 7 Mar 2011 14:05:09 GMT

Copyright 2016 msnbc.com

Online Databases

Mr Squirrel and the Moon
by Sebastian Meschenmoser



Publishers Weekly Meschenmoser's story opens as a wheel of yellow cheese rolls off its wagon, hurtles off...More

All The Light We Cannot See
by Anthony Doerr



Library Journal Shifting among multiple viewpoints but focusing mostly on blind French teenager Marie-Laure ...More

The House in the Night
by Susan Marie Swansonk



Publishers Weekly :

Starred Review. Using only a few graceful words per page to illuminate the dark, this bedtime ge

...More

Cane River
by Lalita Tademy



Library Journal: First novelist Tademy turns fact (the story of her antebellum Southern family) into fiction.