Welcome to the Northwood Public Library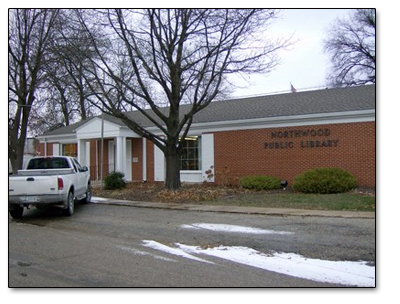 Hours:

Monday

1PM - 5PM

Tuesday

1PM - 8PM

Wednesday

CLOSED

Thursday

1PM - 8PM

Friday

1PM - 5:00PM

Saturday

9AM - 2PM

Sunday

CLOSED
April

         April is a busy month for our library! April 9th through the 15th is National Library week, so please stop by the library to enjoy our services, see some of our library's history and artifacts in a display, have a refreshment, and enter into a drawing for a door prize. Remember the more times you visit us the more chances you have to win!
      We are also working to make our library more active in the community and hoping for your feedback. We have created a survey that we would like you to complete in order to find out how we can be of better service to you. Please click on the link to our 10 question survey. We want to know what we can do for you!
      And finally, starting at the end of May we will have an opening for a part time library assistant. If you are interested please stop by the library to pick up an application or find the printable application here (Click Here). Applications are due May 2nd.
      Story hour will resume again Friday April 7th from 10-11:00 am and then be off for the Easter holiday but continue again April 21st through May 19th. All children 6 and under along with their caregiver are welcome to attend. We will also be starting up a monthly evening story hour from 6-7:00 pm. The evening story hour in April will be Thursday April 20th. This evening story hour will expand  the age range to include children in 2nd grade and younger (along with a parent or caregiver). We hope you can join us! For more information please visit our Facebook page or call us at 324-1340.
        Great new reads this month include:
        Adult Fiction: "The Girl Before" by JP Delaney, " A Note Yet Unsung" by Tamera Alexander, "Drowning Tides" by Karen Harper, "We Were the Lucky Ones" by Georgia Hunter, "Norse Mythology" by Neil Gaiman, "I See You" by Clare Mackintosh, and "Vicious Circle" by C.J. Box.
        Large Print: "Treasured Grace" by Tracie Peterson, "If Not for You" by Debbie Macomber, "My Sister's Grave" by Robert Dugoni, "Inheriting Edith" by Zoe Fishman, "Carolina Gold" by Dorothy Love, "Piece of the World" by Christina Baker Kline, and "Disappearance at Devil's Rock" by Paul Tremblay.
        Adult Non-Fiction: "50 State, 5000 Ideas" by National Geographic, "This Life I Live" by Rory Feek, "Locally Laid" by Lucy Amundsen, "Shaken" by Tim Tebow, and "Total Money Makeover" by Dave Ramsey.
         Please check out our Facebook page and "like" us! We are also working to update patron information by adding e-mail addresses, so please let us know what your e-mail address is next time you stop in to the library!
Northwood Library Survey 2017
Please help us improve the library by completing this 10 question survey. We want to know how to be of better service to you! Just click on the heading and a new window will open for you take the survey.

Thanks!



Job Opening!
We are looking for a part time library assistant! You must have a GED/HS Diploma and computer experience. Hours will include evenings and Saturdays.
Click Here
for the printable application or stop by the library for a paper copy. Applications will be accepted through May 2nd. For more information please call 324-1340.
Dateline

News provided by

MSNBC

Video: Father and Son

New Jersey father David Goldman fought for 5 years to get his abducted son home from Brazil . Why did his wife Bruna take their son Sean to Brazil and say she was never coming back? They were young, beautiful and envied by friends who thought they were living a fairy tale. NBCs Meredith Vieira reports.(Dateline)

Mon, 9 May 2011 13:52:33 GMT

Video: My Kid Would Never Bully

As a crisis that affects 3 million kids, bullying is put to the test by a Dateline NBC hidden camera setup. Parents, alongside parenting experts, watch what their own kids will do as bystanders to staged bullying scenarios, beginning with a group of teenage girls. Kate Snow reports.(Dateline)

Mon, 7 Mar 2011 14:05:09 GMT

Copyright 2017 msnbc.com

Online Databases

The Grasshopper & the Ants
by Jerry Pinkney



Book list A personable grasshopper wearing a straw boater and a leggy ant in an acorn hat square off over the joys of...More

All By Myself, Alone
by Mary Higgins Clark



Mr. Wuffles!
by David Wiesner



Publishers Weekly Mr. Wuffles, a handsome black cat with white paws and an arrogant air, couldn't care less about th...More