Welcome to the Northwood Public Library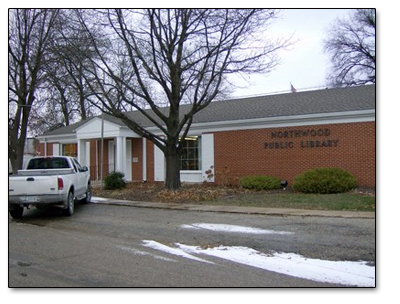 Hours:

Monday

1PM - 5PM

Tuesday

1PM - 8PM

Wednesday

CLOSED

Thursday

1PM - 8PM

Friday

1PM - 5:00PM

Saturday

9AM - 2PM

Sunday

CLOSED
December News
At the close of another year, we gratefully pause to wish you a warm and Merry Christmas and a peaceful and prosperous New Year! Season's Greetings! We wish to extend an invitation to all to attend our holiday open house on Tuesday, December 16th and Thursday, December 18th. There will be drawings for door Prizes and refreshments served. Please come and check it out!
Story time for all preschool aged children and their caregivers will resume on Friday, December 5 from 10:00 - 11:00 am and will run for 3 weeks, through December 19th. Please mark your calendars and join us for fun, crafts, reading, treats and more!
New books this month include: Adult Fiction: "Wait for Signs" by Craig Johnson, "Private India: City on Fire" by James Patterson, "The Burning Room" by Michael Connelly, and "An Ordinary Grace" by William Kent Krueger.
Non-Fiction: "Food: A Love Story" by Jim Gaffigan, and "Proof of Heaven" by Eben Alexander, and "Killing Patton" by Bill O'Riley.
Holiday: "New York Christmas" by Anne Perry, "The Mistletoe Promise" by Richard Paul Evans, "The Christmas Bouquet" by Sherryl Woods, "Choir of Angels" by Debbie Macomber, and "A Frontier Christmas" by William W. Johnstone.
Don't forget to check out our "Virtual Branch" of the library. Patrons can browse, check-out, and download eBooks, audio books and other digital media from our OverDrive-powered website which you can access from the Northwood Public Library website, NEIBORS. This is free to our patrons who have a library card and a computer and is available 24/7. Patrons can enjoy best-selling and classic books on their PC, Mac or Smartphone, and transfer titles to many devices, including iPad, Sony Reader, nook, Kindle, ipod and many more.
Check out our library collection as well as other participating Beacon libraries, accessing the NEIBORS website and more! Just log in with you 14 digit number which is on the back of your blue library card, and your password, which is the last 4 numbers of your patron number. You can view your patron account, check to see what materials you have checked out, renew your books, magazines, or audio books, or request a book.
Dateline

News provided by

MSNBC

Video: Father and Son

New Jersey father David Goldman fought for 5 years to get his abducted son home from Brazil . Why did his wife Bruna take their son Sean to Brazil and say she was never coming back? They were young, beautiful and envied by friends who thought they were living a fairy tale. NBCs Meredith Vieira reports.(Dateline)

Mon, 9 May 2011 13:52:33 GMT

Video: My Kid Would Never Bully

As a crisis that affects 3 million kids, bullying is put to the test by a Dateline NBC hidden camera setup. Parents, alongside parenting experts, watch what their own kids will do as bystanders to staged bullying scenarios, beginning with a group of teenage girls. Kate Snow reports.(Dateline)

Mon, 7 Mar 2011 14:05:09 GMT

Copyright 2015 msnbc.com

Online Databases

Murder, With Peacocks
by Donna Andrews



Library Journal :

Meg Lanslow, maid of honor for three impending weddings, returns to her Virginia small-town home f

...More

You Against Me
by Downham, Jenny



Book list *Starred Review* Mikey's 15-year-old sister, Karyn, is holed up in the family's apartment, ...More

Jefferson's Sons: A Founding Father's Secret Children
by Kimberly Brubaker Bradley



School Library Journal Gr 6-9-This well-researched fictional look at the lives of the sons of Thomas Jeffers...More

Unbroken
by Laura Hillenbrand



Library Journal The author of Seabiscuit now brings us a biography of World War II prisoner of war survivor ...More

The Three Pigs
by David Wiesner



Publishers Weekly Even the book's younger readers will understand the distinctive visual code. As the pig...More

The One and Only Ivan
by Katherine Applegate



School Library Journal Gr 3-7-This tender tale of friendship and hope is narrated by a silverback gorilla li...More

Drowning Ruth
by Christina Schwarz



Library Journal:

Why did Ruth's mother, Mathilda, drown on that fateful night in 1919 and Ruth survive? That is the

...More