Welcome to the Northwood Public Library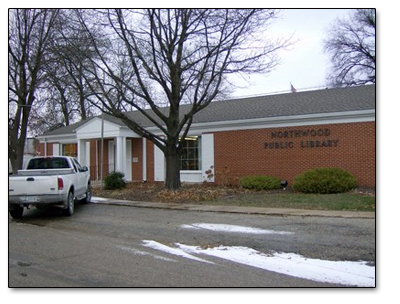 Hours:

Monday

1PM - 5PM

Tuesday

1PM - 8PM

Wednesday

CLOSED

Thursday

1PM - 8PM

Friday

1PM - 5:00PM

Saturday

9AM - 2PM

Sunday

CLOSED
July news
Please visit the library for a special program on Thursday, July 9th at 6:30 pm given by Judy Towne Jennings, a Mason City native with ties to this area. Judy will be talking about Lewy Body Dementia, also known as Parkinson Dementia. From 2005 - 2010 she provided full time caregiving assistance to her husband who was stricken with this disease. She wants all people to understand the value of humor and positive attitudes in whatever situation they may be experiencing. Ice cream refreshments will be served.
Great new reads this month include: Adult Fiction: " Country" by Danielle Steel, "The Melody Lingers On" by Mary Higgins Clark, "The President's Shadow" by Brad Meltzer, and "Truth or Die" by James Patterson.
Audiobooks: " The Rumor" by Elin Hilderbrand, "The Melody Lingers On" by Mary Higgins Clark, "Every Fifteen Minutes" by Lisa Scottoline and "the President's Shadow" by Brad Meltzer.
Large Print: "Blueprints" by Barbara Delinsky, "Cash Landing" by James Grippando, "The Truth According to Us" by Annie Barrows and "All the Single Ladies" by Dorothea Benton Frank.
Don't forget to check out our "Virtual Branch" of the library. Patrons can browse, check-out, and download eBooks, audio books and other digital media from our OverDrive-powered website which you can access from the Northwood Public Library website, NEIBORS. This is free to our patrons who have a library card and a computer and is available 24/7. Patrons can enjoy best-selling and classic books on their PC, Mac or Smartphone, and transfer titles to many devices, including iPad, Sony Reader, nook, Kindle, ipod and many more.
Check out our library collection as well as other participating Beacon libraries, accessing the NEIBORS website and more! Just log in with your 14 digit number which is on the back of your blue library card, and your password, which is the last 4 numbers of your patron number, You can view you patron account, check to see what materials you have checked out, renew your books, magazines. or audio books, or request a book. Also, check us out on Facebook!
Dateline

News provided by

MSNBC

Video: Father and Son

New Jersey father David Goldman fought for 5 years to get his abducted son home from Brazil . Why did his wife Bruna take their son Sean to Brazil and say she was never coming back? They were young, beautiful and envied by friends who thought they were living a fairy tale. NBCs Meredith Vieira reports.(Dateline)

Mon, 9 May 2011 13:52:33 GMT

Video: My Kid Would Never Bully

As a crisis that affects 3 million kids, bullying is put to the test by a Dateline NBC hidden camera setup. Parents, alongside parenting experts, watch what their own kids will do as bystanders to staged bullying scenarios, beginning with a group of teenage girls. Kate Snow reports.(Dateline)

Mon, 7 Mar 2011 14:05:09 GMT

Copyright 2015 msnbc.com

Online Databases

Arthur Conan Doyle: A Life in Letters
by Jon Lellenberg, Daniel Stashower and Charles Foley



Library Journal The enduring popularity of Sir Arthur Conan Doyle (1859-1930) can largely be attributed to his stori...More

Payback Time
by Deuker, Carl



School Library Journal Gr 7 Up-Senior Daniel True is short, pale, and round, hence his nickname the Michelin...More

Dead End in Norvelt
by Jack Gantos



Book list Looks like a bummer of a summer for 11-year-old Jack (with a same-name protagonist, it's tempti...More

The Wright Brothers
by David McCullough



Library Journal McCullough (John Adams; 1776) effectively blends impeccable writing with historical rigor and...More

Lon Po Po
by Ed Young



Book list Ages 6^-9. Young incorporates a wolf image into every illustration in this Chinese version of the familiar ...More

Lincoln: A Photobiography
by Russell Freedman



Publishers Weekly :

This Newbery Award-winning study of our 16th president is highly readable and meticulously organ

...More

Stolen Lives: Twenty Years in a Desert Jail
by Malika Oufkir



Publishers Weekly:

While accounts of the unjust arrest and torture of political prisoners are by now common, we exp

...More