Welcome to the Northwood Public Library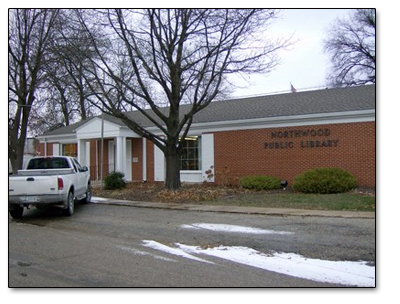 Hours:

Monday

1PM - 5PM

Tuesday

1PM - 8PM

Wednesday

CLOSED

Thursday

1PM - 8PM

Friday

1PM - 5:00PM

Saturday

9AM - 2PM

Sunday

CLOSED
December News
Please join us in celebrating the holiday season during our Christmas Open House on Tuesday, December 17th and Thursday, December 19th. Register for door prizes, peruse our holiday display, and enjoy treats while you browse. We are looking forward to seeing you at the library!
Story time continues on Friday, December 6th for two weeks. We will be celebrating Christmas with books, crafts, free play and tons of fun!
If you are interested in joining our book club, please contact the library and let us know. We are interested in starting one and would like to know how many of you would like to attend, and whether days or evenings would work best. You can reach us by calling 641-324-1340 or emailing northwoodlibrary@mchsi.com.
New books this month include: Adult Fiction - "Winner" by Danielle Steel, "All-Girl Filling Station's Last Reunion" by Fannie Flagg, "Mirage" by Clive Cussler, "King and Maxwell" by David Baldacci, and "Takedown Twenty" by Janet Evanovich.
Large Print: "Candlelight Christmas" by Susan Wiggs, "Upon a Winter's Night" by Karen Harper, " A Good American" by Alex George, "Death Waited at Rialto Creek" by Lewis B. Patten, and "Texas Bride" by Joan Johnston.
Juvenile fiction: "Diary of a Wimpy Kid: Hard Luck" by Jeff Kinney, "curious George Builds an Igloo" by H.A. Rey, "Cinders: A Chicken Cinderella" by Jan Brett, and "Garfield's Sunday Finest" by Jim Davis.
Adult Fiction Paperback: "The Dark Witch" by Nora Roberts, "Bird in Hand" by Christina Baker Kline, author of "Orphan Train", "Secret Santa" by Fern Michaels, and "Christmas on Main Street" by JoAnn Ross.
Don't forget to check out our "virtual Branch" of the library. Patrons can browse, Check-out, and download eBooks, audio books and other digital media from our OverDrive-powered website which you can access from the Northwood Public Library website, NEIBORS. This is free to our patrons who have a library card and a computer and is available 24/7. Patrons can enjoy best-selling and classic books on their PC, Mac or Smartphone, and transfer titles to many devices, including iPad, Sony Reader, nook, Kindle, ipod and many more. If anyone is interested in learning how to access this site and download a book to their eReader, please contact the library and we will set up a time to help you get started.
Check out our library collection as well as other participating Beacon libraries, accessing the NEIBORS website and more! Just log in with your 14 digit number which is on the back of your blue library card, and your password, which is the last 4 numbers of your patron number. You can view your patron account, check to see what materials you have checked out, renew your books, magazines, or audio books, or request a book.
Dateline

News provided by

MSNBC

Video: Father and Son

New Jersey father David Goldman fought for 5 years to get his abducted son home from Brazil . Why did his wife Bruna take their son Sean to Brazil and say she was never coming back? They were young, beautiful and envied by friends who thought they were living a fairy tale. NBCs Meredith Vieira reports.(Dateline)

Mon, 9 May 2011 13:52:33 GMT

Video: My Kid Would Never Bully

As a crisis that affects 3 million kids, bullying is put to the test by a Dateline NBC hidden camera setup. Parents, alongside parenting experts, watch what their own kids will do as bystanders to staged bullying scenarios, beginning with a group of teenage girls. Kate Snow reports.(Dateline)

Mon, 7 Mar 2011 14:05:09 GMT

Copyright 2013 msnbc.com

Online Databases

Bubbles Unbound
by Sarah Strohmeyer



Book list Having studied at the feet of the Master Evanovich, first-novelist Strohmeyer unleashes Lehigh, Pen...More

Bronxwood
by Booth, Coe



School Library Journal Gr 9 Up-In Tyrell (Scholastic, 2006), the teen dumped the girl who lied to him and left his m...More

Lemonade, and Other Poems Squeezed from a Single Word
by Bob Raczka



School Library Journal Gr 3-8-Raczka credits Andrew Russ for inspiring him to try his hand at creating poems...More

The First Phone Call From Heaven
by Mitch Albom



Publishers Weekly Albom (The Five People You Meet in Heaven) has a nose for "thin places": places where the boundary...More

The House in the Night
by Susan Marie Swansonk



Publishers Weekly :

Starred Review. Using only a few graceful words per page to illuminate the dark, this bedtime ge

...More

A Year Down Yonder
by Richard Peck



Publishers Weekly :

In this hilarious and poignant sequel to A Long Way to Chicago, Peck once again shows that count

...More

The Poisonwood Bible
by Barbara Kingsolver



Library Journal It's been five years since Kingsolver's last novel (Pigs in Heaven, LJ 6/15/93), and she has used her...More