Welcome to the Northwood Public Library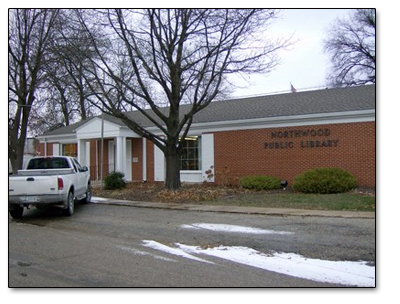 Hours:

Monday

1PM - 5PM

Tuesday

1PM - 8PM

Wednesday

CLOSED

Thursday

1PM - 8PM

Friday

1PM - 5:00PM

Saturday

9AM - 2PM

Sunday

CLOSED
April news
The Northwood Public Library is joining other libraries in schools, campuses and communities nationwide in celebrating National Library Week April 13-19, a time to highlight the value of libraries, librarians, and library workers. Stop by and join the celebration with treats, door prize drawings, and special bookmarks and book bags to be handed out that week.
Our spring story time will begin on Friday, April 11th at 10:00 am. All preschool aged children and their caregivers are welcome to attend. Please join us for fun, good, crafts, games and more.
Come in and checkout the AWE, our Early Literacy Station. This system is a comprehensive, educational solution loaded with over 60 software titles for kids ages 2-8. It offers children a safe, standalone computer, not connected to the Internet that is age-appropriate, engaging, and academically relevant for this age group. It is designed to support school readiness and technology access while making learning exciting and fun. The Early Literacy Station covers seven curricular areas: reading, math, science, social studies, writing, arts and music, and reference. The system is designed to attract and educate toddlers through early elementary school ages. Bring your kids in and check it out!
New books this month include: Adult Fiction: "NYPD Red 2" by James Patterson, "The Finisher" by David Baldacci, "Blossom Street Brides" by Debbie Macomber, "Power Play" by Danielle Steel, and "Missing You" by Harlan Coben,.
Books on CD: "Notorious" by Allison Brennan, "Blossom Street Brides" by Debbie Macomber, "Power Play" by Danielle Steel, and "Forget Me Not" by Fern Michaels.
Non-Fiction: "Home:25 Amazing Projects for Your Home" by Beci Orpin, "Fresh From the Farm" by Susie Middleton, "How to Be the World's Smartest Traveler" by Christopher Elliott, "Pocket Gardens" by the editors and contributors of Fine Gardening, and "The Diabetes Break-Through" by Osama Hamdy.
Don't forget to check out our "Virtual Branch" of the library. Patrons can browse, check-out, and download eBooks, audio books and other digital media from our OverDrive - powered website which you can access from the Northwood Public Library website, NEIBORS. This is free to our patrons who have a library card and a computer and is available 24/7. Patrons can enjoy best-selling and classic books on their PC, Mac or Smartphone, and transfer titles to many devices, including iPad, Sony Reader, nook, Kindle, ipod and many more. Check out our library collection as well as other participating Beacon libraries, accessing the NEIBORS website and more! Just log in with your 14 digit number which is on the back of your blue library card, and your password, which is the last 4 numbers of your patron number. You can view your patron account, check to see what materials you have checked out, renew your books, magazines, or audio books, or request a book.
Dateline

News provided by

MSNBC

Video: Father and Son

New Jersey father David Goldman fought for 5 years to get his abducted son home from Brazil . Why did his wife Bruna take their son Sean to Brazil and say she was never coming back? They were young, beautiful and envied by friends who thought they were living a fairy tale. NBCs Meredith Vieira reports.(Dateline)

Mon, 9 May 2011 13:52:33 GMT

Video: My Kid Would Never Bully

As a crisis that affects 3 million kids, bullying is put to the test by a Dateline NBC hidden camera setup. Parents, alongside parenting experts, watch what their own kids will do as bystanders to staged bullying scenarios, beginning with a group of teenage girls. Kate Snow reports.(Dateline)

Mon, 7 Mar 2011 14:05:09 GMT

Copyright 2014 msnbc.com

Online Databases

The Sweetness at the Bottom of the Pie
by Alan Bradley



Book list *Starred Review* Canadian Alan Bradley's first full-length crime novel is delightful. Like fell...More

Bitter Melon
by Chow, Cara



School Library Journal Gr 8 Up-While this novel will tend to resonate most with Asian-Americans, many teens ...More

Lemonade, and Other Poems Squeezed from a Single Word
by Bob Raczka



School Library Journal Gr 3-8-Raczka credits Andrew Russ for inspiring him to try his hand at creating poems...More

Thrive
by Arianna Huffington



Publishers Weekly Media mogul Huffington lays out steps to creating a lifestyle where success is measured no...More

A Ball for Daisy
by Chris Raschka



School Library Journal PreS-Gr 2-Ever the minimalist, Raschka continues to experiment with what is essential...More

Moon Over Manifest
by Clare Vanderpool



School Library Journal Gr 5-8-History and fiction marry beautifully in this lively debut novel. It's as ...More

The Treasure Hunt
by Bill Cosby



School Library Journal :

K-Gr 3--Cosby turns his hand to writing, telling stories about situations that children oft

...More