Welcome to the Northwood Public Library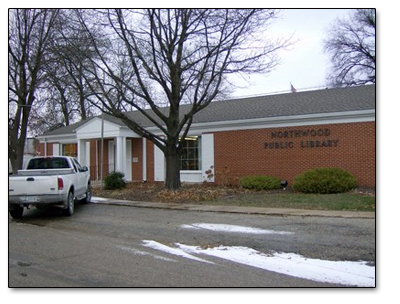 Hours:

    Monday

1PM - 5PM

    Tuesday

1PM - 8PM

    Wednesday

CLOSED

    Thursday

1PM - 8PM

    Friday

1PM - 5:00PM

    Saturday

9AM - 2PM

    Sunday

CLOSED
April
Reading helps the mind to blossom, and hopefully we will soon begin seeing blossoming flowers around town! As Cicero is quoted as saying, "If you have a garden and a library, you have everything you need;" and April 8th-14th we celebrate libraries with National Library week! Take time to stop in the library and enjoy all we have to offer: books for all ages, magazines, DVDs, internet access, and more! Can't find the time to physically stop by the library? Check us out on Facebook or visit our webpage. From our webpage you can access our online resources or go to Bridges to download an e-book or e-audio book!
Mark your calendars because Rebecca Houg of Rebecca Lynne Photography is offering a one hour class on Thursday April 12th starting at 5:30 pm. This class will teach you tips and tricks to take better pictures of your young child(ren) with your cell phone! Feel free to bring the kids along as they will get to make a spring craft while mom or dad learns from Rebecca. If you plan to attend please RSVP to the Northwood Public Library at 324-1340 or send an e-mail to northwoodlibrary@mchsi.com
We want to thank A&I Auto and the Northwood Anchor for their donations to the Summer Reading Program. Again it's difficult to express how grateful we are to the community for their support! We truly can't wait for the Summer Reading Program to begin!
A reminder that there will NOT be Friday morning story hours during the months of April and May due to a scheduling conflict with a class I must take. But the silver lining is we will offer two evening story hours a month instead of one.
Upcoming story hours will be Tuesday April 10th and Thursday April 19th both at 6:30 pm. Our evening story hours include a craft, activity, story, and snack. The whole family is invited to attend! April 10th will have a "spring at the library" theme because it's National Library Week, and April 19th will be focused on the book "Dragons Love Tacos."
Adult Fiction: "Accidental Heros" by Danielle Steel, "Shallow Grave" by Karen Harper, "The Escape Artist" by Brad Meltzer, "As You Wish" by Jude Deveraux, "Force of Nature" by Jane Harper, "Sunburn" by Laura Lippman, and "Flight Attendant" by Chris Bohjalian.
Large Print: "The Great Alone" by Kristin Hanna, "Amish Weddings" by Leslie Gould, "The Trapped Girl" by Robert Dugoni, "Tiger in the House" by Jaqueline Sheehan, and "The O'Malley's of Texas" by Dusty Richards.
Juvenile Books: "I've Loved You Since Forever" by Hoda Kotb, "She Persisted" by Chelsea Clinton, and "We Love Our Dad/We Love Our Mom!" by Jan and Mike Berenstain.
Also check out our Facebook page at www.facebook.com/northwoodlibrary. We hope to see you at the library soon!

Book Review...
"I spent the weekend of the Winter Dance party reading "Stars Over Clear Lake." Author Loretta Ellsworth grew up in Mason City. Her parents met at the Surf. The story revolves around Lorraine- a woman of a 'certain age' in the present- and as a teenager during and after WWII. She dances at the Surf- the original one that burned down in 1947- copes with her brother leaving for the war, her mother's depression, and the German prisoners from the POW camp in Algona who are helping her father on the farm. The book is available at the Northwood Library." Jo Stumo (And soon to be available as a book on CD!)
U.S. News

News provided by

MSNBC

Cosby's accusers applaud guilty verdict

"We are vindicated, we are validated, and we are now part of the tsunami of women's power and justice," said one accuser, Victoria Valentino.

Thu, 26 Apr 2018 22:35:00 GMT

The Cosby accusers speak

Twenty-nine women who accuse the comedian of inappropriate sexual behavior tell their stories to NBC's Dateline.

Thu, 26 Apr 2018 19:47:27 GMT

2018 NBCNews.com

Online Databases

Coyote Moon
by Maria Gianferrari



Book list This striking book celebrates the life of coyotes without dismissing their predatory nature. The co...More

Circe
by Madeline Miller



School Library Journal Circe, daughter of the sun god Helios, mightiest of the Titans, was a peculiar child w...More

Flotsam
by David Wiesner



School Library Journal PreS Up-Photos developed from a "Melville underwater camera" washed ashore astound ...More