Welcome to the Northwood Public Library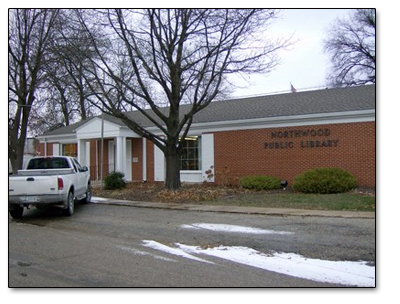 Hours:

Monday

1PM - 5PM

Tuesday

1PM - 8PM

Wednesday

CLOSED

Thursday

1PM - 8PM

Friday

1PM - 5:00PM

Saturday

9AM - 2PM

Sunday

CLOSED
June 2016
School Is Out! Warmer weather is here! Please join the Northwood Public Library this summe during their library reading program, "ON YOUR MARK, GET SET . . .READ!." The event will run from Monday, June 13th through Friday, July 15th.
The 2016 summer reading line-up is open to young people ages preschool through 6th grade, presenting a read-at-home program with incentives, prize drawings, story time, a Blank Park Zoo visit, and more. All programs are free of charge.
Story times begin on Friday, June 17th from 10:00-11:00 am, the Blank Park Zoo will be visiting the library Thursday, July 14th at 4:30 pm, and a party on Friday, July 15 at 10:00 am will conclude the summer program. Registration for "On Your Mark, Get Set. . . .Read" begins on Monday, June 13th at the library. For more information, call the library at 641-324-1340, visit our website, or catch us on Facebook
Great new reads this month include: Adult Fiction: "The Last Mile" by David Baldacci, "The Apartment" by Danielle Steel, "Most Wanted" by Lisa Scottoline, "The Weekenders" by Mary Kay Andrews, and "The Big Showdown" by Mickey Spillane.
Non-Fiction: "The Jefferson Highway: Blazing the Way from Winnipeg to New Orleans" by Lyell D. Henry, Jr., given to the library by the Worth County Historical Society, "First Women: The Grace and Power of America's Modern First Ladies" by Kate Andersen Brower, and "Valiant Ambition: George Washington, Benedict Arnold, and the Fate of American Revolution " by Nathaniel Philbrick.
Books on CD: "The Island House" by Nancy Thayer, "Boar Island" by Nevada Barr, "Me Before You" by Jojo Moyes, and "The Obsession" by Nora Roberts.
Don't forget to peruse our "Virtual Branch" of the library. Patrons can browse, check-out , and download eBooks, audio books and other digital media from our OverDrive-powered website which you can access from the Northwood Public Library website, Bridges. This is free to our patrons who have a library card and a computer and is available 24/7. Patrons can enjoy best-selling and classic books on their PC, Ma or Smartphone, and transfer titles to many devices, including iPad, Sony Reader, nook, Kindle,. ipod and many more. Directions for downloading this application are available at the library.
Visit us on our website! It is www.youseemore.com/NILC/Northwood. Check it out for viewing our library collection as well as other participating Beacon libraries, accessing the NEIBORS website and more! Just log in with your 14digit number which is on the back of your blue library card, and your password, which is the last 4 numbers of your patron number. Yu can view your patron account, check to see what materials you have checked out, renew your books, magazines, or audio books, or request a book. Also, check us out on Facebook!
Dateline

News provided by

MSNBC

Video: Father and Son

New Jersey father David Goldman fought for 5 years to get his abducted son home from Brazil . Why did his wife Bruna take their son Sean to Brazil and say she was never coming back? They were young, beautiful and envied by friends who thought they were living a fairy tale. NBCs Meredith Vieira reports.(Dateline)

Mon, 9 May 2011 13:52:33 GMT

Video: My Kid Would Never Bully

As a crisis that affects 3 million kids, bullying is put to the test by a Dateline NBC hidden camera setup. Parents, alongside parenting experts, watch what their own kids will do as bystanders to staged bullying scenarios, beginning with a group of teenage girls. Kate Snow reports.(Dateline)

Mon, 7 Mar 2011 14:05:09 GMT

Copyright 2016 msnbc.com

Online Databases

A question of honor
by Charles Todd



Library Journal When Bess learns that an earlier crime committed in India involves her father, she must grapple with...More

Midwinterblood
by Marcus Sedgwick



Book list *Starred Review* In the year 2073, a reporter named Eric is sent to Blessed Island to research a rare flowe...More

Grandma Lives in a Perfume Village
by Fang Suzhen



Publishers Weekly Taiwanese author Suzhen writes honestly, even starkly, about the death of a grandparent and the suf...More

Magic
by Danielle Steel



A Ball for Daisy
by Chris Raschka



School Library Journal PreS-Gr 2-Ever the minimalist, Raschka continues to experiment with what is essential...More

Breaking Stalins Nose
by Eugene Yelchin



School Library Journal Gr 5-7-Velchin skillfully combines narrative with dramatic black-and-white illustrati...More

The Poisonwood Bible
by Barbara Kingsolver



Library Journal:

It's been five years since Kingsolver's last novel (Pigs in Heaven, LJ 6/15/93), and she has used

...More