Welcome to the Northwood Public Library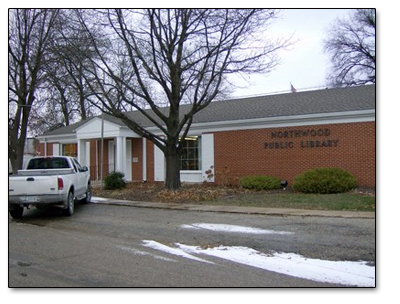 Hours:

    Monday

1PM - 5PM

    Tuesday

1PM - 8PM

    Wednesday

CLOSED

    Thursday

1PM - 8PM

    Friday

1PM - 5:00PM

    Saturday

9AM - 2PM

    Sunday

CLOSED
August
We want to say a big thank you to everyone for their support with the 2017 Summer Reading Program! It was a successful summer!. Special thanks to the Northwood Movie Theater who donated tickets as prizes in our treasure chest and for the donation of popcorn at our Family Fort Night! Both were a huge hit! A shout out to Samantha Butler for donating her time to help with our story hours this summer. The kids loved having her here, and I couldn't have done it without her! Another thank you to those who donated money in memory of Lloyd Madson. Some of that money was used to pay for the Grout Museum to present their "Build a Better World through Science" Program. We had nearly 25 kids here to enjoy the demonstrations of the 6 simple machines, water filtration, and to learn about Nikola Teslov. (As was shown a few weeks ago on the front page of the Anchor.) My son still talks about the "lightning" in the library! Also thanks to all the parents and caregivers and the kids who participated in the SRP. And an extra congratulations to the 36 kids who reached their reading goals!
Our DVD collection is ready for business. We are starting out with our donated items, but we will be adding new items very soon. "New" DVDs will have a 3 day checkout, while older DVDs will have the same checkout timeframe as books: 2 weeks. Both "new" and "old" DVDs will able to be renewed another 2 times unless a "hold" is pending. Fines will be enforced on DVDs. Fines will be $0.50 a day up to $5.00. There will also be a limit of 2 DVDs per person or 4 DVDs per household to be checked out at once. For a full version of our DVD policy please click the link below.
Friday story hours are done for the summer, but we will have an evening story hour on Tuesday August 15th starting at 6:30 pm. Children Pre-K to 2nd grade are welcome to attend as we learn about jelly fish and other ocean creatures. Please stay posted to our Facebook page and the calendar on our website to learn when our fall story hours will start up again. (Likely to be September 8th.)
New Reads this month include:
Adult Fiction: "Come Sundown" by Nora Roberts, "Bone Box" by Faye Kellerman, "The Broken Road" by Richard Paul Evans, "The Nearness of You" by Dorothy Garlock, "Secrets of the Tulip Sisters" by Susan Mallery, "Down a Dark Road" by Linda Castillo, "Before We Were Yours" by Lisa Wingate, "Revelation" by Robert Knott (Robert B. Parker), "Two Nights" by Kathy Reichs, "House of Spies" by Daniel Silva, and "Sixkiller, U.S. Marshal" by William Johnstone.
Books on CD: "Down a Dark Road" by Linda Castillo, "Come Sundown" by Nora Roberts, and "One Perfect Lie" by Lisa Scottoline.

U.S. News

News provided by

MSNBC

Tribes Hope for Renewal in Solar Eclipse; Not All Will Watch

In Navajo culture, the passing of the moon over the sun is an intimate moment in which the sun is reborn and tribal members take time out for themselves. No talking. No eating or drinking. No lying down. No fussing.

Sun, 20 Aug 2017 17:21:33 GMT

2017 NBCNews.com

Online Databases

Before Morning
by Joyce Sidman



Publishers Weekly In a book-length poem, Newbery Honor recipient Sidman (Dark Emperor and Other Poems of the ...More

The Good Daughter
by Karin Slaughter



Waiting
by Kevin Henkes



Book list *Starred Review* A pig with an umbrella, a spotted owl, a puppy on a sled, a bear holding a kite, a...More