Welcome to Pioneer Memorial Library
Downloadable eAudiobooks are BACK!!
Attention Mac Users: There is a version of Media Manager now available for the Mac. See the Oneclickdigital website.
The following instructions will help you set up an account for downloadable eAudiobooks and begin using the collection with your portable listening device.
1. 1. Click the tab marked "audiobooks" on the upper right of this page (next to the "contact us" tab).
2. 2. This will take you to a screen that will ask for your patron number and PIN number. These numbers can be obtained from the library staff. Please enter these numbers in the boxes and click "submit request".
3 3. You will be taken to a screen with Pioneer Memorial Library Online Resources. Click on the "One Click digital" button. This will open a new window at the OneClickdigital website.
4. 4. If you have previously created an account to download audio books click on login (upper right of page) and sign in using your login and password established before. After signing in click on "Learn more about OneClickdigital Media Manager". On the next screen that appears click on the Download OneClickdigital Media Manager button. Go to step 6 now.
5. 5. If you are accessing this service for the first time you will have to create a new account. Click on the "Create New Account" link on the upper right of the page. Please fill in the required information and click "Create an Account". You will be taken to the Download One Click Digital Media Manager page.
6. 6. You may get a message near the top of the window from Internet Explorer saying the download has been blocked for security reasons. If so, click the message and choose the download file option. The software will begin installation. You will get two pop-up messages asking if you want to "run or save this file". Choose run for each message. Follow the prompts to finish installing the software. After installation the One Click Digital Media Manager program will start. Enter your Username and Password created earlier. Press login. You are now logged into OneClickDigital Media Manager. From here you can click Browse Website to go the OneClickDigital web site and start downloading audio books.
7. 7. If you click "Help" in the OneClickDigital Media Manager you will be taken to the help tabs at the web site. Here you will find tutorial videos, FAQs, a user tutorial, and information about the devices that can be used with OneClickDigital Media Manager.
One More Thing
by B J Novak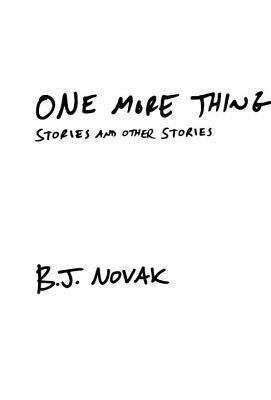 Publishers Weekly Novak's debut contains a buckshot 64 fun and funny short stories crammed into a single volume. Part Etgar Keret, part McSweeney's, these tidy tales from the alum of TV's The Office depart from the "how I became famous" comedian's biography for a decidedly more literary turn. The collection's opening story, "The Rematch," is a clever sequel to a classic in which the hare pressures the tortoise into a rematch in an attempt to get past the most shameful defeat of his life. In another standout, "Sophia," a young man custom-orders a sex doll, but is disappointed when he discovers that it possesses artificial intelligence (the first of its kind) and the capacity to feel love. The bulk of Novak's stories are comedic, and more than a few are surprisingly tender. "A Good Problem to Have" features a confused senior citizen pushing into an elementary school classroom to explain how he invented the two-trains-leave-the-station math problem but never got credit for it. If the collection feels uneven at times, like a series of playful asides (a handful of the entries don't reach beyond a few slight lines), perhaps that's because Novak seems to have worked harder on the more substantial stories, which have the pleasing feel of being written by an author in complete control of his craft. First printing of 150,000 announced. Agent: Richard Abate, 3 Arts Entertainment. (Feb.) (c) Copyright PWxyz, LLC. All rights reserved.
(c) Copyri...More