Courtyard Area - The Wi-Fi Zone Hotspot!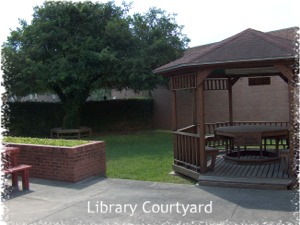 The library's Courtyard Area is home to a gazebo which Mr. Donald Trant, Sr. and his family donated to the library. The spacious Courtyard Area has several attractive features that patrons can enjoy including a picnic table, swing, and a poetry garden. Compliments of the Friends of the Library, several computer workstations are available with electrical outlets. Patrons who bring their wireless ready devices can access the library's FREE Wi-Fi Internet service. The Robert J. Kleberg Public Library offers both secure and unsecure wireless connections. Our regular network ID is: kleberglibrary. Our secure network ID is: kleberglibrary-secure. Patrons can obtain the password at the Circulation Desk during regular business hours. A detailed brochure on our wireless Internet service is available inside the library. Patrons can also access the brochure online from our wesite at www.kleberglibrary.com. From our menu tab, select "Printable PDF Brochures." Click on "The Wi-Fi Zone" to bring up the PDF brochure. Click on 'printer' icon to print. For more information, please call or visit the library.

Non-Residents

Don't have a computer or wireless device but you need temporary access to the Internet. NO PROBLEM! During regular business hours, the library makes available to non-residents a computer with MicroSoft Office applications for a nominal fee. Usage is subject to the library's "Public Internet Access" policies.
With the purchase of a 'Dollar Day Pass,' non-residents can gain full access to the library's Electronic Services. The "Dollar Day Pass' gives patrons access to the library's public computers, Microfilm Reader/Printer and Typewriter. Their is no need to sign-up for or purchase a non-resident library card.
PLEASE NOTE: The 'Dollar Day Pass' is valid only for the current purchase date. However, a patron may leave the library and return later the same day with their orignial receipt and regain access to the library's electronic services. Patrons using the 'Dollar Day Pass' are subject to the library's Electronic Services policies. Dollar Day passes are available at the Circulation Desk! Library computers are on a 'first come, first served' basis.