Wireless Internet Services
Wi-Fi Hotspot Zone!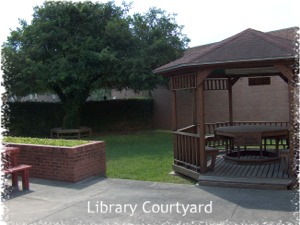 The library's Courtyard is home to our OPEN and FREE Wi-FI Hotspot Zone area! Our Courtyard includes an outdoor Gazebo that Wi-Fi users can utilize during their visit. The Gazebo was graciously donated to the library by Mr. Donald Trant, Senior and family.
Our Courtyard has several attractive amenities that Wi-Fi users can use and enjoy, such as a picnic table, swing, and a charming flowering garden that has an arrary of summer plants sourrounded by stepping stones.
Compliments of the Friends of the Library, the Friends funded the construction of four outdoor computer workstations for wireless users. The workstations are located under the library's courtyard breezeway by the East Side entrance. Each workstation is available with electrical outlets that provide users the ability to operate or charge their wireless devices.
Courtyard workstations are available to patrons during the following times:
Monday - Friday: 8 a.m. - 5:00 p.m.
1st Saturday of every month: 8 a.m. - 5 p.m.
Closed Saturday, Sunday and Holidays.
FREE Wi-Fi Available Around Library's Perimeter / Parking Lot Areas
7 a.m. - 7 p.m.
7 days / week
The Robert J. Kleberg Public Library offers the general public OPEN and FREE Wireless Internet. Patrons needing more comprehensive Internet services are encourage to visit the library during regular business hours.
Click HERE to learn more about the library's FREE Wi-Fi Hotspot Zone - Kingsville's Premiere FREE Public Hotspot. Get in the Zone!