Children's Computer Lab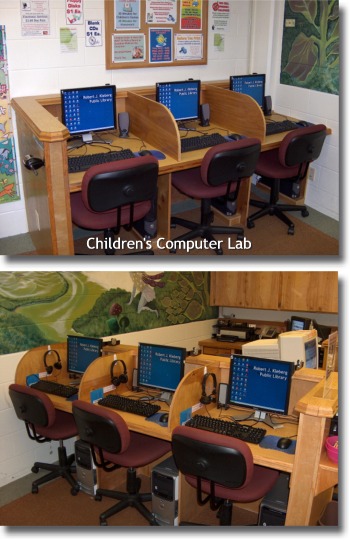 Lab Hours:
Tuesday - Friday 8:15 am - 5:45 pm
Saturday 9:15 am - 12:45 pm
Internet Access:
The Children's Computer Lab has a total of nine (9) computer terminals. All terminals are web-filtered, have MicroSoft Office applications, Internet, and are connected to in-house printers.
Educational Games:
Six (6) of the terminals have been designated strictly for children's use and are fitted with web-filters to prevent access to inappropriate sites.The children's terminals have several educational programs and game sites installed.
Adult Patrons Accompanied by Small Children:
Three (3) terminals have been designed for adult patrons who are accompanied by small children. These terminals are web-filtered and have the same priviledges and access as those in the
Adult Computer Lab.
Library Policies:
Note:
All computer lab users must comply with the library's
[ Children's Internet Access ]
and
[ Computer Lab Guidelines ]
policies.
Library Card Required:
A valid Robert J. Kleberg Public Library card is required to access the Children's Computer Lab. The patron's library card account must also be in good standing. Library cards are available to children ages 5 through 17.
There is a 45 minute usage time-limit on each Lab terminal.