Children's Computer Lab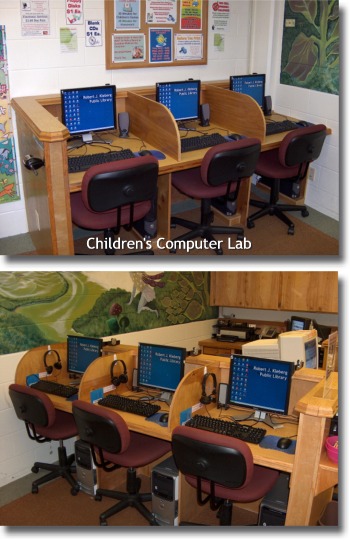 Computer Lab Hours:

Tuesday - Friday 8:15 am - 5:45 pm
Saturday 9:15 am - 12:45 pm

Internet Access and Educational Games:

Kid's Internet: The Children's Computer Lab has a total of nine computer terminals. All terminals have MicroSoft Office 2007, Internet access, and are set-up with in-house printers. There is a 45-minute time limit for each designated terminal. Each terminal has several links to appropriate children's game sites. Six (6) of the terminals are for children's use. These terminals have security filters on them to prevent access to inappropriate sites, as well as blocking e-mail and social networking sites. NOTE: Three (3) terminals are designated for adult patrons accompanied by small children. These terminals have access to the same Websites as the terminals in the Adult Computer Lab. Users must comply with all public Internet policies. Internet policies are available at the library, and posted online on the library's [ About Us ] page under the "Electronic Resources" column.

Library Card Required:

A valid Robert J. Kleberg Public Library card is required to access the Children's Computer Lab. Library cards are available to children ages 5 through 17.

Non-Registered Patrons:

Do you need temporary access to the Internet or E-mail services, a computer with MicroSoft Office applications, a Microfilm Reader/Printer or even a Typewriter but don't have a Kleberg Library card? NO PROBLEM!

If you answered "yes" to any of these services, you can purchase a 'Dollar Day Pass' for just a $1.00. Non-registered patrons purchasing a 'Dollar Day Pass' gain full access to the library's Electronic Services.

Please note: The 'Dollar Day Pass' is valid only for the current purchase date. However, a patron may leave the library and return later the same day with their orignial receipt and regain access to the library's electronic services. Patrons using the 'Dollar Day Pass' are subject to the library's Electronic Services policies. Dollar Day passes are available at the Circulation Desk!