NEW!
Looking for a book that we don't have on our shelves?
We can download the new book for you to read on our iPads, for use in library.
This is a new program we will pilot during Fall 2015.
Our future plan is for you to check out the iPad to take home. We are preparing policies, forms and planning on how to make this happen for you.

We have new titles, ready for check out.
Come and check out these new books today:
Series: Divergent, Mortal Instruments, Twilight, Wimpy Kid, Harry Potter, The Hunger Games.
Sample titles include The Absolutely True Diary of a Part-Time Indian - Sherman Alexie, Pete The Cat and more!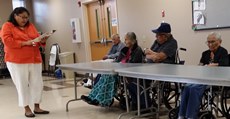 Venito Garcia Library's outreach include monthly visits to the Archie Hendricks Nursing Facility. Every 2nd Tuesday of the month, we deliver books and magazines to the Nursing Home Residents. We read picture books and other books to the Residents. Residents have an opportunity to check out new titles.