Loan Periods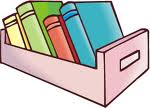 FOURTEEN (14) DAY ITEMS
--Books: Limit of twenty (20) titles
--Books with CD: Limit of two (2) titles
--Digital Media & eBooks: Limit of six (6) titles
--Paperbacks: Limit of twenty (20) titles
--Talking Books on CD: Limit of six (6) titles
--Language Recordings: Limit of two (2) cases
SEVEN (7) DAY ITEMS
--JE Holiday Books: Limit of four (4) titles
--Periodicals: Limit of four (4) per title
--VHS/DVD's: Limit of any two (2) titles

SPECIAL LOAN ITEMS
--Audio Visual Equipment: For library use ONLY! Loan requires Library Director approval.

NOTE: Due to copyright laws, all Audio Visual and Digital media materials are restricted to home use ONLY!

Patrons can check out up to twenty (20) items per individual account.

Library items may be renewed only ONCE if item(s) is not on HOLD.

Patrons may only renew items inside the library.

Patrons will be responsible for any damaged, lost or stolen items checked out on their library card.