Fines and Fees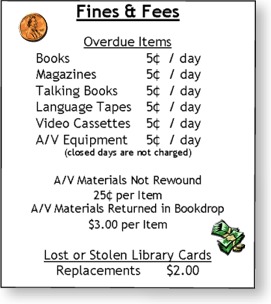 FINES are charged when an item is NOT returned by the due date. Note: All fines stop at $5.00 per item. CLOSED DAYS are NOT charged to patron. Borrowing privileges will be suspended for patrons with penalty fee(s), materials overdue 14 days, or when fines reach $5.00.

ITEMS may be returned in one of our 3 book drop locations after closing time on or before the due date. Items will be returned the following workday at no charge to the patron.

Attention Patrons: Audio/Video media items are NOT to be returned in the outdoor book drops! Patrons are required to return audio-visual materials directly to the Circulation Desk to avoid any PENALTY fees. Penalty FEES will be charged if A/V materials are returned IN outdoor book drops.

The library accepts the following forms of payment:
-- Cash
-- Check ($1.00 minimum)
-- Money Order (Exact Amount)

Damaged Materials: The patron to whom the items are checked out to is liable for any damage, even if the items were checked out for other individuals. It is not the library's responsibility to trace third parties who do not return, or who damage, library materials. The book drop is a convenience to be used at the patron's own risk. The library is not responsible for damage to materials returned in the book drop.

Philosophy and Responsibilities: It is the responsibility of the Library to maintain a collection of materials to be shared by persons living within the service area, and also to govern the use of such materials shared with, or borrowed from, other libraries. The goal of the Library is to recover items in good condition held beyond the agreed loan period for further use by the community. The Library does not want to resort to punitive action to recover items. Fines and fees are used solely to remind offenders of their obligation to the other library patrons who fund and support the Library. Overdue rates also apply to Interlibrary Loan materials.